Bitcoin Drops 6% In 24 Hours, Why This Might Trigger A Bullish Rally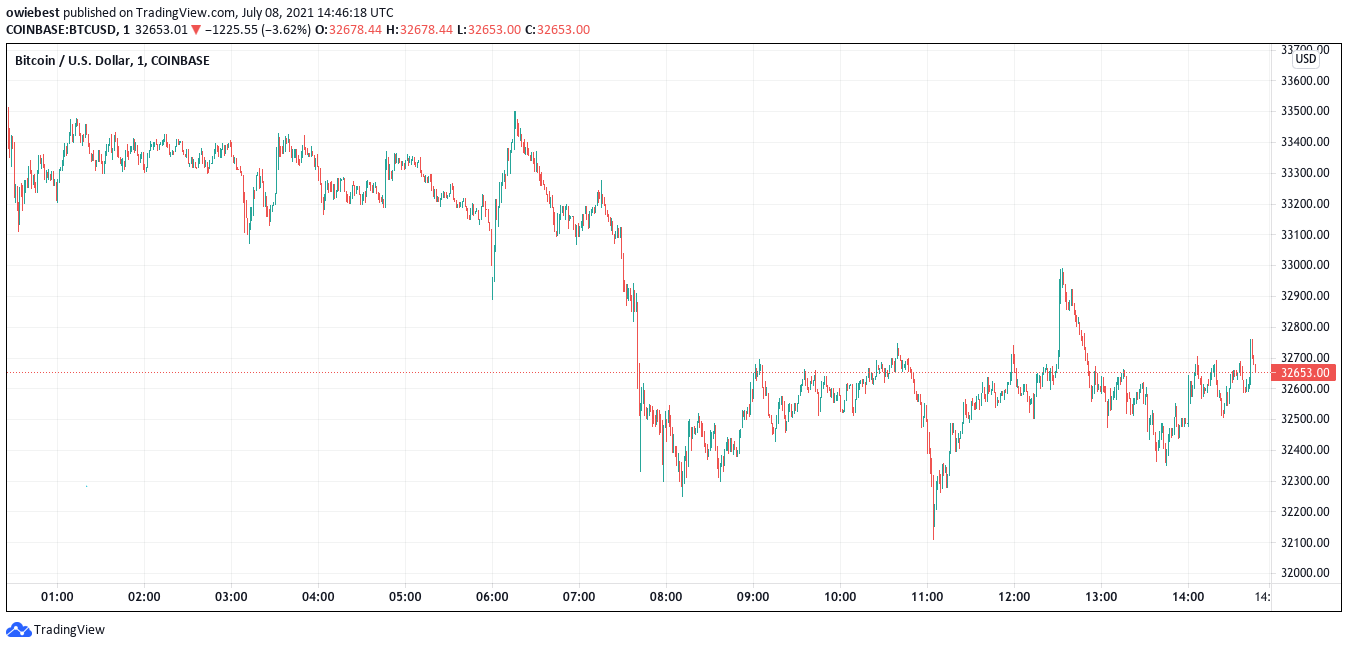 Bitcoin price has been fluctuating highly in the last week. Amidst news of bitcoin whales stocking up on bitcoin, the price jumped up past $34,000. Briefly breaking $35,000 yesterday afternoon before coming down to continue trading n the $34,000 range again.
But the past 24 hours have seen the coin take a good dip in price. Over the span of a day, bitcoin has lost over $2,000 from its price. This equates to about 6% of its price in the last 24 hours. Bitcoin price currently sits in the red as the coin now trades for about $32,525 at the time of writing this article.
Related Reading | Bitcoin Whale Warns Of "November 2018 Vibes." What This Means
Sudden dips in price over short periods of time are not uncharacteristic for the coin. Or for the crypto market in general. This is a feature of digital currencies, not a bug. So, investors expect things like this to happen all of the time. It comes with the territory of getting massive rewards in a short amount of time. But this then leads on to the question of what the current dip indicates.
Price Correction
Most times when prices move too high in a short time, this usually comes with a price correction in order to get the asset to a price point where it is not fluctuating too wildly. Price corrections are incredibly notorious for happening during bull runs.
This is due to the fact that in a bull market, prices are moving by large margins on a daily basis. Sometimes in only a matter of hours.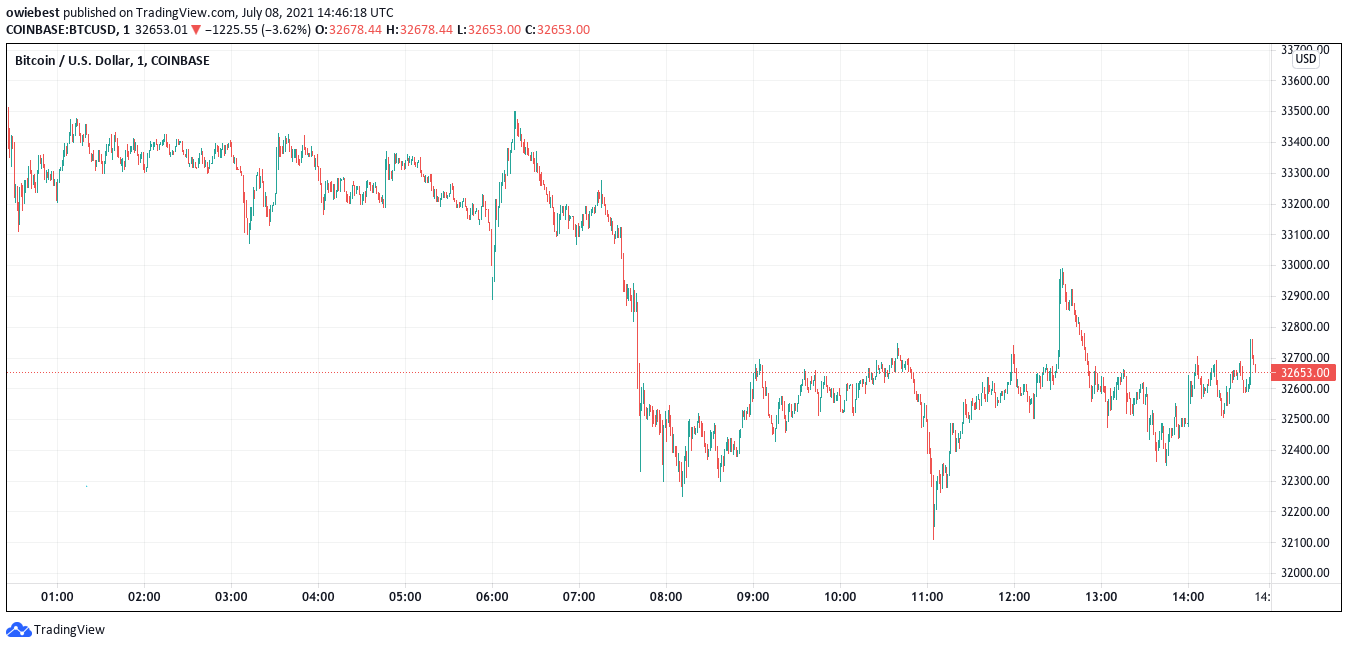 Bulls struggle to keep price of bitcoin up as price dip continues | Source: BTCUSD on TradingView.com
While price corrections happen a lot in bull markets, this does not mean they can't happen in bear markets. Price corrections can go either way; up or down.
This dip could be indicative then of a price correction occurring from the price spike that happened this past week. Usually, when coins go up in price in such a short amount of time, people take out profits if they expect the price might correct downwards instead of upwards.
Bitcoin has now started recovering a little bit which could mean that this dip was indeed a price correction.
Bitcoin Bull Rally In The Works?
Looking at the chart shows this might be a bullish indicator for bitcoin. The price of bitcoin has continuously spiked and then corrected downwards for a bit before spiking again.
Related Reading | Bitcoin Whales Accumulate 60,000 Bitcoins In A Day. What Happens Now?
Bitcoin which is down over 50% of its all-time high could very well be on the verge of another breakout. Engulfing bull patterns show that there is always a reversal at the end of a downtrend.
With the price currently holding at $32,000, a loss of momentum at this point shows a potential end for the downtrend. Going forward, an end to the downtrend means a reversal signal for bitcoin.
Conservatively, the price looks poised to take over the $35,000 range again. But given that point was just broken, the next position point would be $5,000 higher. So $40,000 might be the most likely point for bitcoin to land after the rebound.
Related Reading | I Stand By My $100,000 Bitcoin Price Target, Anthony Scaramucci
Volatility in the market remains very low. This could explain the not-so-wide movements in the coin price recently. But once volatility picks up, big swings are expected in the price of bitcoin. A rebound bull rally is likely to see the coin reclaim $50,000 in the best of cases.
Investors cashing out of the Grayscale Bitcoin Trust will give some much-needed volatility to the market.
Featured image from Businessamlive, chart from TradingView.com