Capitalizing on Blockchain's Promise, Unicly Delivers NFT Fractionalization
Unicly's decentralized and permissionless protocol empowers the community to fractionalize, combine, and trade non-fungible token collections through sharding, improving overall NFT accessibility and fungibility through its novel design.
Accompanying Unicswap DEX Attracts Millions In Liquidity
Non-fungible tokens have become all the rage as platforms onboard high-profile artists, entertainers, and evangelists seeking a new way to monetize their collectibles, creations, and works of art.
Yet, the eye-popping auction figures aside, NFTs represent one blockchain area that largely remains inaccessible to wider audiences as surging prices concentrate overall ownership. Moreover, this nascent market's dynamics don't correspond to the fungible token market characterized by high liquidity among popular tokens.
By definition, a non-fungible token is not designed to be easily exchangeable. Because an NFT is unique, it ordinarily has a single buyer, contributing to an absence of market depth and almost no real-time liquidity. Accordingly, building an efficient secondary market is difficult, especially given that NFTs all have different values and varying levels of demand.
Despite these very real obstacles, Unicly, led by pseudonymous founder 0xLeia, has unleashed a platform that can fractionalize NFT ownership. Besides granting NFT holders a new channel for monetizing their existing NFT holdings, the protocol can provide liquidity to whitelisted collections while promoting more widespread adoption and participation.
Transforming Non-Fungible into Fungible
Unicly has developed an innovative approach for improving NFT fungibility. Unlike other projects in the space, this anonymous, self-funded initiative has introduced sharding to the equation. Sharding effectively splits a blockchain network into multiple parts to process transactions quicker while adding scalability.
In Unicly's case, each NFT gallery can be a shard, distancing itself from other competing solutions which shard each NFT individually. The new protocol will allow users to create and fractionalize NFT collections from NFTs minted in either of Ethereum's ERC-721 and ERC-1155 standards. Each collection is independently named and configured before settings, including token supplies and tickers, are determined for each gallery.
Once the corresponding NFTs are moved from a user's wallet to smart contracts, uTokens (with the ticker mentioned above) are issued. After a preset percentage amount of uTokens are staked, the collection is unlocked for bidding.
Building Up NFT Liquidity
Secondary market liquidity has been the Achilles heel of NFT trading platforms, but Unicly has devised a cunning answer where others have failed. Taking a page out of decentralized finance's book, the platform has introduced Unicswap, a fork of the popular Uniswap protocol. This AMM DEX helps users stake their uTokens and other cryptocurrencies to farm UNIC, the native Unicly token, through liquidity pooling.
Since unveiling the mainnet just days ago, the platform has already garnered significant popularity. According to figures, Unicswap attracted $3.5 million worth of liquidity to whitelisted pools in just four days. Additionally, 24-hour volume of $1 million puts competition SuperRare squarely in Unicly's sights. After reaching nearly one-quarter of the competing platform's monthly transaction volume in mere days, the total capitalization of NFTs in Unicly's marketplace has now topped $20 million.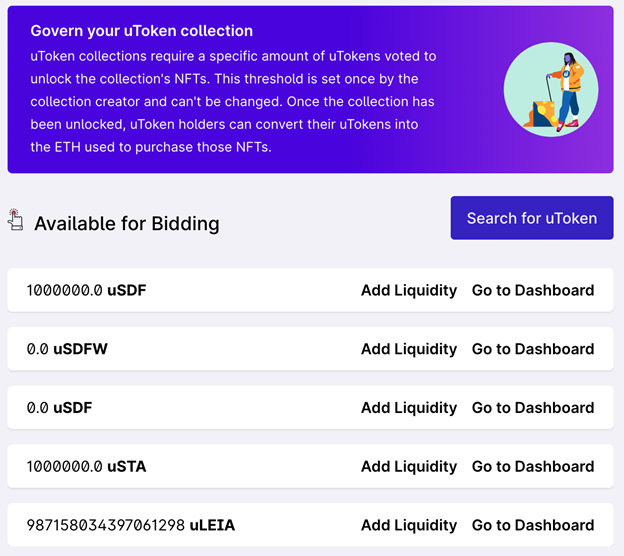 Proving beyond a doubt that its model is valuable, some significant collections have already joined the platform. uMask, a collection of 85 hashmasks, has reached a value of approximately $16 million, marking a 16-fold increase in the valuation from its original listing at $1 million. The first gallery listed on the platform, uUNICLY experienced similar exponential growth after listing 3 branded NFTs, rising from $300 to an astounding $180,000.
Another gallery, titled uLEIA, was built as an homage to the anonymous founder of the protocol by combining 0xLeia's profile picture with AI-generated content. The platform has also appealed Chris McCann, a National Geographic award-winning photographer who listed his uCM collection of NFTs and other noteworthy collections from DokiDoki, MoonCats, WAIFU, and Nubians.
Taken together, Unicly's fresh approach to NFTs is already demonstrating that a better model for community engagement and egalitarian participation exists, thanks in large part to sustainable incentives and valuable user-centric features.