Now Or Never: Litecoin Plummets To Bottom Of Top Ten Crypto Assets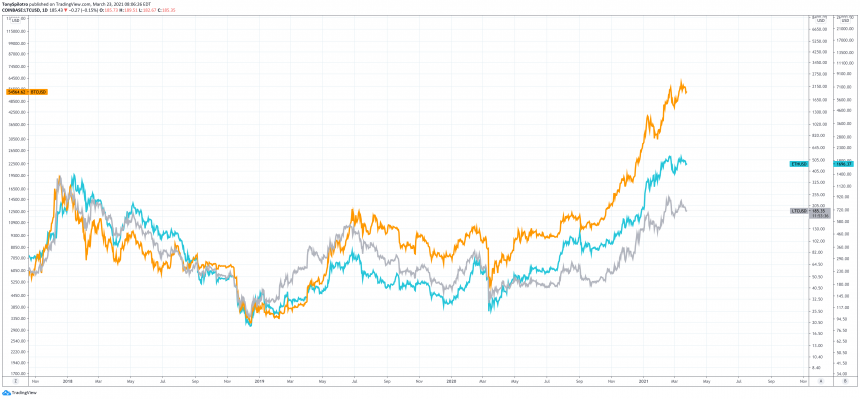 Litecoin is often called the silver to Bitcoin as digital gold, and strangely, the two cryptocurrencies and two precious metals are exhibiting the same behavior where one is lagging behind the other.
The lack of momentum in the digital and physical forms of silver have kept the price of both assets at bay for the entire recent bull market in each class. With no growth in Litecoin compared to other cryptocurrencies, the altcoin is only a billion dollars away from losing the top ten cryptocurrency by market cap status – something its held pretty much since its inception.
"Digital Silver" Is The Altcoin That Simply Won't Shine
Litecoin is an offshoot of the original Bitcoin code, created in 2011 by former Google and Coinbase engineer Charlie Lee.
Much like how on a per ounce basis gold is more both more scarce and valuable than silver is, there are four times as many total LTC compared to Bitcoin's 21 million BTC.
Related Reading | Digital Silver: Why Litecoin Is Poised To Bounce Versus Bitcoin
In addition, there's faster transactions, among other benefits. Outside of the few differences, there's mostly similarities between them – including a hard-coded halving recurring every four years or so.
 Litecoin is severely lagging behind the rest of crypto | Source: LTCUSD on TradingView.com
But unlike Bitcoin, that halving amounted to very little in terms of sustainable returns for investors of the altcoin. The cryptocurrency is lagging far behind Bitcoin, Ethereum, and most other cryptocurrencies in the market.
Also unlike Bitcoin or Ethereum and several other altcoins, Litecoin has failed to set a new all-time high since the bull market began.
Even gold has set a new price record, while silver still trades well below its. It is bizarre that the asset dubbed digital silver, is following the path of physical silver so well, versus the rest of the crypto world.
Uh-oh, #Litecoin. At risk of falling out of the top ten crypto assets. pic.twitter.com/LhteOXdG9L

— tonyspilotroBTC (@tonyspilotroBTC) March 25, 2021
Litecoin At Risk Of Losing Top Ten Crypto Status
The continued underperformance of Litecoin compared to there rest of the market, however, could knock the cryptocurrency out of the top ten assets ranked by market cap, according to price aggregator CoinMarketCap.
The animated GIF above is a look back at the past decade or so the historical snapshots will go back, taken from the first ever date, then annually each March closest to the end of the month.
Every single snapshot, Litecoin is ranked anywhere from number two to ten, and every rank in between. It's never had the number one spot, but it's also never lost the top ten.
Related Reading | Five Signs Litecoin Has Bottomed, Next In Line For New ATH
But the likes of Chainlink, Stellar, and Bitcoin Cash are all right on its tail, some within a $1 billion striking distance for making history for unseating Litecoin. Each of the three assets have also had a stint in the top ten themselves.
There's also a rising stablecoin – USD Coin – right on its tail, and with more stablecoins being created monthly, the chances of it taking out the altcoin are also high.
Could a fall out of the top ten and from grace be a fatal blow for the coin, or is sentiment reaching this deep of a low in the coin a sign that capitulation is setting in and things might finally turn around?
Given how far behind Litecoin is, the low supply, several bullish technicals, and more, the altcoin could end up shocking the world when it finally does.
Featured image from Deposit Photos, Charts from TradingView.com