This Bitcoin Metric Says The Top Is Still 350% Away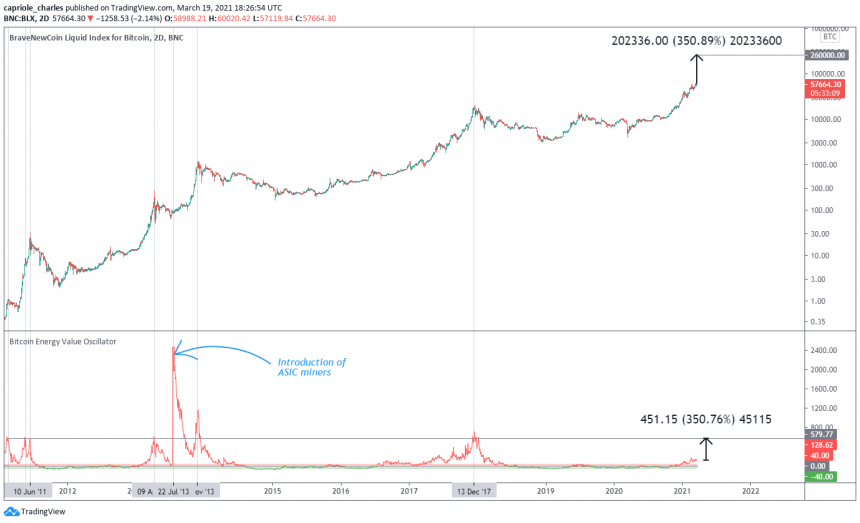 Bitcoin price is struggling to get back over $60,000 where the current all-time high record stands. However, according to one top crypto researcher's take on the cryptocurrency's Energy Value, the top is still as much as 350% away from here.
A rise from current prices by 350% as predicted, would bring the price per coin to as high as $260,000 each, matching the expected targets of other analysts. Here's more about Bitcoin's Energy Value Oscillator and why the analyst in question believes the bull market still has so much more room to grow.
Bitcoin Could Climb To $260,000 Per Coin, Based On Energy Value Oscillator
Bitcoin is a disruptive technology with the potential to change the world and money forever, but it also could be a complete failure. As time goes by, however, the scenario where the cryptocurrency fails diminishes, and instead, it continues to prove its potential to the world.
The cryptocurrency network takes energy and converts it into monetary power. It does so through a complex process called proof-of-work that involves specialized computers called miners.
Related Reading | Following Bitcoin "Reset," It's "Off To The Races Again"
As the cryptocurrency's network grows, and more energy is being pumped into keeping it in operation – incentivized by new coins – the Energy Value of each coin also grows.
The Energy Value Oscillator, created by Bitcoin expert Charles Edwards, measures that activity and turns it into a technical indicator rooted in fundamentals – much like Edwards' various other tools, such as the Hash Ribbons and more.
Comparing this tool and how high the metric rises during bull markets, Edwards projects another 350% rise in the future for the price per BTC.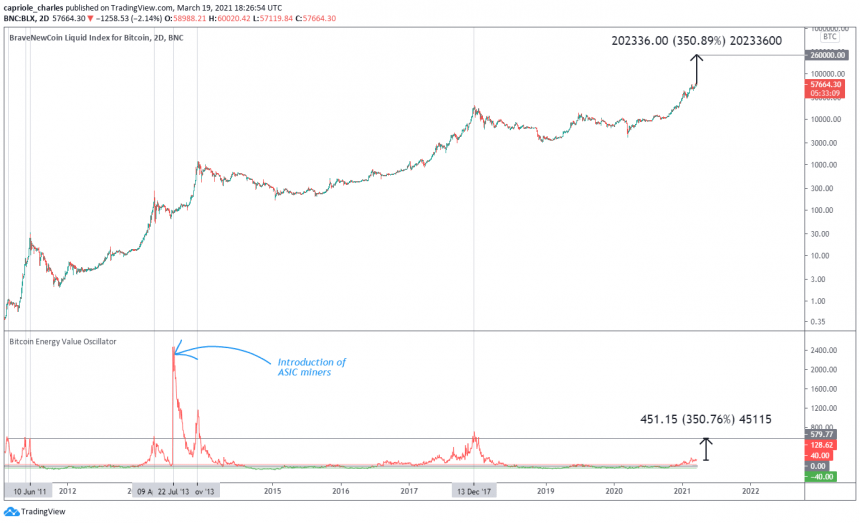 Theoretically, Bitcoin could rise another 350% compared to past cycles | Source: BTCUSD on TradingView.com
A 350% rise from current levels where the coin is trading now, would result in another $200,000 increase to a price of around $260,000 per coin.
Using the chart above, pulses of this nature are typically sharp and swift, over almost as fast as they begin. The current bull market going by previous cycle standards, only appears to be just beginning, and if did ultimately top out similarly to past cycles, would result in Edwards' price target of $260,000 per BTC.
Related Reading | Data Shows Bitcoin Peaks Last Roughly 40 Days: When To Sell Your Coins
The one anomaly on the chart, as Edwards points out, was due to the introduction of ASIC miners, which created a sharp uptick in hash power being contributed to the Bitcoin network.
Peaks in bull markets are so visible because so many participants are pilled in at the top, looking for a piece of the pie. If the tool works the same in the future as it has in the past, that top appears to be nowhere near in sight.
Featured image from Deposit Photos, Charts from TradingView.com