John McAfee Indicted by DOJ Over Alleged Cryptocurrency Fraud Charges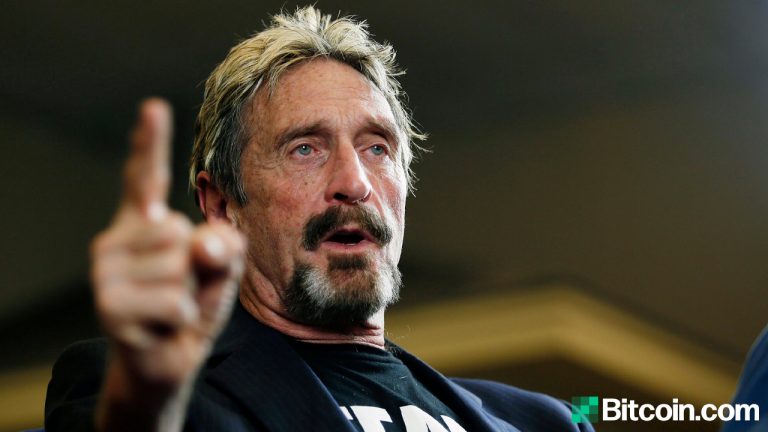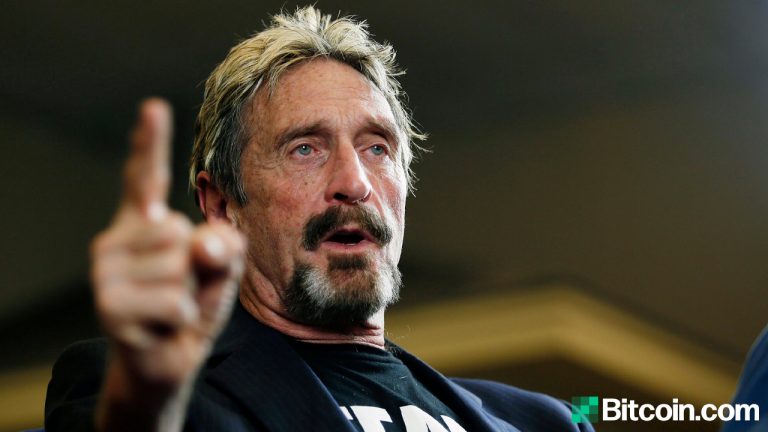 Tech entrepreneur and former anti-virus tycoon John McAfee has been indicted by the U.S. Department of Justice (DoJ) on money laundering and fraud charges. The United States Attorney for the Southern District of New York and the FBI unsealed the indictment charging McAfee and his associate Jimmy Watson with securities fraud.
John McAfee Indicted by US Law Enforcement for Fraud and Money Laundering Tied to Crypto Schemes
According to a press release published by the DoJ on March 5, John McAfee has been indicted for a number of charges tied to his cryptocurrency operations and his so-called "McAfee Team." The Federal Attorney, FBI, and DoJ also charged McAfee's alleged partner Jimmy Watson, who purportedly served as an "executive adviser" to McAfee's alleged cryptocurrency squad.

McAfee and Watson have been charged with "conspiracy to commit commodities and securities fraud, conspiracy to commit securities and touting fraud, wire fraud conspiracy and substantive wire fraud, and money laundering conspiracy offenses stemming from two schemes relating to the fraudulent promotion to investors of cryptocurrencies qualifying under federal law as commodities or securities," according to the DoJ announcement published on Friday.
Last Friday, Janice McAfee (John's wife) was requesting legal assistance from a lawyer from Tennessee. One that can work with her husband's Spanish lawyers and they need to have a strong understanding of cryptocurrency, she said. But this was seven days before John's indictment on Friday, and she hasn't spoken on the indictment formally on social media. Federal prosecutors say that John McAfee leveraged his social media presence to engage in "age-old pump-and-dump schemes."
if (!window.GrowJs) { (function () { var s = document.createElement('script'); s.async = true; s.type = 'text/javascript'; s.src = 'https://bitcoinads.growadvertising.com/adserve/app'; var n = document.getElementsByTagName("script")[0]; n.parentNode.insertBefore(s, n); }()); } var GrowJs = GrowJs || {}; GrowJs.ads = GrowJs.ads || []; GrowJs.ads.push({ node: document.currentScript.parentElement, handler: function (node) { var banner = GrowJs.createBanner(node, 31, [300, 250], null, []); GrowJs.showBanner(banner.index); } });
US Prosecutors Discuss McAfee 'Tweeting to Hundreds of Thousands of His Twitter Followers'
Manhattan U.S. Attorney Audrey Strauss discussed how McAfee's Twitter account held a strong amount of evidence.
"As alleged, McAfee and Watson exploited a widely used social media platform and enthusiasm among investors in the emerging cryptocurrency market to make millions through lies and deception," Strauss said. "The defendants allegedly used McAfee's Twitter account to publish messages to hundreds of thousands of his Twitter followers touting various cryptocurrencies through false and misleading statements to conceal their true, self-interested motives," she added.
John McAfee, the creator of the McAfee anti-virus software, has been charged in the US with conspiracy to commit fraud & money laundering. Mr McAfee and his bodyguard are accused of promoting cryptocurrencies to his more than one million Twitter followers to inflate prices.

— Paul Bakibinga (@PabloBach) March 5, 2021
Strauss and U.S. prosecutors claim the ostensible McAfee team allegedly took in over $13 million from investors. "Investors should be wary of social media endorsements of investment opportunities," Strauss warned during the announcement.
After the DoJ published the indictment against Watson and McAfee, the news went viral on social media. "John McAfee did nothing wrong," one person tweeted on Friday evening. Others jokingly discussed McAfee's famous million-dollar BTC bet he had going for a while.
"We were promised something John Mcafee never delivered," one person teasingly tweeted sharing screenshots of McAfee's humorous wager. The charges against McAfee and Watson derive from investigations that took place in 2017 during the crypto bull run and expanded in 2018 prosecutors note.
What do you think about the U.S. indictment against Watson and McAfee? Let us know what you think about this subject in the comments section below.