A Group of Crypto Proponents Burned an Original Banksy 'Morons' Print and Turned It Into an NFT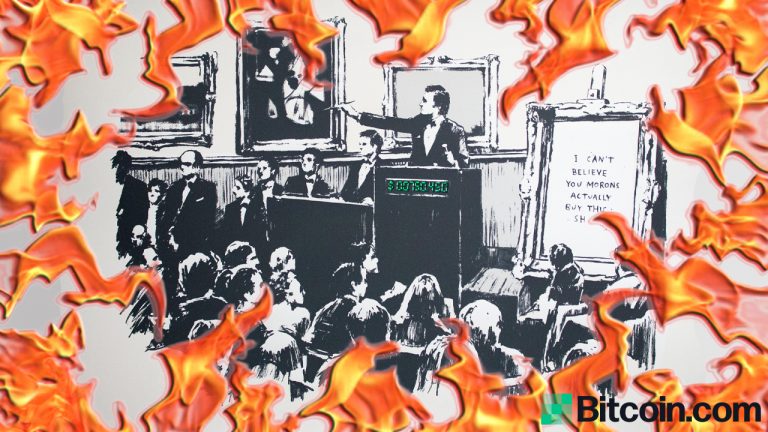 Original artwork crafted by the pseudonymous England-based street artist and political activist Banksy has been burned in order to turn the art into a non-fungible token (NFT). The screenprint was one of only 500 made and was authenticated by Banksy's verification company Pest Control. The burning was a symbolic message of turning a rare piece of physical artwork into a non-fungible digital collector's item.
Burning a Banksy 'Morons' Print
In February a Twitter account appeared on social media with the name @burntbanksy, which consists of a group of art and non-fungible token (NFT) enthusiasts. The group of collectors and investors announced that on March 2, 2021, the group would be burning the artwork created by the iconic street artist Banksy.
The England-based artist and well known political activist, Banksy is one of the most popular graffiti artists today with his unique street art commentary and stenciling technique. The Burnt Banksy team decided they would be destroying a piece called "Morons" which was screen printed in 2006.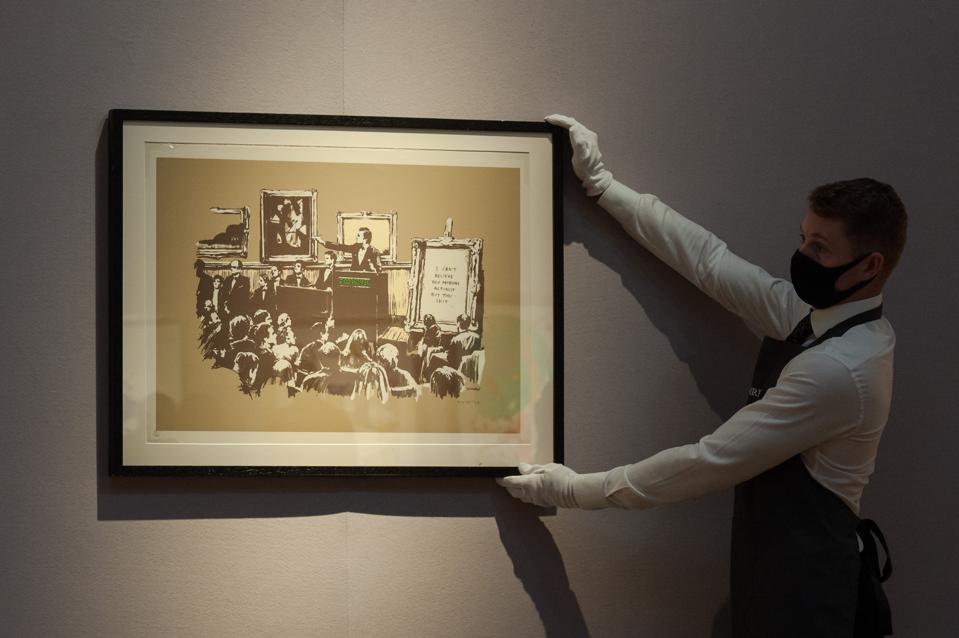 "Morons" is a critical stab at the art scene, as it ridicules the very buyers of Banksy's artwork. The graphic shows an art auction and the painting being sold says "I can't believe you morons actually buy this sh*t." The art owned by the Burnt Banksy team was a screen print numbered 325 out of 500 pieces Banksy created. Estimates say the "Morons" prints are valued at around £70,000 or $97,734 USD. The "Morons" piece minted by Banksy in 2006 was also certified by Banksy's authentication team Pest Control.
One of the members of the Burnt Banksy crew appeared on a livestream in order to show the burning process and explain the reasoning behind it. The individual mentioned the team was a bunch of art enthusiasts backed by the crosschain decentralized finance project Superfarm. The "Morons" NFT will be sold on the Opensea NFT marketplace according to the burning ceremony announcement.
"Right now, I am going to burn this Banksy," the individual said as he held a lighter in his hand. "The reason behind this is because if we had the NFT and the physical piece, the value would be primarily in the physical piece. By removing the physical piece from existence and only having the NFT, it makes sure the NFT due to the smart contract on the blockchain will ensure that no one can alter the piece, and it is the true piece that exists in the world."
The Burnt Banksy representative added:
By doing this the value of the physical piece will be moved onto the NFT and being the only way you can have this piece anymore. The goal here is to inspire, we want to inspire technology enthusiasts and we want to inspire artists. We want to explore a new medium of artistic expression.
if (!window.GrowJs) { (function () { var s = document.createElement('script'); s.async = true; s.type = 'text/javascript'; s.src = 'https://bitcoinads.growadvertising.com/adserve/app'; var n = document.getElementsByTagName("script")[0]; n.parentNode.insertBefore(s, n); }()); } var GrowJs = GrowJs || {}; GrowJs.ads = GrowJs.ads || []; GrowJs.ads.push({ node: document.currentScript.parentElement, handler: function (node) { var banner = GrowJs.createBanner(node, 31, [300, 250], null, []); GrowJs.showBanner(banner.index); } });
In the Midst of Widespread Popularity, NFT Solutions Are Being Criticized
The Banksy "Morons" burning comes at a time where non-fungible token assets have been very popular in 2020 and into 2021. NFT artists have sold millions of dollars worth of NFT art last year and millions more this year as well. Artists like Beeple, Bosslogic, and even Justin Roiland, the co-creator of the Adult Swim cartoon series Rick and Morty have all sold NFTs with record-breaking sales.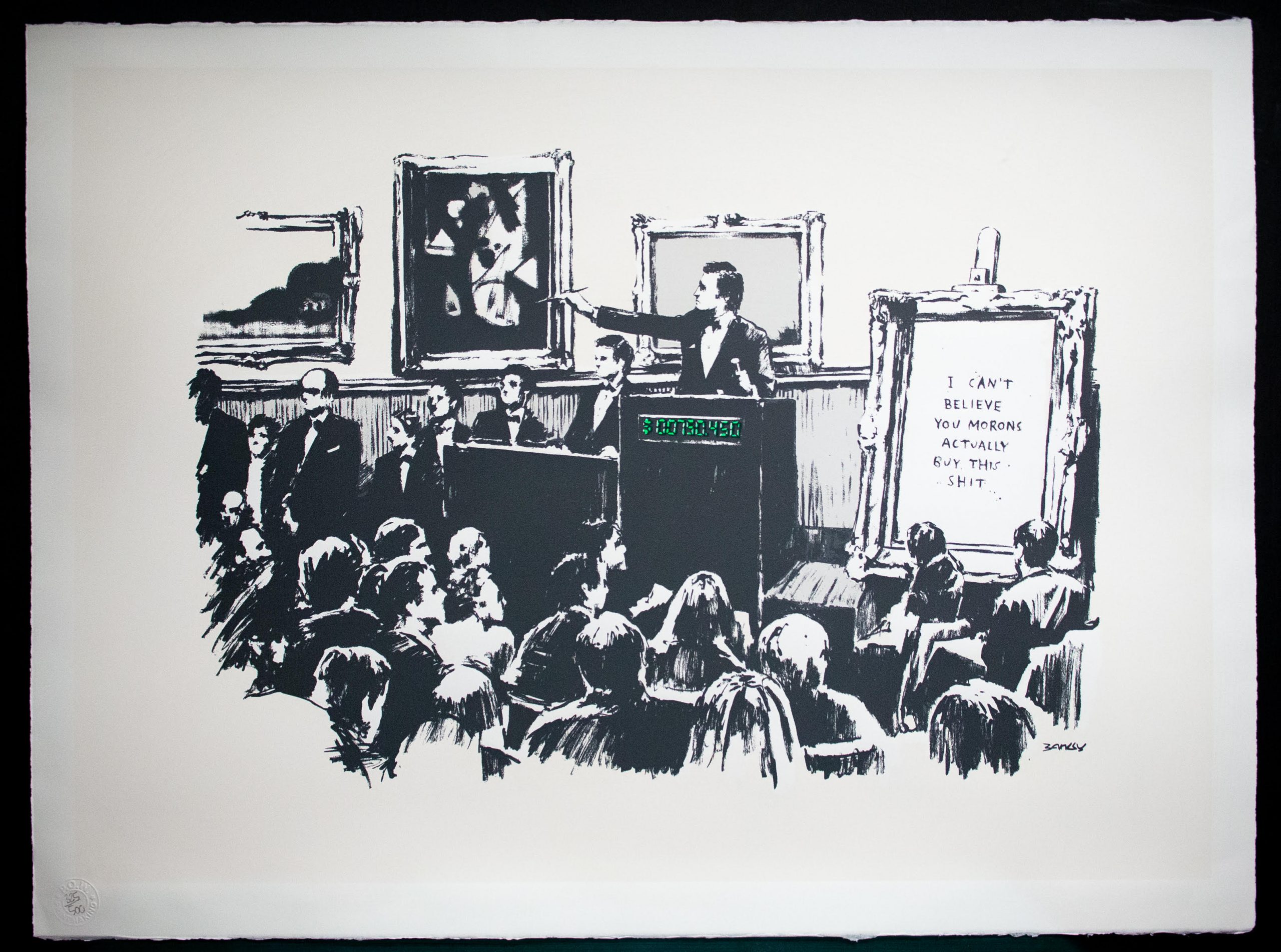 Additionally, the well known collectible card and candy manufacturer Topps has issued non-fungible token assets tied to its Garbage Pail Kids (GPK) card series. Enjin and Microsoft recently announced releasing NFT items that are compatible with the world's most popular video game Minecraft.
The Banksy artwork burn and transfer to an NFT also come at a time where NFTs are being criticized. A number of well-known crypto luminaries think that the non-fungible token industry is just a fad and Litecoin creator Charlie Lee compared it with the 2017 initial coin offering (ICO) phase.
"I see a lot of parallels between 2021's NFTs with 2017's ICOs and 2013's altcoins," Lee tweeted on March 2. "[NFTs are] easy to create new ones with no barriers, simple to understand [and] explain, brings tons of new people into crypto, [NFTs have] high prices [and] pumps create hype/FOMO, [but] few will hold & have value, most won't," Lee added.
Is it just me or does it seem like celebrities are gonna rug all their fans with NFTs

— Andrew Køng (@Rewkang) March 2, 2021
It begs the question of whether or not NFTs will be taken as seriously as physical art. Surely it has brought a new medium of expression to artists, but to some people tethering metadata to a crypto token and art doesn't make the art immutable. Critics think simply taking a screenshot would suffice and all NFT buyers are doing is simply purchasing lines of code.
To many NFT proponents, the recent Banksy "Morons" burning is a milestone, and a step into a whole new medium of expression. However, some people look at the ceremony as simply destroying a perfectly good piece of Banksy art for few lines of Ethereum's solidity code.
What do you think about the team that burned the Banksy "Morons" screen print? Let us know what you think in the comments section below.