Shiba Inu (SHIB) Burn Rate Sees Exponential 627% Jump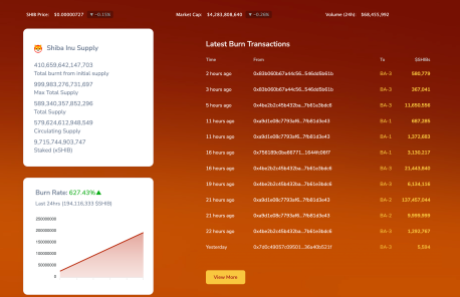 Shiba Inu has seen an impressive recovery in its burn rate after recording a slow start to the week. The recent acceleration could suggest that investors are once again rousing and choosing to actively contribute to the reduction of supply which could lead to an increase in price.
Shiba Inu Burn Rate Rises 627%
Thursday, September 21, has proven to be one of the best weeks for the meme coin in terms of its burn rate. According to Shiba Inu burn tracking website Shibburn, the cryptocurrency saw a 6277% jump in its burn rate in the space of 24 hours.
This acceleration in the burn rate has seen more than 194 million tokens incinerated in the one-day period across multiple transactions. A number of these transactions carried reasonable amounts of tokens in the millions. However, one transaction stands out as the major reason behind the spike in burn rate.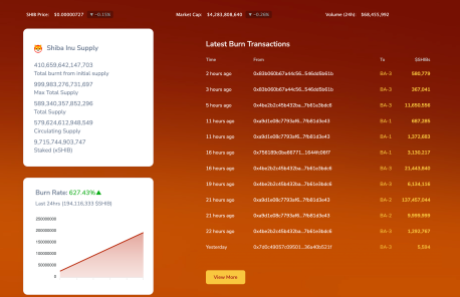 A single transaction was seen carrying over 137 million tokens to the burn addresses. This transaction alone was enough to match the previous day's figures, and with more contributions from the community, the total tokens burned in the last 24 hours is closing in on 200 million.
The burn rate is also up 31.62% in the last week as well. Shibbrun reports that more than 653 million tokens have been burned in this seven-day period. As of the time of writing, there are 410,659,642,147,703 SHIB tokens sitting in the burn address.
HOURLY SHIB UPDATE$SHIB Price: $0.00000727 (1hr -0.01% ▼ | 24hr -0.37% ▼ )
Market Cap: $4,282,495,643 (-0.34% ▼)
Total Supply: 589,340,357,852,296

TOKENS BURNT
Past 24Hrs: 194,116,333 (627.43% ▲)
Past 7 Days: 653,032,836 (39.5% ▲)

— Shibburn (@shibburn) September 22, 2023
Shibarium Takes Center Stage
The recovery in burn rate could be attributed to the rising interest in the Ethereum Layer 2 blockchain Shibarium. Launched less than a month ago, the blockchain has already marked some impressive milestones since then.
One of the major milestones is the fact that the total transactions on the network have already crossed the 3 million mark. Additionally, wallet addresses on the blockchain crossed 1.25 million with daily transactions sitting above 42,000.
The network has, so far, produced more than 760 blocks while gas fees remain low at 1.55 Gwei. The network also saw a spike in new verified contracts earlier in the week, suggesting that more developers are choosing to build on the network.
Shiba Inu lead marketer Lucie also took to X (formerly Twitter) to urge investors to use decentralized exchanges (DEXes) on the network instead of centralized exchanges. According to her, doing so would help accelerate the SHIB burn since the burns are set per transaction. So a rise in usage and transactions would translate to more tokens being burned.