Russia Plans To Impound Unlawfully Acquired Cryptocurrencies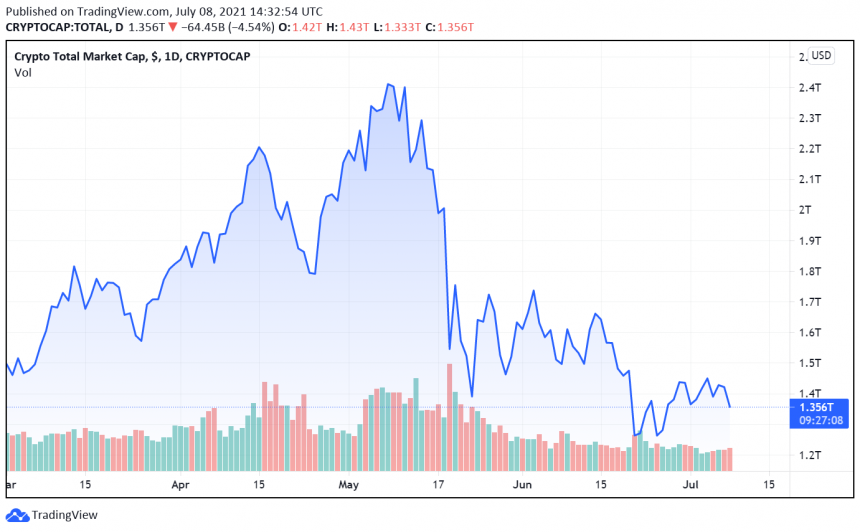 The Russian prosecutor general allegedly reports that cryptocurrencies are being utilized for bribing. As a result, Russia introduced cryptocurrencies into its legal system and as a taxable value in 2020.
The country has also banned its public officials from possessing crypto with effect from this year.
Russia is now assembling legislation to ensure that law-enforcement agencies confiscate illegally acquired cryptocurrencies. According to TASS, this report was given by the Prosecutor General of the Country Igor Krasnov.
Related Reading | Binance CEO Changpeng Zhao States, "Compliance Is A Journey"
During his speech at a conference held in Saint Petersburg, the Prosecutor General said that the misuse of cryptocurrencies by criminals had become a problematic issue for law enforcement agents.
Igor Krasnov said that the country already issued the first law to control digital assets and their usage last year.
In addition, Russia also updated its penial & criminal codes. This will ensure that law enforcement agencies adopt a restrictive measure in confiscating such assets.
Krasnov added that the increased use of crypto for bribery has made it more difficult to trace than fiat money.
However, Rosfinmonitoring, the Russian financial Surveillance representative, said that the agency plans to trace all Bitcoin cash-outs. In addition, they intend to add a new crypto classification code to check for suspicious crypto transactions.
Russia's Ongoing Battle With Cryptocurrencies
The Russian government has been very hard on cryptocurrency since the beginning of this year.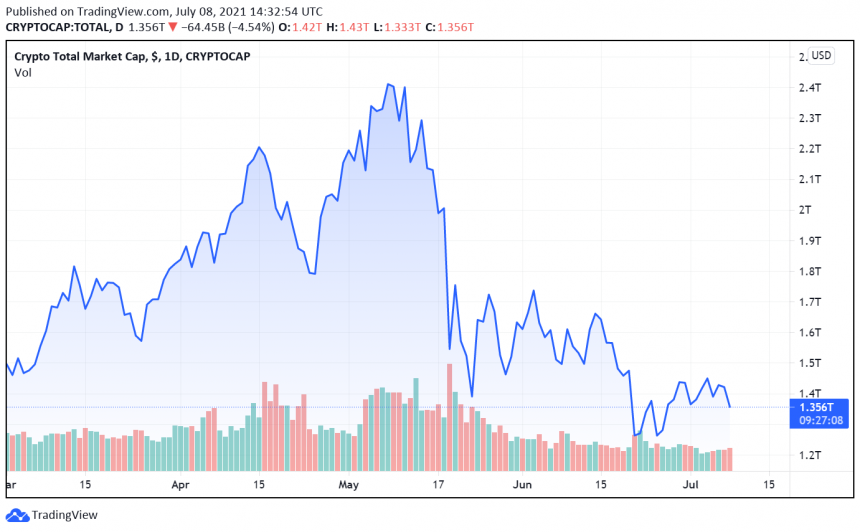 The daily chart indicates that crypto market is following a downtrend | Source: TradingView.com
Let's recall that early in April 2021, all the officials who work in both federal & local government agencies had to relinquish their crypto investments. The government had banned them from owning the currency.
According to the Ministry's website, the government decided to reduce corruption in the country. The prohibition also extended to board members of every Russian bank.
Related Reading | Allied Payment Partners NYDIG, Adds Bitcoin To Corporate Treasury
It also extended to chairs of every corporation which the government owns. It was even so serious that their spouses and children (under-age) were not permitted to hold digital currencies.
Russia Lays New Ground Rules Simultaneously
What's more surprising is that even after signing digital currencies into law, the country still went ahead to ban officials from touching them.
In the bill, even decentralized finance was tagged as a property that users can pay tax on but not for payments.
Also, the law mandated companies using the blockchain to register with the Bank of Russia and must meet their criteria before operations. As a result of the law, many crypto enthusiasts criticized the Russian Central Bank.
Also, the previous version of the law brought to parliament even made issuing and trading crypto on Russian infrastructure illegal. Even though many people, even top Government officials, criticized it vehemently. Even the Central bank received its share of criticism.
Now again, the government has come up with another method of stumping on crypto transactions. Although, the Rosfinmonitoring indicates that it is a way to stop suspicious transactions by criminals using cryptocurrencies.
Related Reading | Philippine Stock Exchange Plans To Become A Cryptocurrency Trading Platform
While the point is understandable given the nature of crypto transactions, the move is making things difficult for enthusiasts in Russia. There is also every likelihood that more legislative moves will emerge in the future.
Featured image from Pixabay, chart from TradingView.com