Marathon Digital Holdings Reported A 17% Spike In Bitcoin Mining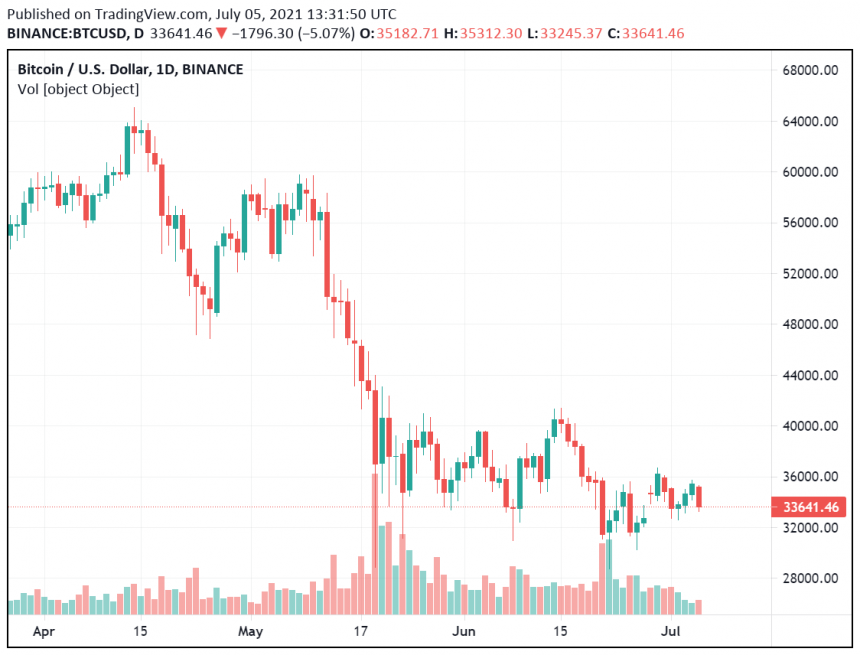 The Bitcoin mining company, Marathon Digital Holdings recently revealed that the company mined a whopping 265.6 Bitcoins in June alone.
This number of BTC in June alone exceeds what the company had in May by 17%. The total amount for the whole quarter 2 sits at 654.3 Bitcoins.
From the first month of the year to the third month in 2021, the company could produce only 191.7 Bitcoins. However, in the second quarter, the number exceeded the first quarter's production more than 3 times.
Related Reading | Report Shows United States At The Top Spot Among Crypto Ready Countries
A brief study of its monthly production since the year started shows that the company produced 50.4 BTC in January. In February, the number decreased to 43.4 BTC. March saw a rise of BTC production to 97.9, concluding the first-quarter figure.
In the second quarter, April production was a total of 162.1 BTC, which was a considerable increase from March.
Then in May, Marathon produced 226.6 BTC and 265.6 BTC in June. Each month in the second quarter saw a huge spike in its BTC production, thereby amounting to a total of 654.3 Bitcoins.
Marathon Digital Records An Increase In Bitcoin Holdings
According to the publicly traded firm, its BTC holdings have increased considerably. It holds 5784 bitcoins worth $201.6 million according to the July BTC price of $34,855/BTC.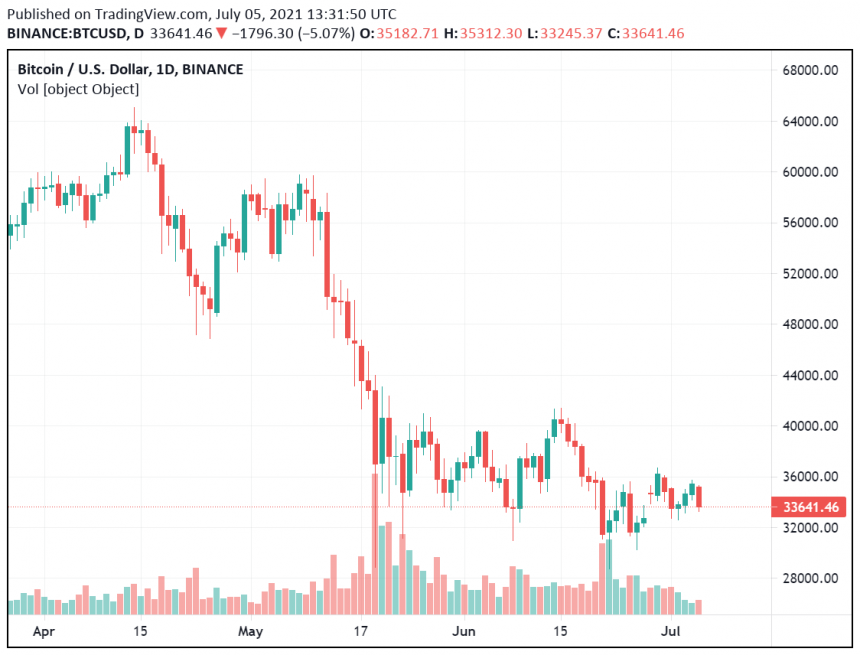 Bitcoin is following a downward trend after dropping by 4% on the daily chart | Source: BTCUSD TradingView.com
The company also stated that its holdings include the 4,182 BTC purchased 6 months ago in January 2021 as an effort to become a "pure-play Bitcoin investment option". The company will share a report of its earnings by next month.
Related Reading | Polygon Opens Vault On MakerDAO, Commits $50 Million Worth Of Matic Tokens
Another important piece of information in the report is that Marathon Digital has increased its fleet of miners to 19,395. In June, the company added 1720 miners as part of its goals to install above 100,000 before quarter 2 of 2022.
The crypto-mining company aims to increase its hash-rate power to 10.37 EH/s (exahashes per second). For now, the miners working for the company are generating 2.09 EHs.
Marathon Digital To Install More Mining Equipment
Also, in the report, Marathon Digital disclosed that 18,702 S-19 Pro ASIC miners came from Bitmain while 1056 Pro ASIC Miners are still on the way. Also, the company revealed that it had constructed containers for mining rigs at its facilities in Montana and Hardin.
According to the mining company, 12,000 miners will be added at the Hardin location in September end. It would also place 73,000 miners in Texas, where Compute North is hosting a 300-megawatt facility for them.
While speaking about the company's recent surge in Bitcoin production, the CEO Fred Thiel disclosed that Marathon had upgraded and carried out routine maintenance on its systems.
Related Reading | TA: Bitcoin Correcting Gains, What Could Trigger Fresh Rally
According to Thiel, the aim was to prepare for the global hashrate, which may start declining. The company also selected May, June, and July for the upgrade because there's always a slower delivery in them.
Due to the upgrades and routine maintenance operation, the Marathon CEO states that the company is now positioned to produce more Bitcoins. He also maintained that the company is ready to utilize favorable mining conditions as they surface.
Featured image from Pixabay, chart from TradingView.com