BNB Soars Above $600, is an Ethereum Flippening on The Cards?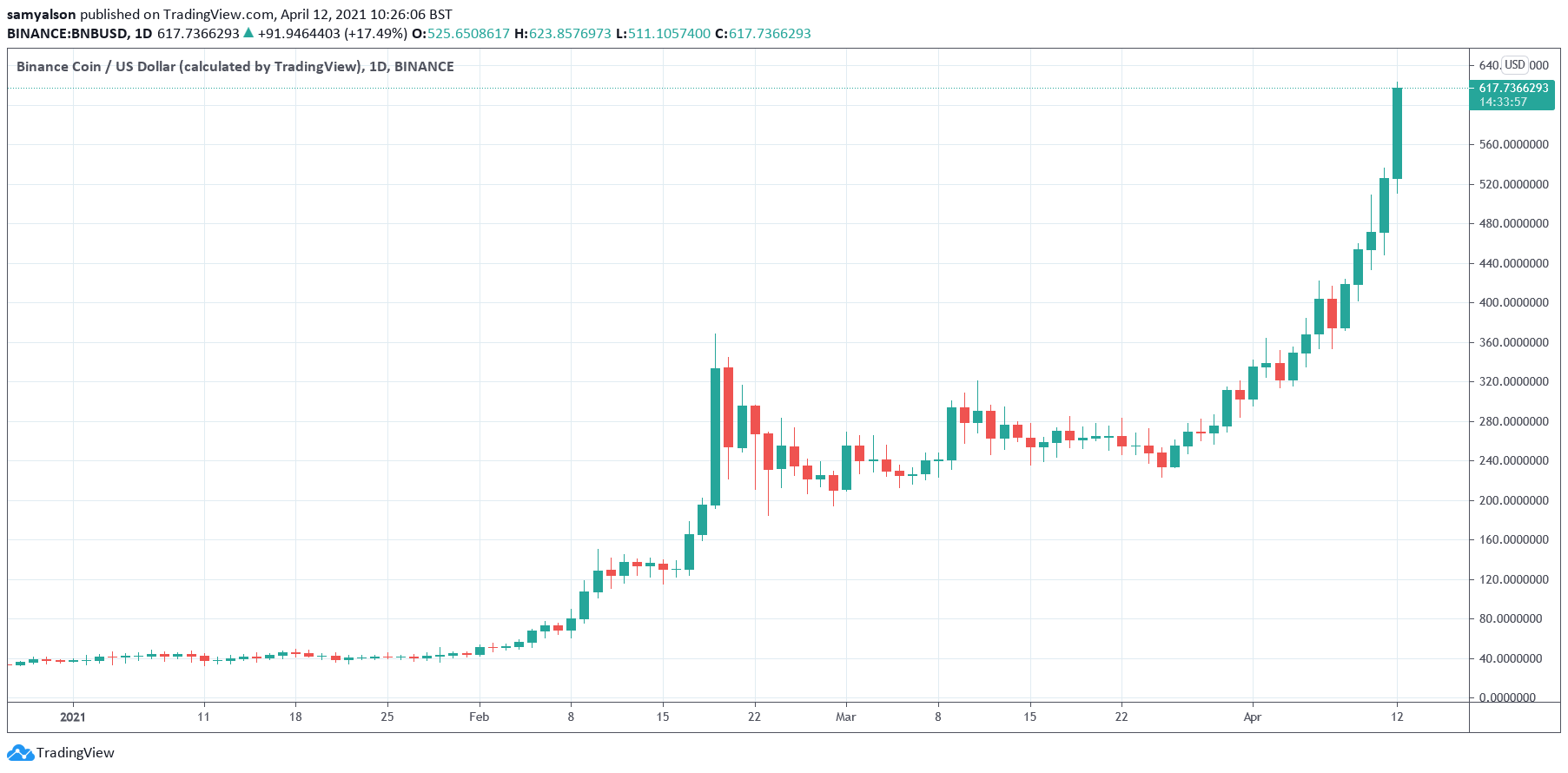 April has seen a stellar run from BNB, growing 86% in less than two weeks and hitting an all-time high today. Over the same period, its market cap has near doubled from $49bn to $96bn.
While this is still just over a third of Ethereum's market cap, a stalling ETH 2.0 rollout schedule has observers wondering if a flippening is on the cards.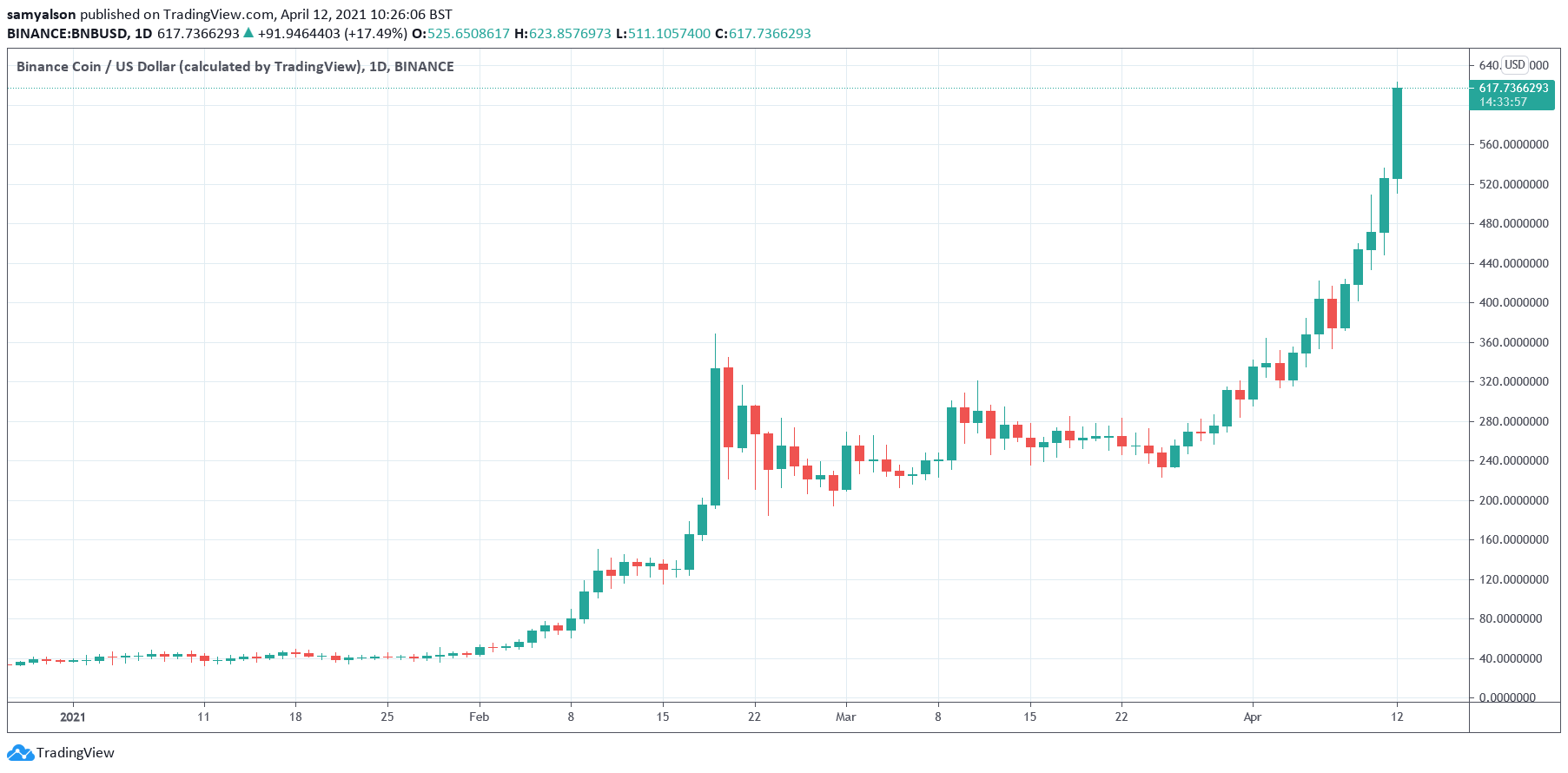 Source: BNBUSD on TradingView.com
BNB Benefits From Demand For Cheap DeFi
Whichever metric you use to analyze Binance, whether that's the number of markets, trading volume, weekly visits, etc., there's no doubt it's a significant player in the crypto industry.
Analysts have looked at the reasons for Binance's success. They highlight its community program, referral scheme, low fees, choice of tokens, and high (crypto) verification-less withdrawal limits. A seldom mentioned factor is also the company's willingness to branch out into areas other than spot trading.
"Even though there were already more than 100 crypto exchanges when Binance was launched, it managed to take leadership, and really has become one of the most frequently-used platforms for traders."
The launch of Binance Smart Chain (BSC) in September 2020 was its stab at DeFi. Since rolling out, the total value locked (TVL) in BSC has surged to $31.3bn. And there appears no sign of slowing down. Two weeks into this month, TVL has already increased by $11bn or +65%.
BSC's main selling points are that it's a faster and cheaper alternative to Ethereum. With BNB needed to pay BSC gas fees, BNB holders are beginning to reap the rewards.
Researcher Roberto Talamas attributes BSC's rising popularity with high fees on Ethereum and the development of "white-hot" markets on the platform, particularly, PancakeSwap. All of these factors combine to foster the ideal conditions for BNB to soar to new heights.
Decentralization is Not The Priority For Users
Although blockchain sells itself on the idea of decentralization, Binance products do not offer this. For that reason, purists and Ethereum maxis would argue that both BNB and BSC are poor interpretations of crypto and DeFi.
As mentioned by @TheCryptoLark, BNB's success shows that users value low fees over decentralization and are voting with their feet accordingly.
"Users are choosing with their feet right now. Low fees trumps decentralization for many users."
Back in February, Binance CEO Changpeng Zhao could sense the shifting sentiment. He said BSC has twice the number of transactions than Ethereum and called on developers to jump ship to up their user count.
"there are almost 2x more transactions on #BSC than on ETH. If you want more users for your Dapp, you need to be on #BSC now."
BNB's rising fortunes present a serious threat to Ethereum. And with Cardano's Alonzo protocol scheduled to roll out in August, the threat will only intensify as the year goes on.