Bitcoin May Hit $100,000 Soon on "Wildly Bullish" Sentiment: Analyst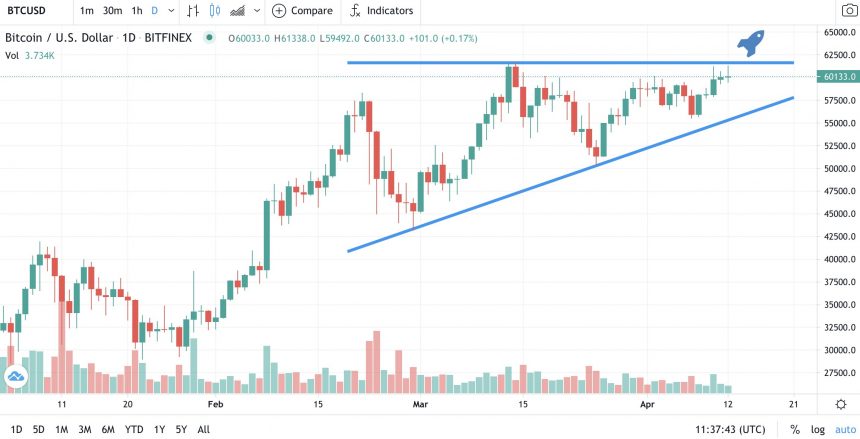 A flurry of optimistic updates hitting the Bitcoin market this Monday has prompted one analyst to see a speedier price rally towards $100,000.
Dr. Jeff Rose, the founder/CIO of Vailshire Capital Management, envisioned the flagship cryptocurrency at the six-digit valuation. At the core of his bullish analogy was a classic technical pattern brewing up on the BTC/USD daily chart. Nonetheless, Dr. Ross's tweet arrived on the heels of other positive fundamental updates.
Why $100,000?
Based on the analyst's technical outlook, Bitcoin trades inside a consolidation wedge, a pattern that developed after the cryptocurrency started trading sideways upon logging a massive move upside. He added that BTC/USD could hit a fresh record high within the next two weeks. Then, the pair would continue moving towards $100,000. Excerpts from his tweet:
"The two-month consolidation wedge continues with stable weekend price action. Macro view: Wildly bullish. On-chain analytics: Wildly bullish. Opinion: Break-out to new all-time highs likely within 1-2 weeks. Then blue skies until the $100k milestone."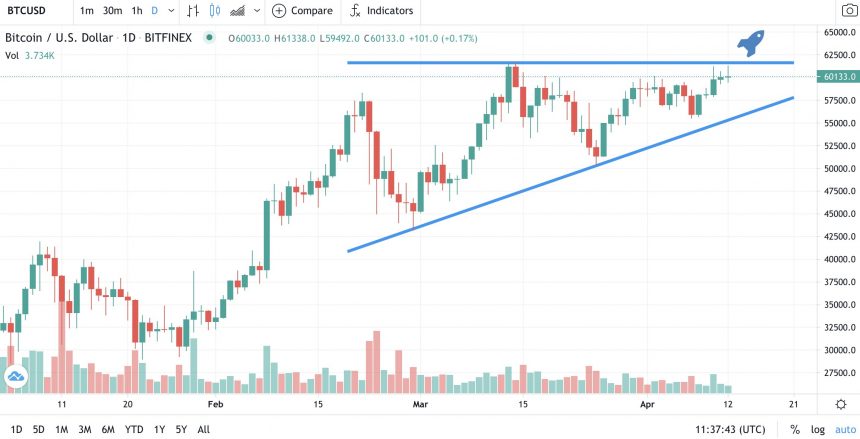 The upside outlook surfaced on the day that saw investors waiting eagerly for the launch of Coinbase Global Inc shares on the Nasdaq Stock Market. Coinbase is one of the world's leading cryptocurrency firms, involved in the custodianship and trading services related to Bitcoin and other forms of digital assets.
A $3T Market Cap for Crypto Market
Many analysts see the direct listing as a free advertisement of cryptocurrencies on Wall Street, especially as the nascent assets continue to project themselves as alternatives to low-yielding traditional investments like the US dollar and government bonds. In return, many Wall Street firms have embraced or are in the process of embracing cryptocurrencies, with Morgan Stanley and Goldman Sachs offering their rich clients access to bitcoin investment funds.
The two-way communication has helped Coinbase to gain a private listing on Nasdaq. Investors who do not want direct exposure in the cryptocurrency market would tend to purchase the Coinbase stock (Ticker: COIN) to rather speculate on its trading fee-based earnings. That would mean institutional investors remain interested in the bitcoin price performance on the whole. More trading means more revenues for Coinbase. And a better revenue means better stock valuation.
"You got to buy $COIN when that deal comes," said Jim Cramer. "This is a $2T market maybe going to $3T."
MicroStrategy's Another Bitcoin Bet
Atop the Coinbase news, MicroStrategy has further increased its exposure in the Bitcoin market by deciding to pay its board members in the cryptocurrency. The Nasdaq-listed business intelligence firm, which holds more than 91,000 BTC, announced Monday morning:
"In approving bitcoin as a form of compensation for Board service, the Board cited its commitment to bitcoin given its ability to serve as a store of value, supported by a robust and public open-source architecture, untethered to sovereign monetary policy."
Bitcoin prices were trading just shy of $60,000 at the time of this press.
Photo by Thought Catalog on Unsplash