Earning Interest on Crypto & Fiat Has Never Been Easier as Nexo Offers Passive Income of up to 12%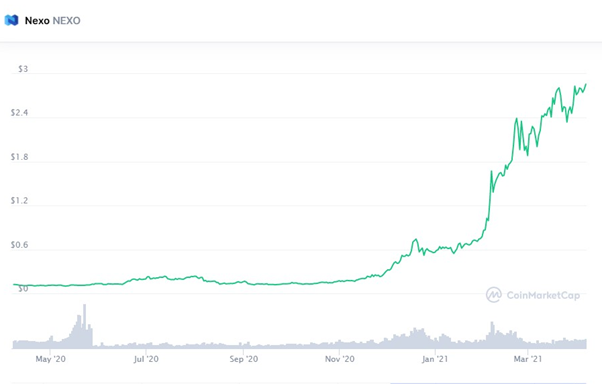 Nexo, the trusted digital assets institution that was the first to introduce lending services to the crypto sector has surpassed many traditional investment instruments by also offering high yield returns in the form of daily interest payouts. Offering up to 12% passive income on its Earn on Crypto & Fiat product, Nexo has proven that the crypto sector is not only catching up to mainstream finance but also outperforming it.
The consistently poor yields of traditional financial instruments don't come as a surprise. In recent times, as the world attempts to recover from the economic slowdown, resulting from the COVID-19 pandemic, interest rates are at an all-time low. Even treasury bonds – once a guarantee for stable returns – are now faltering.
The shifting trend hasn't gone unnoticed and was recently pointed out by billionaire investor Warren Buffett. Calling the returns on 10-year Treasury bonds "pathetic", Buffett said that low yields, combined with negative interest rates set by the central banks of some of the leading economies are pushing investors towards risky behavior by encouraging them to shift their purchases to bonds backed by shaky borrowers.
His words from Berkshire Hathaway's annual letter to shareholders were quoted by leading news publications saying, "Risky loans, however, are not the answer to inadequate interest rates. Three decades ago, the once-mighty savings and loan industry destroyed itself, partly by ignoring that maxim," Further adding, "Fixed-income investors worldwide – whether pension funds, insurance companies or retirees – face a bleak future."
Earn up to 12% Interest, Effortlessly
Nexo is among a handful of platforms to have successfully bridged the gap between crypto and fiat economies. The platform offers a range of instruments to enable the efficient use of funds by its million-strong user base. Fueled by the native NEXO Token, the platform offers a full-fledged suite of financial services, including an exchange with more than 100 crypto and fiat currency pairs, a secure wallet with $375m insurance on custodial assets, crypto-backed credit cards, and a lending platform capable of issuing loans at attractive interest rates in under 3 minutes. The similarities between a conventional banking and crypto platform are not complete without passive income accounts, which is where the Earn on Crypto & Fiat suite comes into play.
Earn on Crypto & Fiat allows users to enjoy returns on their digital and fiat assets. This account type provides users with two different options – Flex Terms and Fixed Terms. While the Flex Terms option offers much greater flexibility by allowing users to deposit and withdraw at any time to earn an interest of up to 8%, the Fixed Terms option offers a higher interest rate of 8% on crypto and up to 12% on fiat and stablecoins.
To get started, all one must do is transfer any supported cryptocurrencies, EUR or GBP from an exchange, wallet, or bank account to the Nexo platform and select Fixed Terms for the duration of one or three months. Following the completion of these steps, the platform will start generating returns on the funds, to be paid out in bulk at the end of the term. By holding 10% of their portfolio value in NEXO Tokens, users can get the maximum yield of 12% interest per year as well as other Loyalty Program perks.
Forget Interest, Just Holding NEXO is Enough for Great Returns
The success of Nexo as a fintech platform is reflected in the rising value of the NEXO Token. While the whole world was focused on Bitcoin's bull run that witnessed around 444% appreciation in value over the past six months, NEXO has outperformed most digital assets available in the market to position itself as the 7th best performing altcoin during the period. Trading at around $0.132 at the beginning of September 2020, NEXO has recorded steady gains to register a price of $2.75 by the end of March 2021 – a whopping 2000% rise in value. Anyone buying $1000 worth of NEXO in September last year would be sitting on a small fortune worth around $21,000, something which is unimaginable in a traditional setting.
The value of NEXO is expected to increase further as the platform continues to break barriers and create new milestones in the fintech space. Recently, Nexo hinted about an upcoming fiat integration that is currently in beta testing. Meanwhile, the company continues to contribute towards research and development in the crypto space – a commitment that was reinforced by a $150,000 grant for open-source Bitcoin development.
Nexo has positioned itself as a secure, high-yield investment platform that offers stiff competition to traditional institutions. The regulated platform has over $12 billion in assets under management and caters to more than 1 million users. It implements state-of-the-art security features and never lends on an under-collateralized basis to ensure user privacy and the safety of the funds on the platform. At the current rate of progress, it is poised to influence a much broader community to adopt cryptocurrencies alongside fiat assets for a financially secure future.