Crypto Analyst Claims MicroStrategy Is "On The Ropes" Amidst Bitcoin Selloff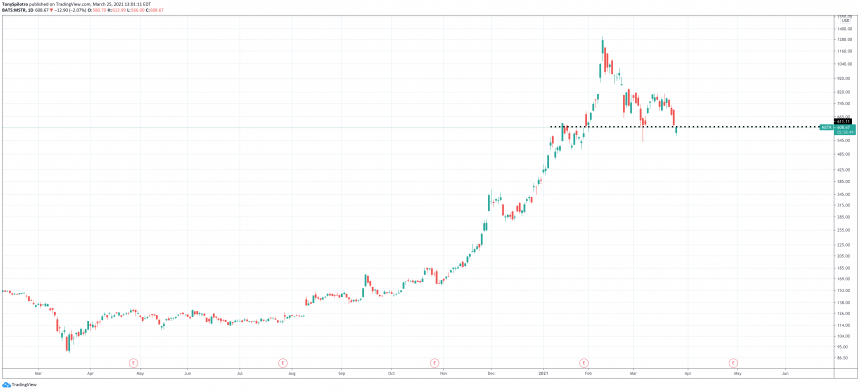 MicroStrategy and its head honcho Michael Saylor have become synonymous with Bitcoin, responsible for kicking off the corporate treasury reserve trend that's transpired ever since.
As a result of the innovative, albeit risky move, company shares skyrocketed to revisit dot com-bubble resistance levels. The rejection, has left MicroStrategy "on the ropes" amidst the recent Bitcoin selloff, suggesting things could potentially get a lot deeper.
Michael Saylor Keeps Buying Bitcoin As Prices Plummet
Raging Bitcoin bull Michael Saylor has spent the last several months being the mouthpiece of the top cryptocurrency by market cap, essentially acting as its CEO, marketing department, corporate business development manager, and social media manager all-in-one.
He uses his platform as a way to spread the word about the cryptocurrency's value, which he has repeatedly double, and tripled down on, and then some.
Related Reading | This Bitcoin Metric Says The Bull Market Might Soon Be Over
At the rate he's going, the guy will have a wallet containing more BTC than Satoshi another year or so from now. Up until recently, this has been paying off dramatically for Saylor and anyone he influenced and bought BTC, as the price per coin has been rising substantially.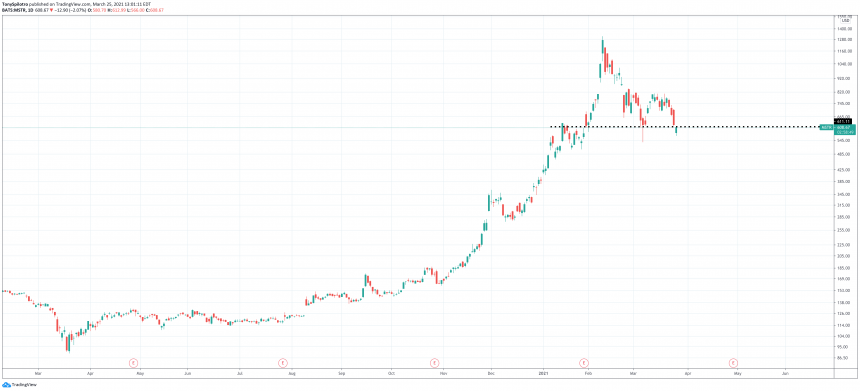 MicroStrategy shares went parabolic like Bitcoin | Source: NASDAQ-MSTR on TradingView.com
In tandem, the price per share of MicroStrategy (MSTR) also went parabolic, mimicking the current Bitcoin price chart.
The recent selloff and potential peak in the leading cryptocurrency by market cap, is following a similar trajectory downward after doing the same on the way up.
MicroStrategy Shares On The Ropes, Here's Why Investors Could Be Uneasy
MicroStrategy shares are now "on the ropes," according to one top crypto analyst. A potential retest could be in progress, and if the attempt fails, it could be a technical knock out for the corporation's crypto-fueled rally.
But could this also mean that sentiment is shifting enough in Bitcoin for MicroStrategy to be affected this negatively? That same theory vice versa doesn't make sense.
Whatever the case may be, there is a chance that Saylor's bet on Bitcoin will be right, but was still a little too soon for the cryptocurrency.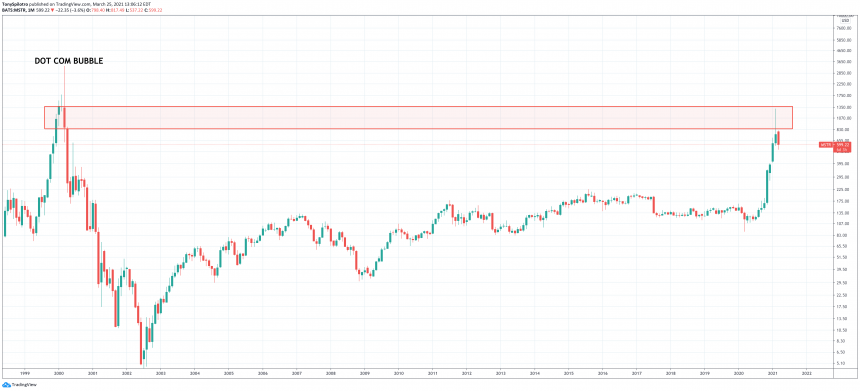 Michael Saylor's company shares were hit hard post dot com era | Source: NASDAQ-MSTR on TradingView.com
Where the recent MicroStrategy rally topped out, was at resistance dating back to the dot com bubble. When that popped, Saylor was reportedly left as one of that era's biggest losers financially, according to Fortune Magazine. Saylor had lost a total of $13.5 billion.
Related Reading | Why March Is The Bloodiest Month In Bitcoin History
Once again, Saylor could end up losing out big due to his commitment to being a pioneer in the cryptocurrency. The bold bet in Bitcoin has paid off, but his continued push has made many investors question his speculative bet – which could be behind the correction in MicroStrategy shares in the first place.
Featured image from Deposit Photos, Charts from TradingView.com