UNI Mum as Uniswap V3 Announcement Leaves Bulls Wanting More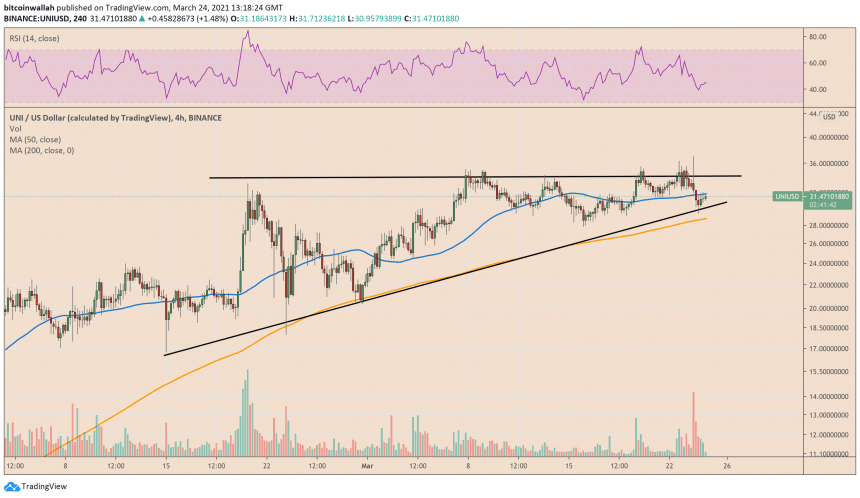 Key Uniswap Takeaways
Uniswap (UNI/USD) surged on Wednesday but lacked the momentum to turn the upside move into a price rally.
The move uphill appeared after the decentralized exchange unveiled a long-awaited network upgrade.
No hints on gas-solving layer-2 solution left bulls wanting more upside cues.
Uniswap climbed on Wednesday after the leading decentralized exchange team released details on its major upcoming protocol upgrade.
V3 Outlook
The latest published specifications showed that the "Uniswap V3" update would improve gas fee issues on the network. Uniswap consumes a majority of gas fees on the Ethereum network. Data fetched by ETH Gas Station shows that the exchanged charged $2 million worth of ETH for transactions in the past 30 days.
Uniswap's new iteration aims to solve gas issues. However, the exchange won't alleviate the problems until it launched its Layer 2 scaling solution, powered by a separate "Optimism" solution, which is also a part of the Uniswap v3 update.
1/

🦄 Today we are thrilled to present a detailed overview of Uniswap v3, the most flexible and capital efficient AMM ever designed!

🏃 Mainnet launch is scheduled for May 5, with a scalable Optimism L2 deployment set to follow soon afterhttps://t.co/NTekDxWVA8

— Uniswap Labs 🦄 (@Uniswap) March 23, 2021
The new revelations did not provide enough updates about when Uniswap would integrate Optimism into its protocol. But the exchange did state that it would introduce "concentrated liquidity," a feature that would provide individual liquidity providers "granular control" over price areas for their allocated capital.
"Liquidity providers can provide liquidity with up to 4000x capital efficiency relative to Uniswap v2, earning higher returns on their capital," the update read. "Even with these groundbreaking design improvements, the gas cost of v3 swaps on Ethereum mainnet is slightly cheaper than v2. Transactions made on the Optimism deployment will likely be significantly cheaper!"
UNI/USD Climbs Cautiously
The UNI/USD exchange rate jumped 1.48 percent to $31.47 after the Uniswap V3 announcement. Nevertheless, the pair's volumes declined in the period of upside moves, showing a lack of bullish conviction among traders.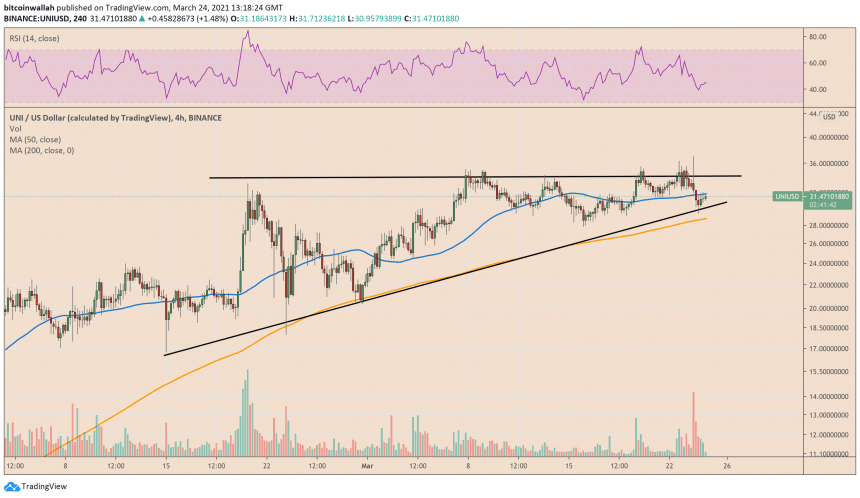 Uniswap also faced downside pressure from its 50-4H simple moving average wave, which served as short-term resistance for the token. A break above the price ceiling posed the greater potential for UNI to reach the $35-36 price range as it attempts a full-fledged breakout out of its Ascending Triangle, a bullish continuation pattern.
Meanwhile, a failure to close above the 50-4HMA risked having Uniswap bears test the Triangle's lower trendline for a downside breakout.