Five Signs Litecoin Has Bottomed, Next In Line For New ATH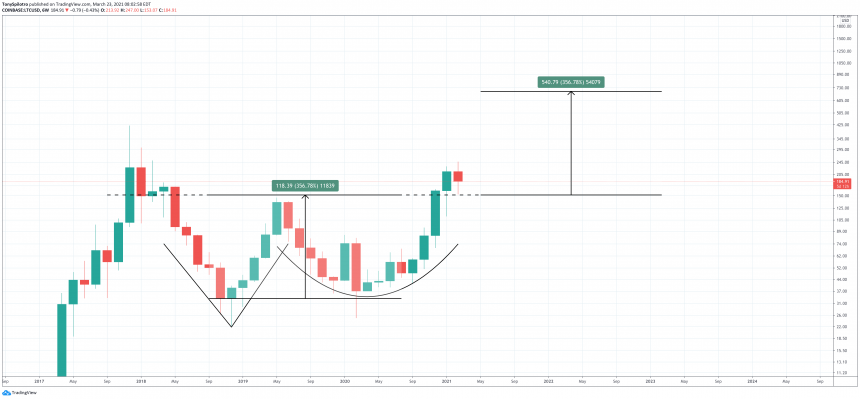 Litecoin during the last cycle was as popular and hyped as other top cryptocurrencies Bitcoin and Ethereum. This time around, however, the coin called digital silver isn't performing anywhere nearly as well as its digital gold counterpart or even other altcoins.
Whatever has been causing the lag behind the rest of the market, there are several signs that the altcoin has bottomed and is the next cryptocurrency in line to set a new all-time high.
Five Technical Signs That Point To A Bullish Litecoin Revival
This bull market has been dominated primarily by Bitcoin, Ethereum, and innovative new blockchain-based technologies like DeFi and NFTs.
Among the year's top performers, nowhere to be found on that list would be Litecoin – an altcoin that during the last bull market rose as furiously as Bitcoin, and peaked weeks ahead of Ethereum.
Related Reading | Digital Silver: Why Litecoin Is Poised To Bounce Versus Bitcoin
During this cycle, Litecoin is lagging well behind these other top ten assets with serious longevity. Although Litecoin has maintained its position within the top ten, it is finally at risk of falling out of it and is currently ranked in ninth place overall.
But before that could happen, the altcoin could finally see a strong bounce according to several technicals.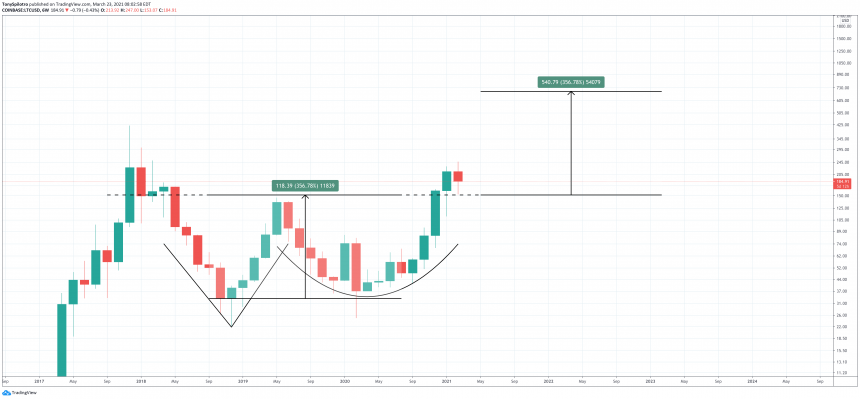 A textbook example of an Adam and Eve bottom formation | Source: LTCUSD on TradingView.com
First and foremost, on the rarely used six-week timeframe on LTCUSD the trading pair, Litecoin has completed one of the technically cleanest Adam and Eve bottom formations in crypto.
The projected target based on the measure rule should send Litecoin to nearly double its previous all-time high within weeks once things do turn around.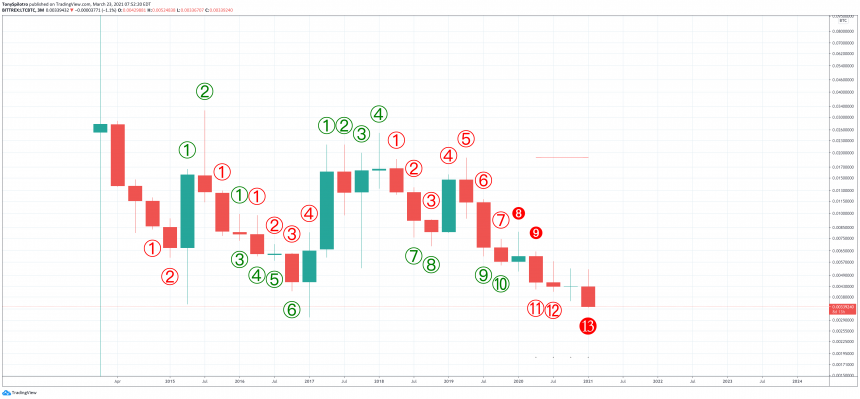 A TD 13 typically suggests a trend is reaching the maximum point of exhaustion | Source: LTCBTC on TradingView.com
Switching to the LTCBTC trading pair, quarterly timeframes are signaling that the brutal downtrend could be completely exhausted with a TD 13 and a sweep of former lows.
Related Reading | Altcoin Season 2021: Why Litecoin Could Teleport Like Dogecoin Did
A quarterly candle has never traded below the current level, making a reversal at this zone all the more likely.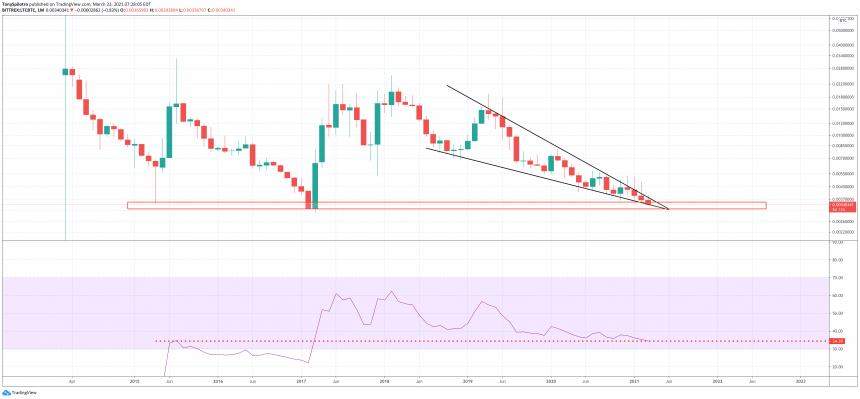 Did you know? RSI can also act as support and resistance for price action | Source: LTCBTC on TradingView.com
On monthly timeframes, the altcoin has been trading against Bitcoin in a falling wedge pattern, and after four years of a bear market, finally touched down on RSI support.
At the same time, Litecoin has fallen to support dating back to the 2017 bottom, just before the altcoin began its extended, four-year descent against the top cryptocurrency.
Is this the bullish signal Litecoin bag holders have been waiting for? | Source: LTCBTC on TradingView.com
Zoomed in further to weekly timeframes, a bullish divergence on the Relative Strength Index has been building since around mid-2020.
If the bullish divergence fails, Litecoin will set new lows against Bitcoin. If confirmed, the reversal should begin well into 2021 before the total cryptocurrency market tops out once again.
 Litecoin is severely lagging behind Ethereum and Bitcoin | Source: LTCUSD on TradingView.com
The fact that Litecoin remains so far behind Bitcoin and Ethereum, despite reaching its all-time high before the other two during the last cycle, could indicate that the peak of the crypto market is nowhere near.
Related Reading | This Litecoin Fractal Says Time Is Running Out To Accumulate At Low Prices
When Litecoin does break out against Bitcoin, it is historically one of the largest and most profitable plays in crypto. But as price action has recently shown, history doesn't always repeat.
When will Litecoin finally shine again?
Featured image from Deposit Photos, Charts from TradingView.com