Bitcoin (BTC/USD) Bounces Off 200-MA Support to Retest $57,000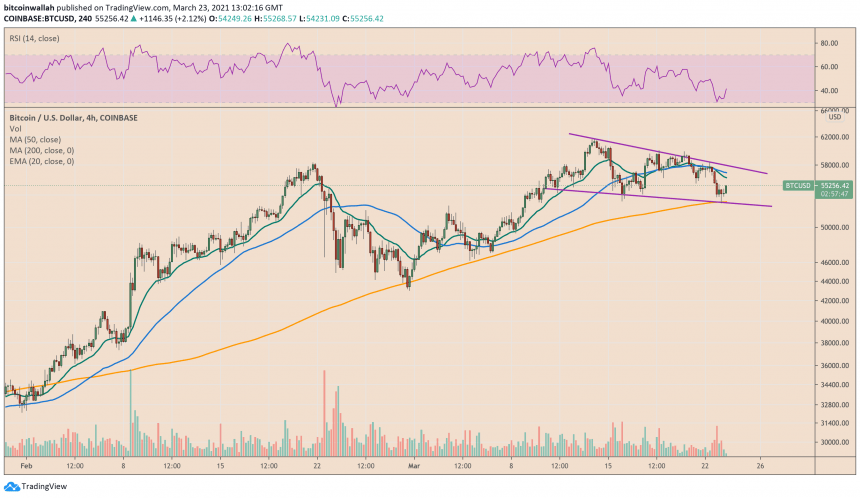 Key Bitcoin Points
Bitcoin rose ahead of the New York opening bell on Tuesday.
Traders flocked to re-accumulate the cryptocurrency as it reached a classic support level.
Trading inside a short-term falling wedge, bitcoin now anticipates extending its rebound towards $58,000.
Bitcoin climbed higher ahead of the US trading hours Tuesday after dipping to $53,000 during the Asia-Pacific session.
The level also coincided with the cryptocurrency 200-4H moving average (the orange wave in the chart below). Its historical significance as support in capping Bitcoin's downside attempts allowed traders to treat it as their accumulation level. As a result, the BTC/USD exchange rate rebounded by more than 2.5 percent during the European session.
As the New York opening bell neared, Bitcoin climbed above $55,000, a psychological price floor. That raised expectations that the cryptocurrency would hold above the said level to the further upside during the US session. A technical pattern supported the bullish forecast.
The Wedge
Bitcoin's rebound off the 200-4H MA (and the $53,000-level) also coincided with a support confluence provided by a descending trendline. Meanwhile, another falling trendline capped the cryptocurrency from extending its gains. Together, these trendlines formed a Falling Wedge, a bullish reversal pattern.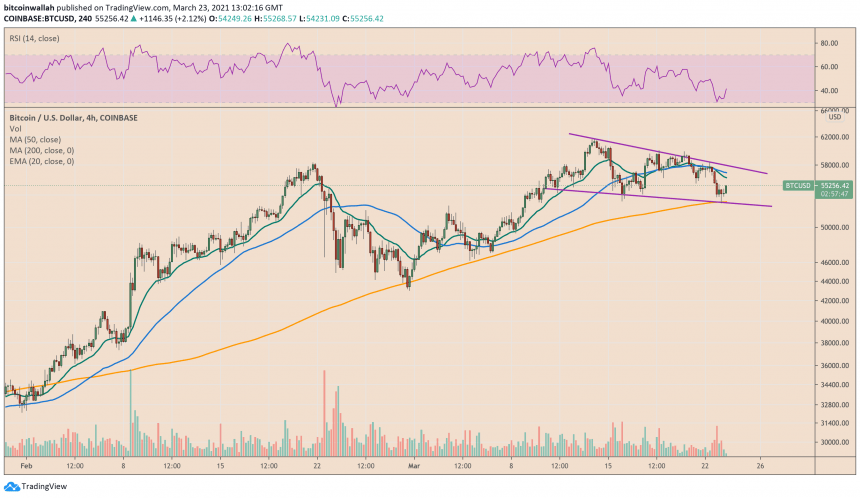 BTC/USD has been fluctuating inside the Wedge since March 10.
After testing the pattern's lower trendline as support, the pair rebounds to reach and test its upper trendline as resistance. After that, it pulls back again to retest the lower Wedge trendline as support. In total, Bitcoin has confirmed six rebounds and thirteen pullbacks.
Therefore, traders—psychologically—expect the cryptocurrency to reclaim Wedge's upper trendline, which sits above the $57,000-level.
More short-term bullish confluence comes in the form of on-chain indicators. For instance, US cryptocurrency exchange Coinbase Pro alerted about massive Bitcoin outflows from its hot wallets on Tuesday. It suggested that traders withdrew their BTC holdings to hold them instead of selling them for other assets —fiat or crypto.

Roadblocks
Meanwhile, some analysts advised traders to remain watchful of surprising declines. One of them, a pseudonymous entity on Twitter, referred to Bitcoin breaking below medium-term ascending trendline support, which pointed to risks of extended declines.
"[It] could be a fake-out but we'd need some strong buyback today," the independent analyst noted. "I'll probably sit out today and observe. Being cautious with longs."
Macroeconomically, a recent surge in the US dollar index also risks declines for Bitcoin. Investors are flocking back to the greenback amid concerns over the renewed US-China geopolitical tensions and roadblocks in the European Union's vaccination program that has reduced appetite for euro and euro-based assets.