This is why digital artist Beeple thinks NFTs might be a bubble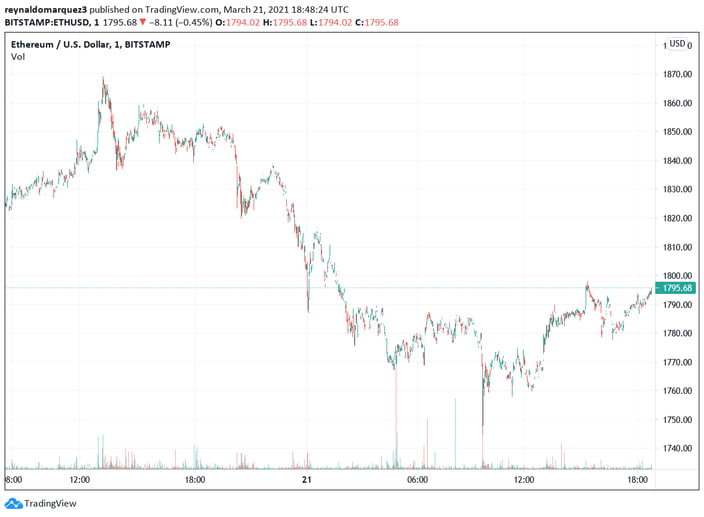 In an interview for CNN's First Move, digital artist Mike "beeple" Winkelmann talked about "the craziness" he has experienced with the sale of his NFT for $69 million. Acknowledging that the process has been "overwhelming," beeple the consequences of the marriage of art and technology.
The digital artist has a career that spans 20 years. The work sold for millions as part of a "unique auction" at Christie's and was created with images made over 13 years. Non-Fungible Tokens (NFT), Beeple said, has become "a real way" to connect with an audience. Beeple said:
To be quite honest, this is not something that I saw coming. It has just been overwhelming (…). Every part of me looks at this and says, "this is insane". I always thoughted they will be some attention paid to it, I did not think it would be this quick or this much.
The digital artist considers himself a political critic of sorts and showed disbelief about the NFT market during the interview. Beeple believes that digital techniques and media have the opposite effect of devaluing artworks:
I don't think art is being devalued, I think in some cases a lot of value is being placed on the work. I think there is definitely, on some level, a bubble when you have NFT of toilet paper selling for $2,000. That seems kind of ridiculous.
Comparing NFTs to the early days of the internet, Beeple said the technology is "exciting." However, he highlighted how at that time "a lot of bubbles" were created, speculation, hype.
After that stage was over, the Internet reached its next level of development. Something similar, Beeple believes, will happen with NFTs. The digital artist stated:
There is gonna be a huge rush of people into this (saying), 'ok, here is chapstick, let's NFT it'. You already see that now. But I think people are going to pretty quickly get wise to that and all that stuff is going to fade away. The things that connect with people in an emotional level, or have a lot of utility, those are the things that are going to stick around.
Calvin Harris and Steve Aoki bid thousands on Beeple's NFTs
Beeple believes that NFTs will be technologies that will be integrated into many use cases in people's everyday lives. The digital artist is participating in "The Carbon Drop". An initiative created by The Social Alpha Foundation.
Via Twitter, Beeple has celebrated participation in its NFT auction. Receiving millions of dollars in bids from Calvin Harris, Steve Aoki, and others, the proceeds will go to the Open Earth Foundation to:
(…) develop innovative open digital infrastructure for improved management of planet Earth —helping track transparently the global progress on the Paris Agreement to avoid the existential risk of climate change.