NFT Criticism Heightens: Skeptic Calls Tech a 'House of Cards,' Claims NFTs Will be 'Broken in a Decade'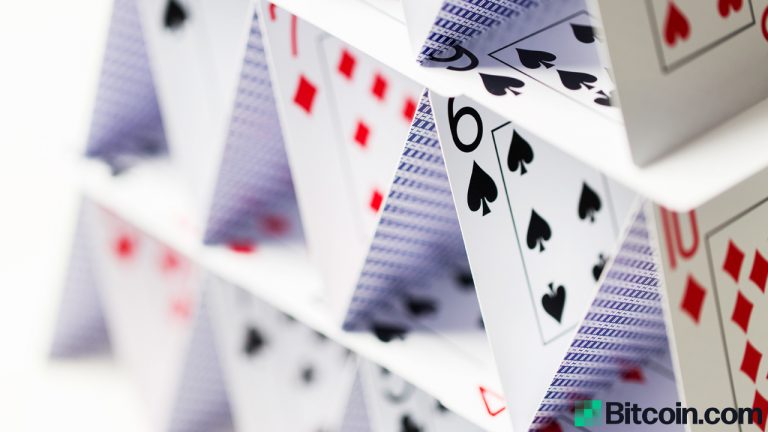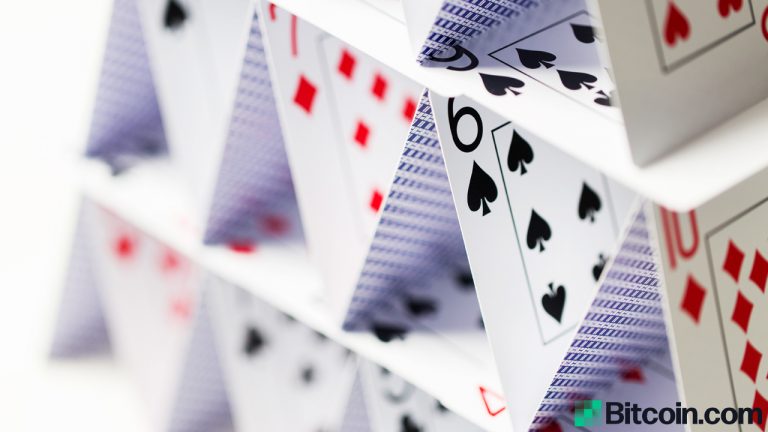 On the week of March 7 through the 13th, the term "NFT" touched an all-time record high in terms of popular search queries according to Google Trends (GT). The highest score is 100 and this week, GT shows interest has dwindled a hair down to 97. Meanwhile, while the NFT hype affects the cryptocurrency and blockchain community, not everyone is thrilled with this technology. Some critics think NFT tech needs to be more robust in order for collectibles to last more than a decade without them disappearing.
The Rift Between NFT Hype and NFT Criticism
Over the last few weeks, the NFT craze has jumped to new levels as people have sold artwork for millions of dollars, unique audio recordings of farts have been tokenized, and even blockchain-backed signature dance moves are NFTs. And of course, by now everyone has heard about Beeple, the digital artist who sold an NFT via Christie's auction house for a whopping $69 million. This sale propelled NFT mania to new heights, and Christie's auction invoked Sotheby's to partner with an artist named Pak.
The mysterious digital artist Pak was selling an NFT on Makersplace called "Metarift." An NFT art collector named "888" placed a bid on Metarift for $888,888 on March 19. The following day, the bid had been upped to $904,413 by a bidder named "Danny." The auction ended on Pak's latest NFT artwork sale on Saturday at 12:30 p.m. (PST) with Danny's winning bid.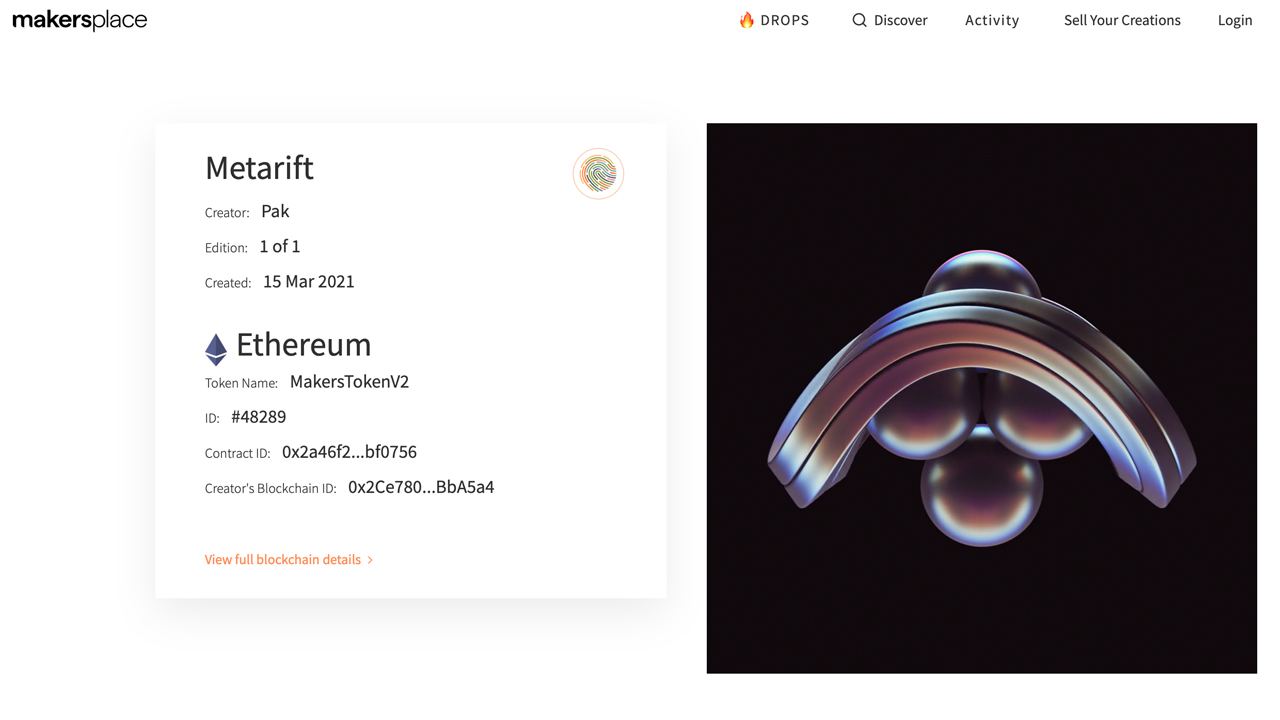 Despite all the mega-auctions and all the celebrities joining in on the fun, non-fungible token (NFT) assets have come under a lot of criticism. Bitcoin.com's newsdesk discussed the topic of NFT immutability which has been the industry's biggest weak point so far. In that editorial tokenized NFT tweets were deleted and artwork was replaced with other images.
On March 17, the Twitter user Jonty Wareing told his 6,932 followers how non-fungible tokens reference the media people are purchasing today. His first tweet went viral with more than 27,000 likes and close to 10,000 retweets.
Out of curiosity I dug into how NFT's actually reference the media you're "buying" and my eyebrows are now orbiting the moon

— Jonty Wareing (@jonty) March 17, 2021
File Vanishes from the Host 'Your Token Is Now Worthless'
He discussed a sale of an original Beeple sold on Nifty Gateway, and detailed how the Beeple JSON file was hosted on Nifty Gateway's servers. Wareing then explained how the NFT is also hosted on Cloudinary. "So if Nifty goes bust, your token is now worthless," Wareing said. "It refers to nothing. This can't be changed," he added. Then Wareing also talked about files that are using the Interplanetary File System (IPFS) as well. In this tweet, he specifically discussed the Beeple sold by Christie's which is connected to IPFS.
"So, well done for referring to IPFS – it references the specific file rather than a URL that might break," Wareing continued and showed the metadata link to an IPFS gateway run by Makersplace. But if something happened to Makersplace, then once again, the link may be useless over time. "You might say 'Just refer to the IPFS hash in both places'" Wareing added. But further scorned that "IPFS only serves files as long as a node in the IPFS network intentionally keeps hosting it."
Wareing also said:
Which means when the startup [that] sold you the NFT goes bust, the files will probably vanish from IPFS too.
if (!window.GrowJs) { (function () { var s = document.createElement('script'); s.async = true; s.type = 'text/javascript'; s.src = 'https://bitcoinads.growadvertising.com/adserve/app'; var n = document.getElementsByTagName("script")[0]; n.parentNode.insertBefore(s, n); }()); } var GrowJs = GrowJs || {}; GrowJs.ads = GrowJs.ads || []; GrowJs.ads.push({ node: document.currentScript.parentElement, handler: function (node) { var banner = GrowJs.createBanner(node, 31, [300, 250], null, []); GrowJs.showBanner(banner.index); } });
Twitter Account Dubbed Check My NFT Discovers Current NFT Flaws in the Wild
Moreover, he also tweeted about an example of the issue happening today and said "NFT's are built on an absolute house of cards constructed by the people selling them." He claims the tech will be "broken" within a decade. The Twitter account called "Check My NFT" (@checkmynft) has also been tweeting about a bunch of missing art, and inaccessible NFT assets.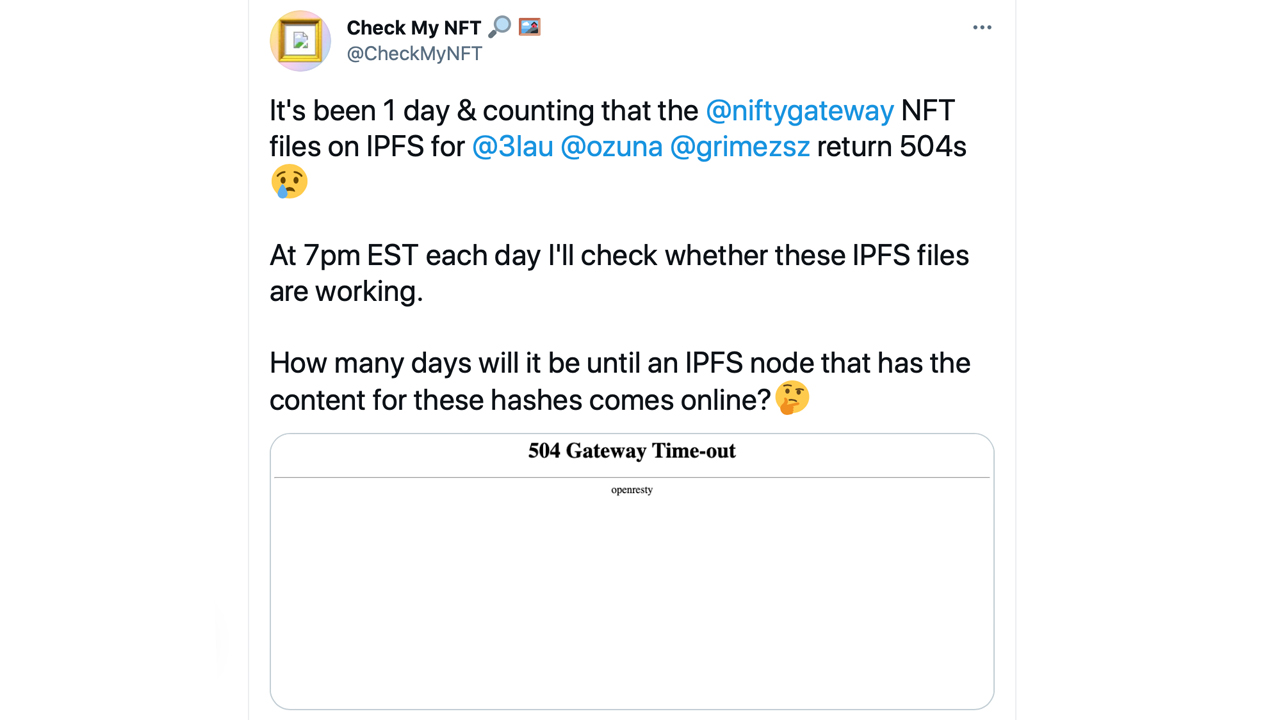 In our last report, Check My NFT explained that metadata, URLs, and image files "should be backed by an immutable and permanent storage provider." One way of doing this is leveraging IPFS2Arweave.com, which utilizes a project called Arweave.
The IPFS + Arweave solution claims to solve the permanence problem by using Arweave for storage and pinning the NFT data to the Interplanetary File System.
"IPFS is a popular P2P network for sharing data in a decentralized way, but it lacks one feature: Permanence. Content on the IPFS network can disappear. If no-one hosts the data, it could be lost forever," the Arweave website details. "The Arweave blockchain can now store and pin files onto IPFS and keep them available permanently. This simple API takes an IPFS Hash, stores the data onto Arweave, and pins it to IPFS."
It will be interesting to see if NFT projects take the recent scrutiny seriously, and leverage immutable and permanent storage as Check My NFT and Arweave recommends. Projects going forward may work toward building stronger permanence models. Projects that have already minted million-dollar NFT works might want to make sure the non-fungible token assets are truly deemed immutable.
Meanwhile, other blockchain NFT solutions believe their distributed ledger protocol alone is reliable enough to preserve an NFT for centuries to come. Much of this NFT debate will still require the test of time or exposure to vulnerabilities.
What do you think about the NFT permanence problem? Let us know what you think about this subject in the comments section below.