Morgan Stanley Eyes Bitcoin Exchange Acquisition After Crypto Rallies 1,500%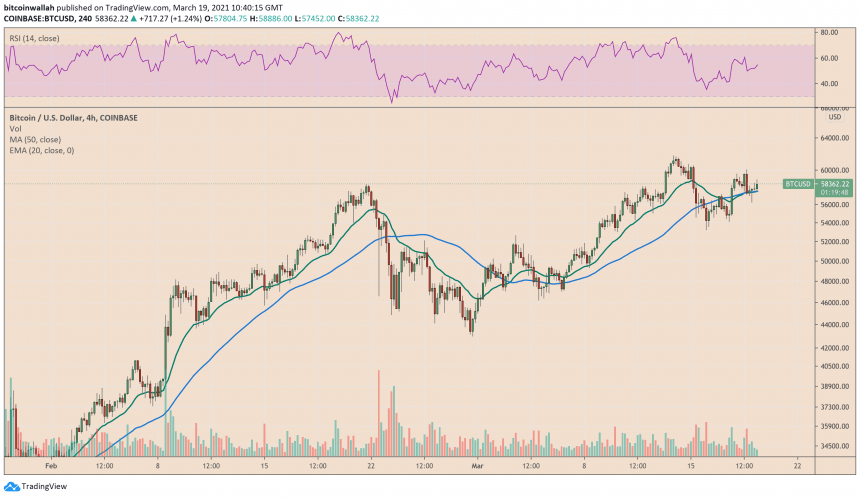 Key Bitcoin Takeaways
A South Korean media outlet reported that Morgan Stanley plans to acquire Bithumb, a local bitcoin exchange.
The news surfaced two days after the American banking giant decided to offer three Bitcoin funds to its rich clients via its traditional investment platform.
Bitcoin recently surged above $61,000 on higher institutional demand, up more than 1,500 percent from its March 2020 low.
Bitcoin is not going places. Places are coming to Bitcoin.
So it appears following a report from the South Korean media outlet Naver that revealed Morgan Stanley's alleged interest in acquiring a Bitcoin exchange. The exclusive coverage suggested that the American investment banking giant plans to invest 300-500 billion Korean (~$255-442 million) into Bithumb based on comments it received from one of the exchange's representatives.
$2bn Bid
Morgan Stanley reportedly entered discussions with Bident, an entity that holds a 10.3 percent stake in Bithumb, to acquire stakes in the cryptocurrency exchange. Bident, a KOSDAQ firm, saw its share surge 16.41 percent in a day after the prospects of its potential deal with Morgan Stanley entered the wire.
"The reason Morgan Stanley used Bident is that it understood that Bident has the right to negotiate a preferred sale to acquire Bithumb Holdings," said another anonymous source familiar with the matter.
Market analyst Joseph Young revealed in a separate tweet that Morgan Stanley might bid $2 billion for Bithumb, adding that the global investment giant's deal with South Korea's biggest cryptocurrency exchange confirms "unprecedented" explosiveness of institutional interest in the Bitcoin space.
Wow.

Morgan Stanley is reportedly bidding for Bithumb, South Korea's top crypto and bitcoin exchange, for $2 billion valuation.

Slowly, then surely.

The explosiveness of institutional interest in this space right now is unprecedented.

— Joseph Young (@iamjosephyoung) March 19, 2021
The comments also appeared as a CNBC report this Thursday revealed Morgan Stanley's interest in offering three Bitcoin funds to its wealthy clients via its traditional investment infrastructure.
"Two of the funds on offer are from Galaxy Digital, a crypto firm founded by Mike Novogratz, while the third is a joint effort from asset manager FS Investments and bitcoin company NYDIG," the exclusive news coverage noted.
Many analysts wrote in the lines of Mr. Young, stating that Morgan Stanley's involvement in the cryptocurrency space would make Bitcoin more popular among institutional investors.
"Morgan Stanley's announcement to offer bitcoin to their clients ($5T) in April ushers in a new era," noted Eric Weiss, the founder/CEO of New York-based Blockchain Investment Group. "A tidal wave of money is about to flow into bitcoin. Every major bank will follow. Nothing will ever be the same."
More Bull-Fire Ahead
Bitcoin rose by more than 1,500 percent in the previous 12 months, hitting its highest levels above $61,000 earlier this March as investors continued to explore the cryptocurrency for its anti-inflation features. Many analysts agreed that the Federal Reserve's loose monetary policies and the US government's expansive stimulus programs provided tailwinds to the Bitcoin rally.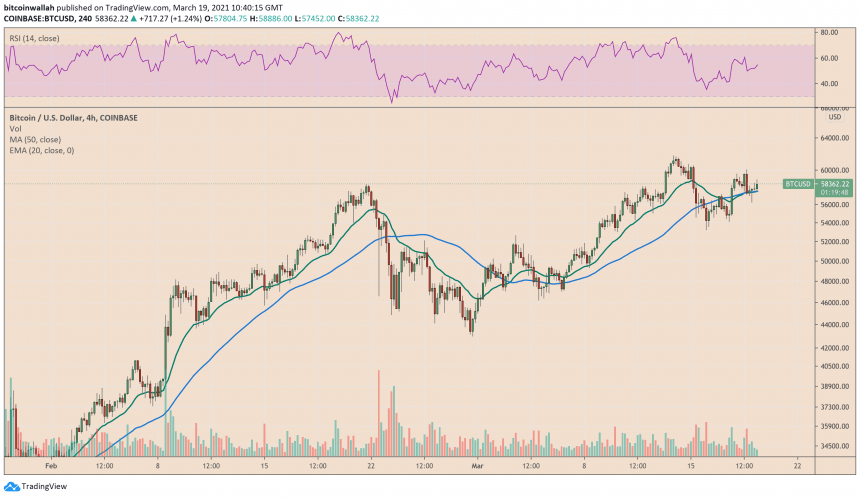 Now, bulls anticipate the BTC/USD exchange rate to reach $100,000 by this year's end, likely to be propelled higher by growing institutional interest. This year, Tesla revealed that it had added $1.5 billion worth of Bitcoin to its balance sheets.
Meanwhile, MasterCard and Bank of New York Mellon announced integrating crypto-enabled features into their proprietary platforms. Payment gateway PayPal, which also offers users the option to buy cryptocurrencies through its platform, acquired a crypto-security platform Curv.