Ethereum Bullish Retest Offers "Once-In-A-Lifetime Opportunity"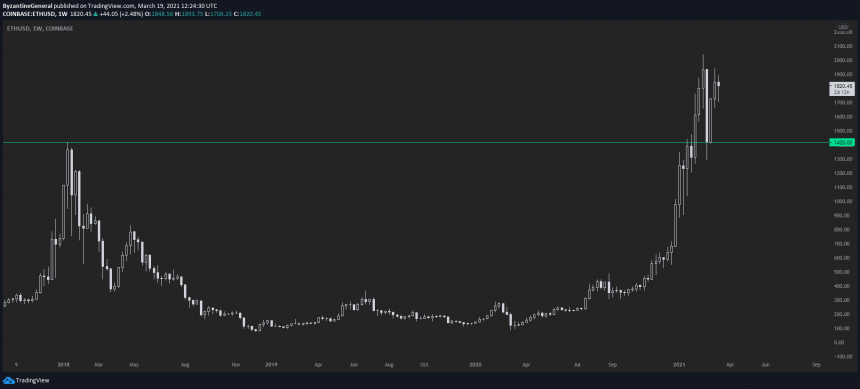 Ethereum has drawn many comparisons with early Bitcoin, and is expected to grow in value substantially and make for life-changing wealth. Those that missed out on the initial run up are in luck, however, as one crypto analyst says that the recent bullish retest presents a "once-in-a-lifetime opportunity."
Here's an in-depth look at the bullish retest the analyst is referencing, and what that ultimately could mean for the second ranked cryptocurrency behind Bitcoin for the long run.
Ethereum Bullish Retest Completes: What This Means For The Top Altcoin
Ethereum has been arguably more bullish than Bitcoin itself, driving a higher ROI but still nowhere near former highs on the two crypto asset's ratio.
Related Reading | Economist: Ethereum Looks "Bullish" After Withstanding "Macro Beating"
Eventually, Ethereum should catch up to Bitcoin on the ETHBTC trading pair, causing the top ranked altcoin to outpace the first ever cryptocurrency in terms of performance.
That time could be coming, as Ethereum just completed an extremely bullish retest of its former all-time high, and held it with extreme strength. The showing by bulls withstanding a "macro beating" could provide the confidence to fuel another leg up, taking Ethereum beyond prices of $2K per coin.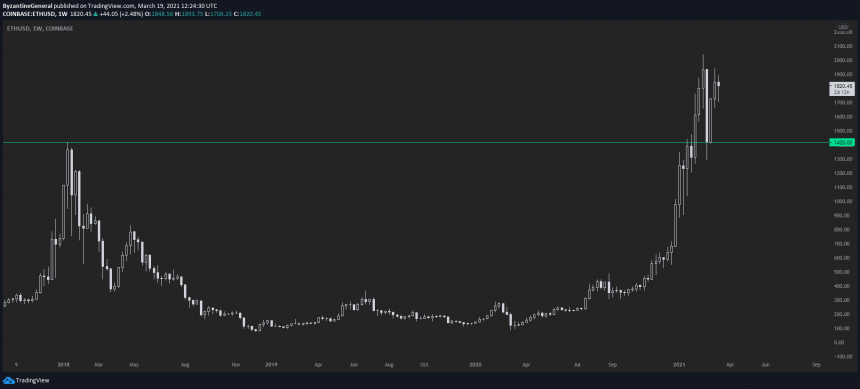 This retest could be a once-in-a-lifetime opportunity to get in before it is too late | Source: ETHUSD on TradingView.com
Crypto Analyst Claims Those Who Missed Out Initially Get Another Chance
According to one crypto analyst, the bullish retest is another chance for those who missed out on the initial rally. They claim this is a "once-in-a-lifetime opportunity" for latecomers, although technically it is the second chance after missing the initial run up.
Cryptocurrencies move quickly and violently, especially when a trading range is left behind. Ethereum has been trading between $1,400 and $100 for roughly four years, and just retested the former resistance as support, and held. The important resistance flip into support is now confirmed, and typically markets then move up in a strong way.
Related Reading | Alt Season 2.0: Analyst Claims It's "Showtime" For Ethereum
Ethereum is the second ranked cryptocurrency by market cap, only behind Bitcoin, and recently started the phases of the ETH 2.0 upgrade that should address scalability issues seen with the network recently.
Regardless of the challenges, activity on Ethereum is so high, ETH reserves on exchanges so low, and demand for Ether for gas so high, the price per coin will continue to skyrocket for the foreseeable future.
The retest of former resistance turned support, could also be the factor that finally lets the altcoin outperform Bitcoin for a period of time, bringing the ratio back toward the highs of early 2018.
Are you going to get in on this once-in-a-lifetime opportunity the analyst suggests is here?
Featured image from Deposit Photos, Charts from TradingView.com