Top Bitcoin Quant Analyst Says Fresh USD Is Needed For New Highs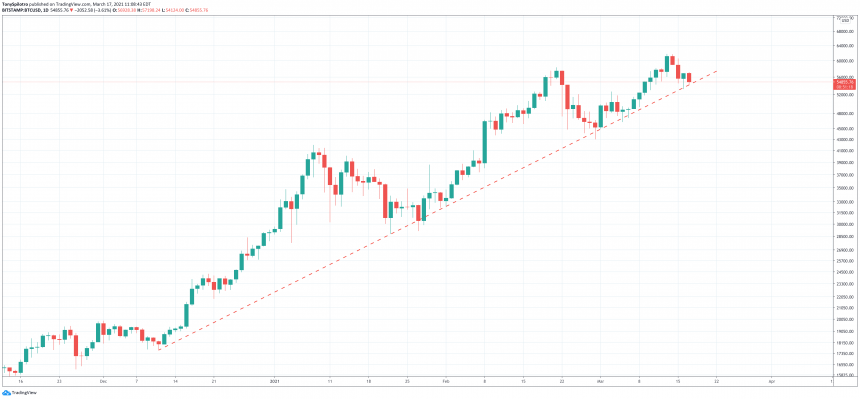 Bitcoin price is still plummeting from a rejection at new highs set this weekend, and struggling to maintain support at former resistance levels. On the way down, the buying pressure has been far less than it was on the way up, which has one top cryptocurrency quant analyst warning that fresh USD capital is necessary for new highs.
Here's what it might take for the leading cryptocurrency by market cap to make a full recovery and move beyond $60,000, according to key fundamental factors.
Fresh USD Inflows To Spot Exchanges Necessary For Further Bull Market Momentum
Bitcoin has been in an ongoing uptrend ever since Black Thursday of last year, when markets crashed globally due to the onset of the pandemic.
During the last year, months at a time were spent with the most dominant spot exchange in the United States, Coinbase, had a substantial price premium over other stablecoin-denominated exchanges.
Related Reading | Bloody Monday: Bitcoin Selloff Saw Record $1.6B In Liquidations
Cryptocurrency exchanges like Coinbase offer investors a direct fiat on-ramp into Bitcoin, Ethereum, and dozens of altcoins. When cash is pouring into the crypto asset class, the premium appears. When cash is bleeding back out, the premium diminishes, and can even tip in favor of stablecoin trading pairs.
I think $BTC would take some time to get another leg up in terms of demand/supply.

1/ Too many $BTC holdings in USD compare to stablecoin holdings on spot exchanges.

2/ BTC market cap is too big to get another leg up by leveraging stablecoin market cap solely. pic.twitter.com/daXPaKU3U1

— Ki Young Ju 주기영 (@ki_young_ju) March 17, 2021
According to Crypto Quant CEO and fundamental analyst Ki Young Ju, spot inflows will need to return bringing a fresh supply of USD into the market before new highs are set. For now, there's simply not enough stablecoin inflows to sustain the current Bitcoin market cap, and a "reset" could be coming.
Fundamentals Suggest Bitcoin FOMO Is Waning, What It Might Take For New Highs
Fundamentals point to lower spot inflows at Coinbase, even despite thousands of coins leaving the platform each week.
Until more money comes flowing in, the leading cryptocurrency by market cap is at risk of losing an important uptrend line, pictured below.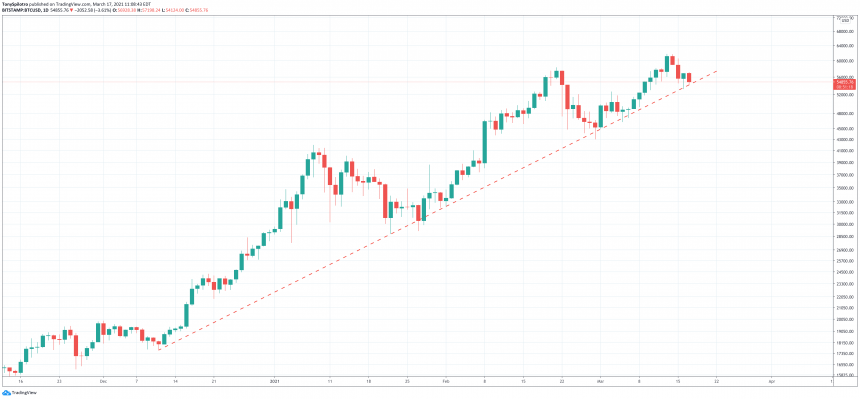 Unless significant spot inflows come in, Bitcoin could lose this trendline | Source: BTCUSD on TradingView.com
Losing the trendline would send Bitcoin back to prices around $46,000 where a retest of former support turned resistance would occur. The deeper selloff could bring into question if a double top will form, with a downside target of around $32,000 based on the measure rule.
Related Reading | Data Shows Bitcoin Peaks Last Roughly 40 Days: When To Sell Your Coins
The full correction – if it stops there – would be nearly a full 50% correction in price. At some point along the way, the price per BTC should become attractive enough for spot inflows to return. The only questions that remain, are when that happens and at what price.
Any deeper and the leading cryptocurrency by market cap could be in for another bear market and a full 80% retracement from highs.
Featured image from Deposit Photos, Charts from TradingView.com