How Bitcoin Will Become A "Report Card" On The Government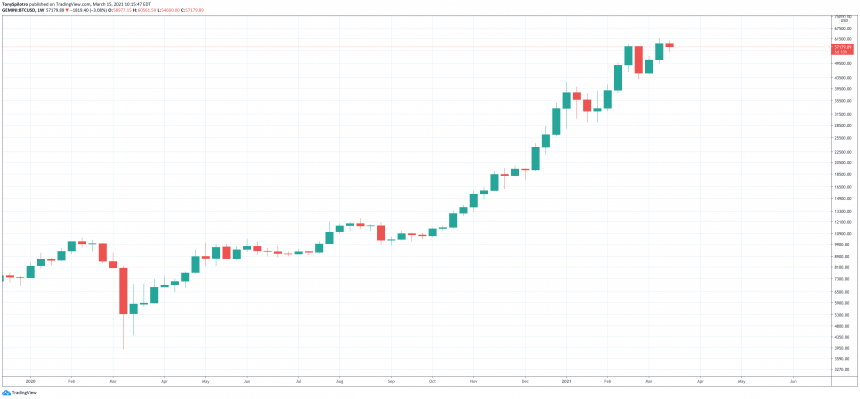 Bitcoin price has pulled back slightly from highs, but the trend has been up for over a year now, and is likely to continue as the nascent technology becomes widely adopted by institutions and traditional market investors.
In the future, the cryptocurrency, according to a top industry figure, will become a "report card" of sorts, scoring the government and its management of monetary policy. Here's what that means for Bitcoin and why the asset will eventually take on such a role.
Bitcoin To Become Report Card On The Government
The narratives driving Bitcoin these days are nearly endless. There's the devaluing of precious metals through the digital gold narrative; the currency as the future of collateral; "the stimulus asset"; and much more.
Related Reading | Bitcoin Price Could Close March With First Ever Quarterly Bear Signal
The next narrative and role that the cryptocurrency is will play, according to Galaxy Digital CEO Mike Novogratz, is "report card for how citizens think the government is doing managing their finances."
"We're in uncharted territory with how much money we're printing and #Bitcoin is a report card on that." – @novogratz pic.twitter.com/SHavy76xSh

— Swan 🦢 SwanBitcoin.com 🚀 (@SwanBitcoin) March 15, 2021
These sentiments echo Bitcoin expert Preston Pysh, who recently called the cryptocurrency a "manipulation gauge." Both comments are in reference to the asset growing rapidly in response to ongoing money supply expansion, driven by government-led stimulus packages.
The United States, for example, has just approved and begun issuing stimulus checks to taxpayers in the amount of $1,400 a piece.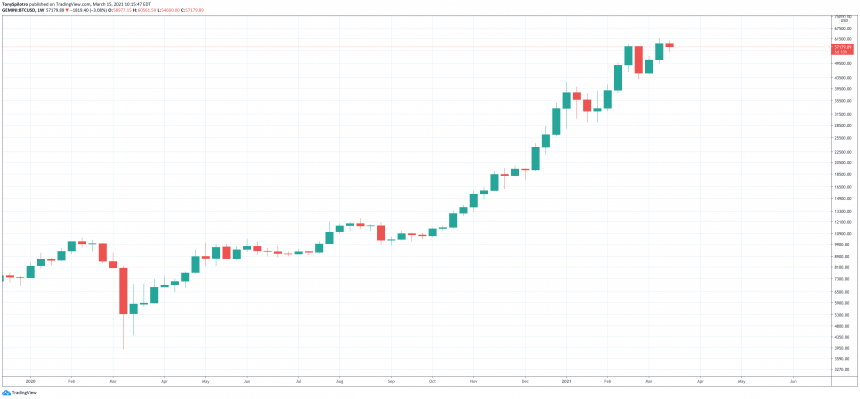 Bitcoin is already working as a report card, giving the government a failing grade | Source: BTCUSD on TradingView.com
Cryptocurrency Will Complete "Secular Shift" Before Making The Grade
Currently, the cryptocurrency is pulling back after a rejection from new highs, but this latest abuse of taxpayer money and a multi-trillion dollar bill that the country's citizens will foot for years, says that Bitcoin will grow significantly if the report card theory is sound.
When stimulus efforts first began rolling out in 2020, Bitcoin price was still reeling from the Black Thursday panic selloff when the pandemic first struck. The first stimulus checks sent out at $1,200 invested in BTC, would now be worth over $11,000 today.
Related Reading | Expert Take: BTC Has Become A Monetary "Manipulation Gauge"
Those who voted against the government with their dollars that day, now have substantial profits to show for it. The more the government mismanages monetary policy, the larger the cryptocurrency's market cap will grow, enabling the "report card" effect that Novogratz speaks of.
But before then, he says Bitcoin still has to complete the ongoing "secular shift" in which the asset class has become validated in the eyes of finance, and now every insurance fund, endowment, and more must begin adding it to their portfolio, or risk missing out on capital growth in a disruptive sector.
Featured image from Deposit Photos, Charts from TradingView.com