Capital Manager: Bitcoin Holding Above $52K Puts Crypto On Track For $100K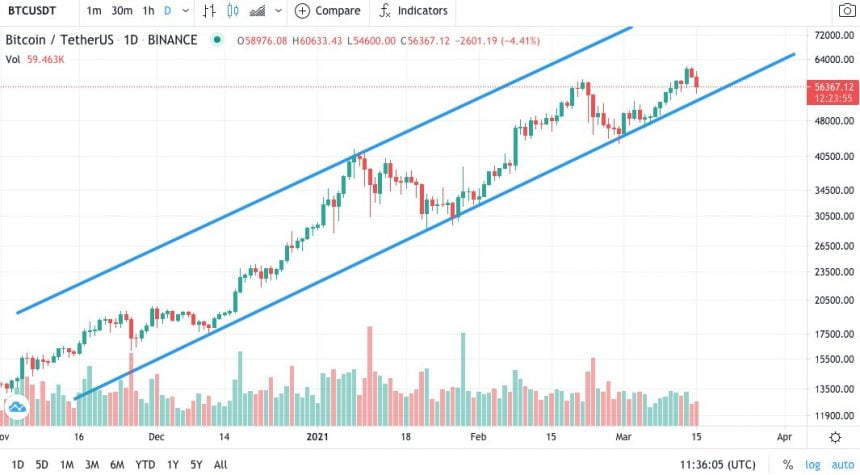 Bitcoin price has retraced by more than 10% following new record highs set over the weekend, however, according to one capital manager, the cryptocurrency holding above $52K would keep price action within a long-term rising bull channel.
If that happens, the first ever cryptocurrency will remain on track for $100K or more in the coming months ahead. Here's a closer look at the bullish uptrend channel keeping the ongoing rally afloat, and what might happen next.
Bitcoin Must Hold Bull Trend Channel At $52K, Claims Capital Manager
Speculation over Bitcoin price action has turned from blasting toward new highs to correction. The leading cryptocurrency by market cap bled out more than 10% in a sharp move overnight, which could be the start of some deeper downside.
Related Reading | Expert Take: Bitcoin Has Become A Monetary "Manipulation Gauge"
But as long as Bitcoin price holds above $52K, according to Vailshire Capital CEO Jeff Ross, a long-term, parallel bull channel will remain in tact.
The parallel uptrend channel, according to Ross' chart, began with a breakout above the former all-time high at $20K Since then, price action has ping-ponged within the rising, bullish channel, taking the asset to three-times that former peak.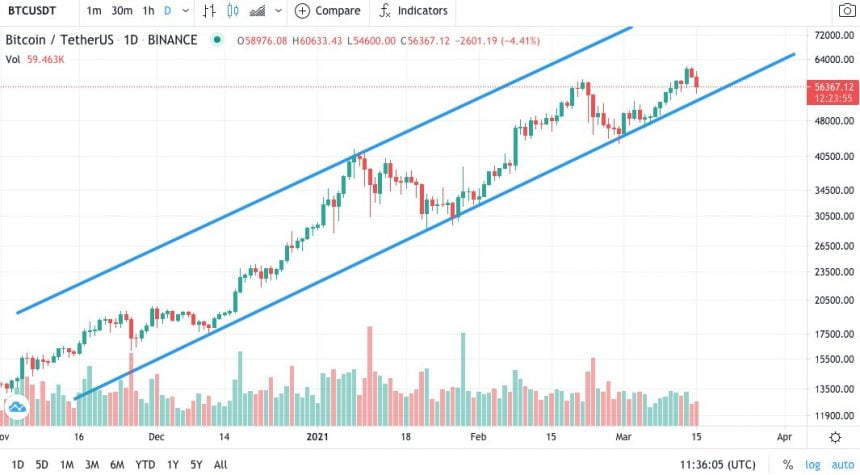 Bitcoin price is still trading well within the parallel bull trend channel | Source: BTCUSD on TradingView.com
Crypto Correction Within Larger Bull Trend "Confines," Track To $100K Intact
Ross also says that if this uptrend channel holds, Bitcoin price is well on its way to prices of $100K per coin or higher in the coming months all based on the current technical picture.
Fundamentally, Ross says that on-chain metrics such as address growth and blockchain activity are bullish, and the macro environment is "wildly bullish" for Bitcoin.
Related Reading | Bitcoin Price Could Close March With First Ever Quarterly Bear Signal
The comment is likely in reference to that fact that the US government just issued another trillion dollar stimulus package, in which checks will begin showing up in the accounts of potential crypto investors this week.
Ongoing monetary supply expansion and fresh and free capital ready to flow into the cryptocurrency's market cap, could keep the price per coin increase coming.
Several technicals are also favoring bears, which could make for an interesting and volatile few weeks ahead and March comes to a close.
Bitcoin is indeed "wildly bullish" by most standards, however, March is the worst month in the asset's short history, and there are bearish divergences stacking on the quarterly candle closing at the end of the month for the first time ever.
Can the bullish uptrend channel Ross points out withstand the factors above, and can stimulus money keep the macro environment far too bullish for bears to gain an edge?
Featured image from Deposit Photos, Charts from TradingView.com