Digital Silver: Why Litecoin Is Poised To Bounce Versus Bitcoin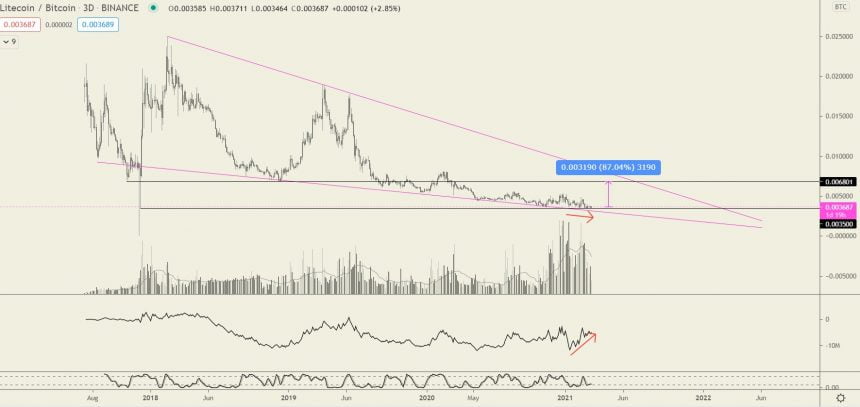 Litecoin has had a brutal "bull market" if you can even call it that for the once popular cryptocurrency built on Bitcoin's code. However, that all might soon turn around, as a massive bounce is brewing on the LTCBTC trading pair.
A reversal on the trading pair could help Litecoin catch up to the rest of the market, which has already set new all-time highs and then some. If and when LTC recovers against BTC, the upside could be swift and violent. Here's why.
How Long It's Been Lights Out For This Altcoin's Bull Market
Comparing Litecoin's chart next to the likes of Dogecoin, Ethereum, Bitcoin, Binance Coin, and several others, shows just how dark the depths of the crypto winter got for the altcoin.
Litecoin was an incredible performer at the height of the last bull market, rising to beyond $360 per LTC in a flash.
The altcoin also led the charge in the 2019 crypto market recovery, fueled by buzz surrounding the protocol's block reward halving.
Related Reading | Why Litecoin Is The Next Crypto To "Teleport" Like Dogecoin
Litecoin's code is very similar to Bitcoin's, giving it several key similarities that should be benefiting the "digital silver" counterpart currently, such as hard-coded scarcity.
Only 84 million LTC exist, a mere four times the amount of the BTC supply. And if scarcity is driving the demand behind Bitcoin, the fact that Litecoin isn't at all following is confusing.
But a bounce is due, according to one crypto analyst's interpretation of the LTCBTC price chart.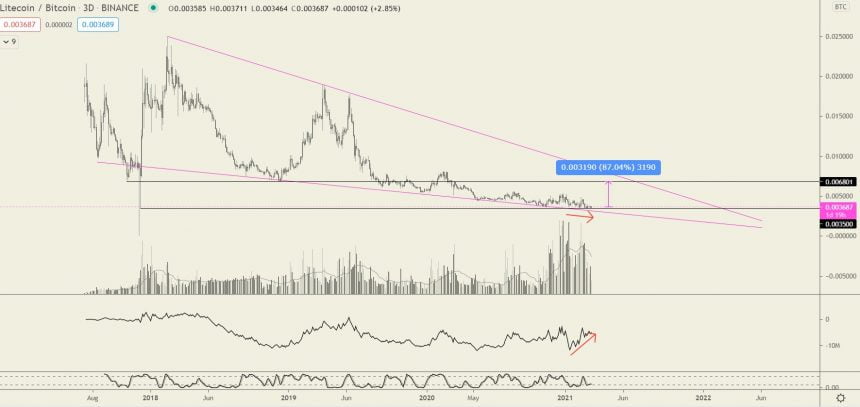 A hidden dull div on the OBV could trigger a breakout of the falling wedge | Source: LTCBTC on TradingView.com
Smart Money Signals That Litecoin Is Ready To Bounce Against Bitcoin
The trader who shared the above chart says that LTCBTC is currently at long-term support of a falling wedge, coinciding with a bullish divergence on the on-balance volume indicator (OBV).
The OBV is often regarded as the "smart money indicator" – named as such for its ability to pick up signals of movements before they begin to take effect in price action.
These signals represent "smart money" taking positions early before markup. Fractals from the last bull market suggest that a breakout is near, but holders of the coin are taking their time.
Related Reading | This LTC Fractal Says Time Is Running Out To Accumulate At Low Prices
Losing support would take LTCBTC to the lowest levels yet, but a full reversal here could take the altcoin back to highs on its ratio against Bitcoin.
Litecoin is one of the oldest cryptocurrencies and one of the few to hang onto the top ten assets by market cap for several years at a time, even despite an inability to reclaim its former price record.
Will Litecoin finally bounce against Bitcoin and make a full recovery?
Featured image from Deposit Photos, Charts from TradingView.com