Sovereign Wealth Funds Are Ready to Buy Bitcoin Says Saylor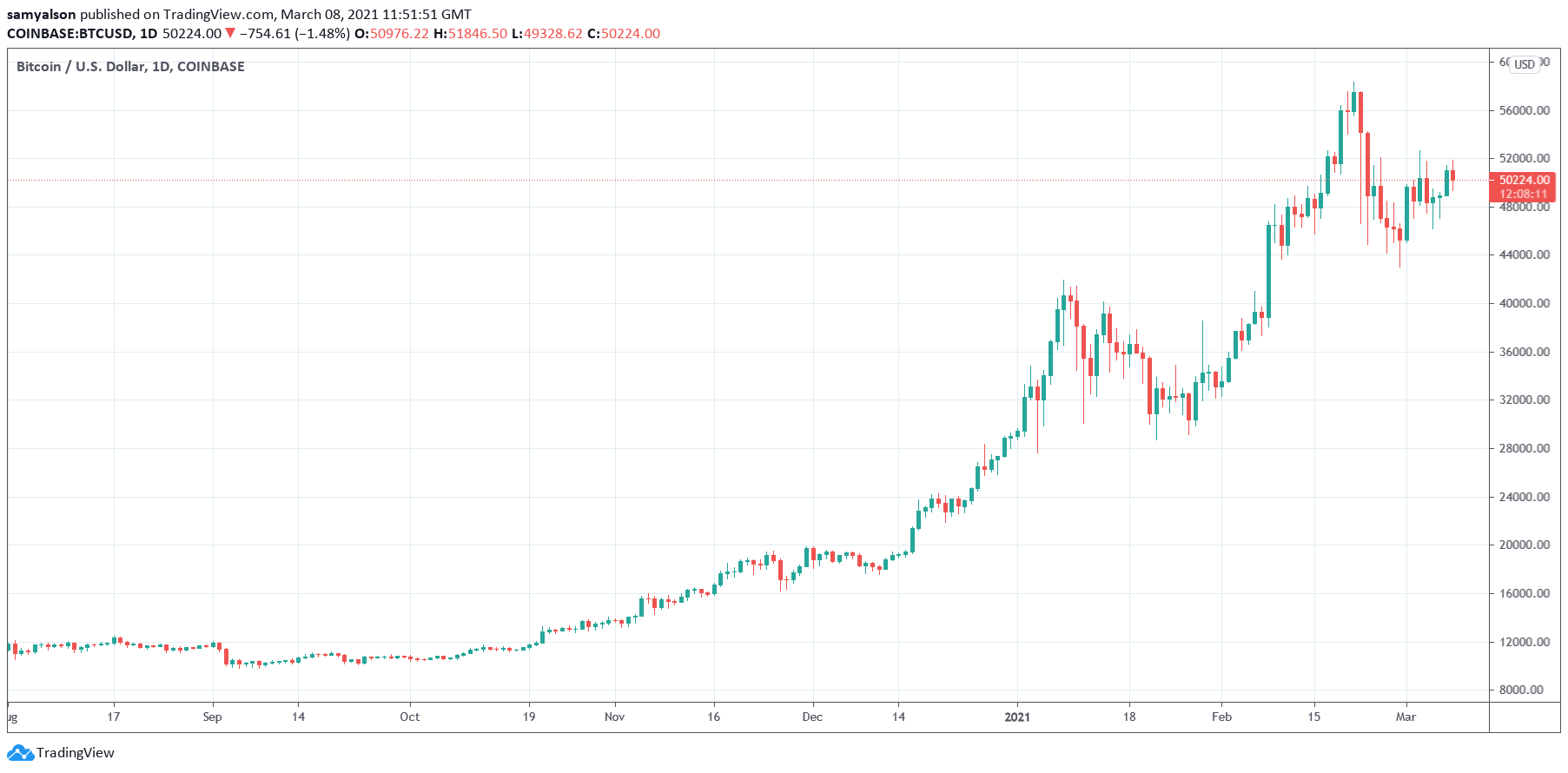 Bitcoin-bull Michael Saylor of MicroStrategy gives his expectations for the next round of institutional buyers coming into the space. What's surprising is that Saylor believes governments, via sovereign wealth funds, are next in line to buy.
Saylor Believes Bitcoin Over Gold is The Smart Play
When it comes to the question of wealth preservation, parallels between gold and Bitcoin are often drawn. However, Saylor points out that gold's performance over the last year has been pitiful compared to Bitcoin. More so, over the longer term.
With that comes a growing realization that Bitcoin, and not gold, is where to park money. Saylor believes existing hedge funds will increase their allocation this coming year. But rather astonishingly, he sees sovereign wealth funds joining the ranks of big institutional players and investing in Bitcoin.
Previously, the biggest block to this was the lack of, as Saylor calls it, $100bn entities moving on Bitcoin. But, given the flurry of institutional buyers, particularly since Q4 2020, that is no longer an issue.
"I think you see the existing hedge fund players double down, triple down…

I think it's inevitable that you'll see the sovereign wealth funds. They have to move, I mean, they have infinite money, and if you're infinite money and see the asset class coming and you see it's the best performing asset class, your only issue is, are other people with money doing this.

So, if I can point to $100bn entities that are doing this, then yeah, I kind of want in."
Not everyone agrees with this thesis. Chairman of Beeland Interests Inc. Jim Rogers said governments have a vested interest to promote their own central bank digital currencies over Bitcoin and other cryptocurrencies. That way, they retain full control of money, and anything that interferes with that will not be allowed to flourish.
"I believe that the virtual currency represented by bitcoin will decline and eventually become zero. This is a clear bubble and I don't know the right price. Virtual currency is not an investment target.

Many have already come and gone, so we'll see."
MicroStrategy Adds More BTC to The Stash
Last week saw Saylor's MicroStrategy add another 205 Bitcoin to its treasury holdings. The firm spent $10mn at an average price of $48,888.
Considering its existing holdings, the firm now holds 91,064 BTC at an average purchase price of $24,119. This gives an unrealized profit of $2.375bn at today's price.
MicroStrategy has purchased an additional ~205 bitcoins for ~$10.0 million in cash at an average price of ~$48,888 per #bitcoin. As of 3/5/2021, we #hodl ~91,064 bitcoins acquired for ~$2.196 billion at an average price of ~$24,119 per bitcoin. $MSTRhttps://t.co/a0BRd4Wy3r

— Michael Saylor (@michael_saylor) March 5, 2021
The latest buy came as MicroStrategy's stock price, along with the rest of the tech sector, experienced a sharp selloff. Critics argue that MicroStrategy is acting irresponsibly by maintaining its Bitcoin buying strategy during these circumstances.
However, Saylor fired back by saying the room for Bitcoin to grow makes it a no-brainer buy.
The weekend saw Bitcoin cross back above $50k, but today sees it down 0.5% to a current price of $50.2k.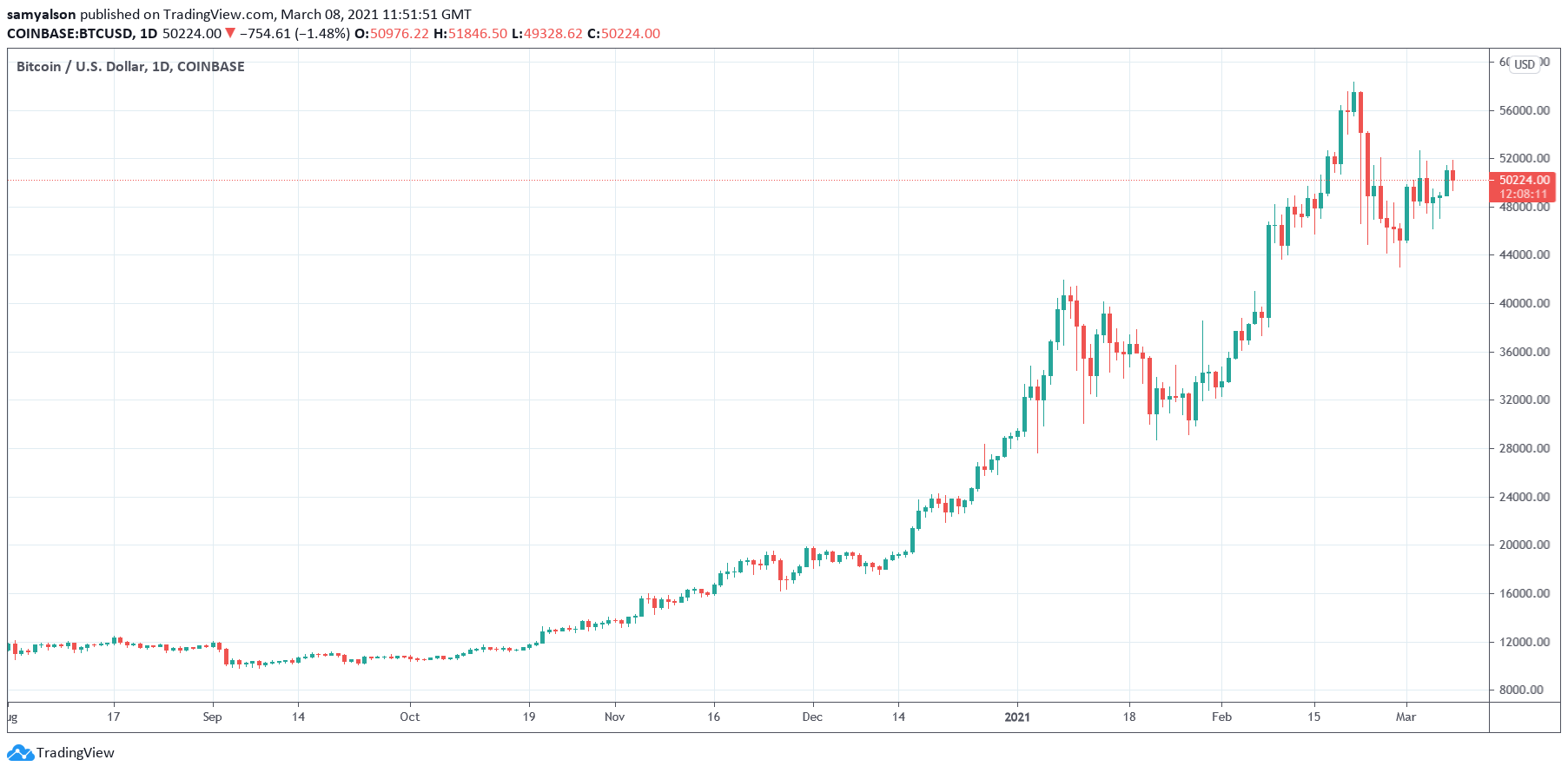 Source: BTCUSD on TradingView.com