JP Morgan Launching Crypto Investment Product Tracking Public Company Stocks With Bitcoin Exposure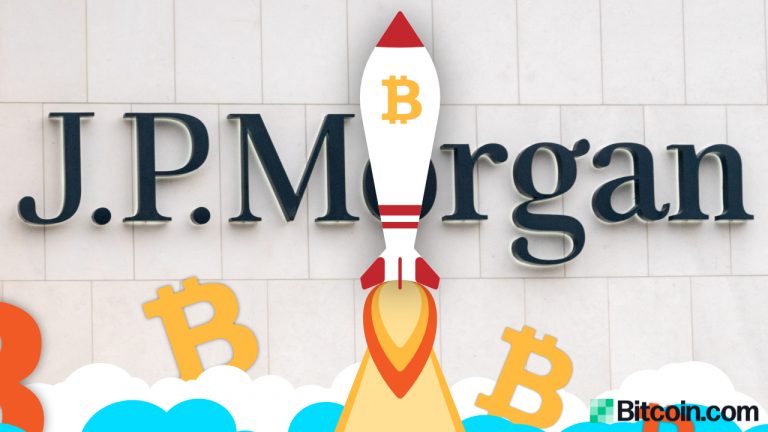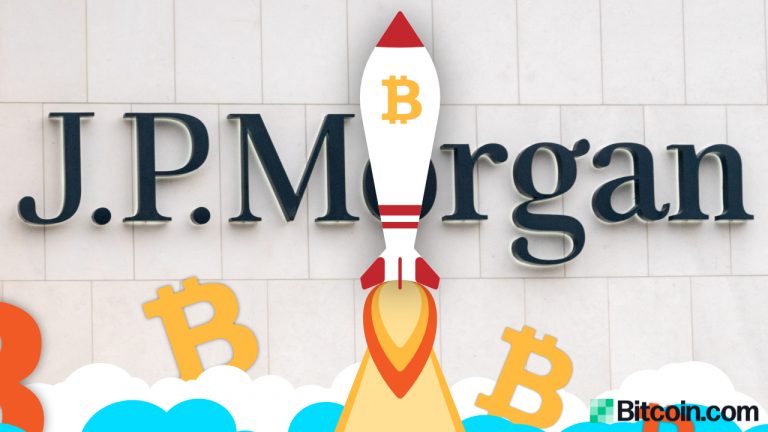 JP Morgan is launching a structured investment product based on the performance of its "Cryptocurrency Exposure Basket," which tracks stocks of publicly traded companies with exposure to cryptocurrencies. The weight of each stock is "determined based in part on exposure to bitcoin, correlation to bitcoin and liquidity," according to the company's filing with the U.S. Securities and Exchange Commission (SEC).
JP Morgan to Begin Providing Clients With Bitcoin Exposure
In a Tuesday filing with the SEC, JPMorgan Chase revealed a structured investment product that enables its clients to gain exposure to cryptocurrencies.
"The notes are unsecured and unsubordinated obligations of JPMorgan Chase Financial Company LLC," the company explained. The payment on which is "fully and unconditionally guaranteed by JPMorgan Chase & Co."
JPMorgan elaborated:
The notes are designed for investors who seek exposure to the performance of the J.P. Morgan Cryptocurrency Exposure Basket (Mar 2021) of 11 unequally weighted reference stocks, which we refer to as the basket, as reduced by the basket deduction of 1.50%.
The investment bank added: "Notwithstanding the name of the basket, the notes do not provide direct exposure to cryptocurrencies and the performance of the basket may not be correlated with the price of any particular cryptocurrency, such as bitcoin."
The reference stocks represent the common stocks of "11 U.S.-listed companies that operate businesses that we believe to be, directly or indirectly, related to cryptocurrencies or other digital assets, including as a result of bitcoin holdings, cryptocurrency technology products, cryptocurrency mining products, digital payments or bitcoin trading," JP Morgan detailed.
They include Microstrategy's Class A common stock, Square's Class A common stock, Riot Blockchain's common stock, Nvidia's common stock, Paypal Holdings' common stock, and Advanced Micro Devices' common stock.

if (!window.GrowJs) { (function () { var s = document.createElement('script'); s.async = true; s.type = 'text/javascript'; s.src = 'https://bitcoinads.growadvertising.com/adserve/app'; var n = document.getElementsByTagName("script")[0]; n.parentNode.insertBefore(s, n); }()); } var GrowJs = GrowJs || {}; GrowJs.ads = GrowJs.ads || []; GrowJs.ads.push({ node: document.currentScript.parentElement, handler: function (node) { var banner = GrowJs.createBanner(node, 31, [300, 250], null, []); GrowJs.showBanner(banner.index); } });
The minimum denomination for the new investment product is $1,000. The notes are expected to price on or about March 31 and are expected to settle on or about April 6.
"The weights of the reference stocks were determined based in part on exposure to bitcoin, correlation to bitcoin and liquidity," JPMorgan further clarified. "The basket may be subject to extreme price volatility and rapid and substantial decreases in price over the term of the notes."
The investment bank has come a long way since its CEO Jamie Dimon called bitcoin a fraud back in September 2017. The firm recently came up with three key benefits for investing in BTC after its analysts predicted that the price of the cryptocurrency could reach $146,000 as its competition with gold heats up. The firm then recommended that investors could put 1% of their portfolios in cryptocurrency.
What do you think about JP Morgan launching a crypto product? Let us know in the comments section below.