Uniswap's UNI Hung After Hitting Record High; Breakdown Risks Persist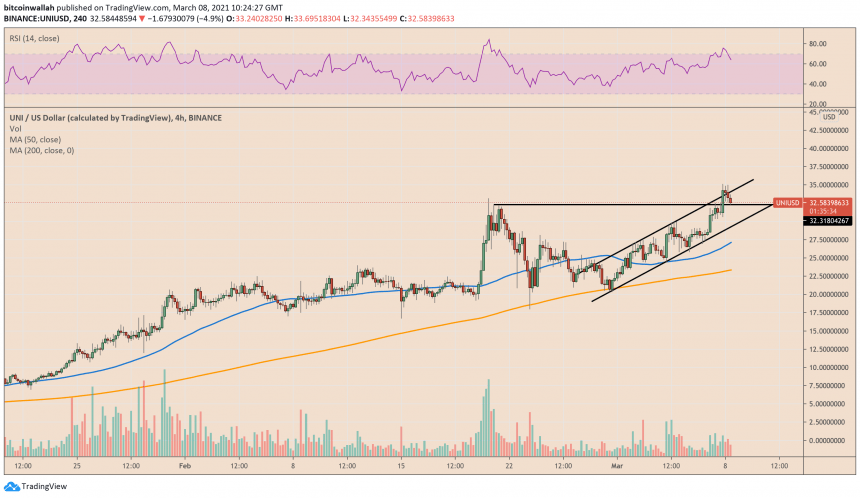 UNI prices slipped on Monday as traders decided to secure their profits after the cryptocurrency rallied to an all-time high in the previous session.
Trade Setup
The Uniswap decentralized exchange's governance token was down by up to 5.57 percent to $32.34 during the early European session. Its latest move downhill extended its correction to 7.92 percent as measured from its milestone high of $35.12. Nonetheless, UNI maintained a strong footing near $32.31, a level that in late February served as resistance during the token's recovery attempts.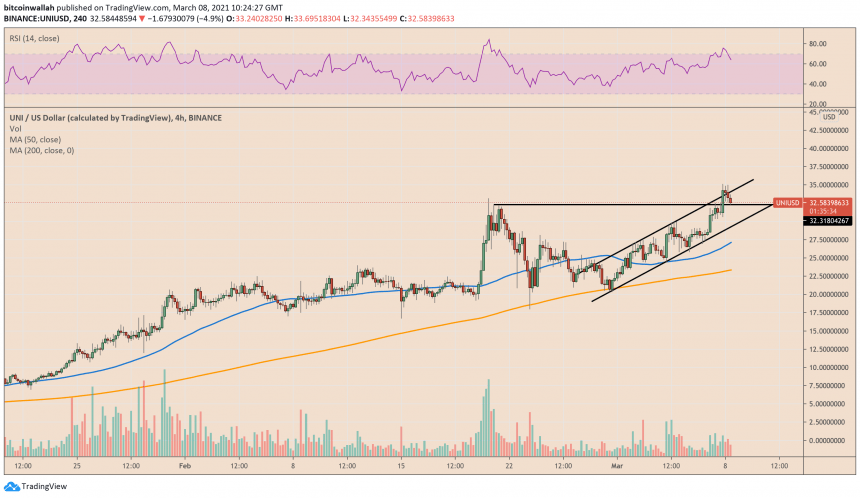 The UNI/USD exchange rate technically eyes an extended breakdown below its interim support to retest an upward trendline slope support that constitutes an Ascending Channel. The pair was inside the said pattern before its breakout attempt on Sunday. Nonetheless, its inability to hold higher levels pushed the prices back inside the Ascending Channel, raising the risks of a fake breakout.
That said, a break below $32.31 could allow traders to see the Channel's lower trendline as their next downside target.
Meanwhile, a clear pullback from the support level, accompanied by a rise in volumes on a four-hour timeframe, could have traders eye a breakout above the Channel's upper trendline, followed by a retest of the record high of $35.12. Should that happen, the UNI/USD rates could eye $40 or levels above it as their next upside target.
At least the fundamentals back a bullish narrative for the pair.
Demand for UNI
In retrospect, Uniswap is a decentralized exchange built on Ethereum that utilizes an automated market-making (AMM) system instead of traditional order books. It allows users to become market makers on the condition that they deposit democratically-chosen assets into a pool. In return, they earn fees in UNI tokens based on the amount of trading activity.
Liquidity pool participants can use the UNI token to trade with other valuable assets, including fiat currencies. They can also choose to hold the Uniswap cryptocurrency to manage the UNI community treasury funds, determine the tokens that belong on the Uniswap default token list (tokens.uniswap.eth), and prove ownership of the Uniswap ENS domain name.
The capital deposited into the Uniswap Liquidity Pool has surged to $3.87 billion on Monday from $1.78 billion at the beginning of this year. This huge inflow coincides with a boom in cryptocurrency adoption as a whole, driven higher by involvements of firms like Tesla, PayPal, BNY Mellon, Mastercard, MicroStrategy, and many others.
Speculators see value in exchange tokens, for they expect users' demand for them to rise on the cryptocurrency market's growth. That has allowed cryptocurrencies like Binance Coin, SushiSwap, FTX Token, and others to log record bull runs in 2021.
UNI is benefiting from the boom.