US House Representative Ro Khanna Lauds BTC Which 'Cannot Be Devalued'- Calls for Less Carbon Intensive Mining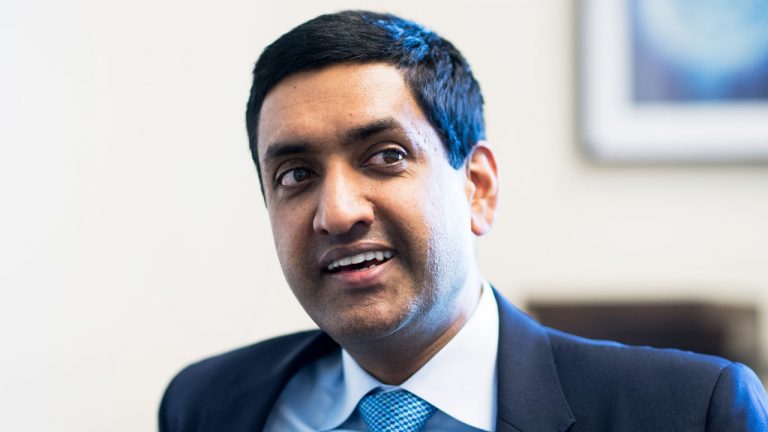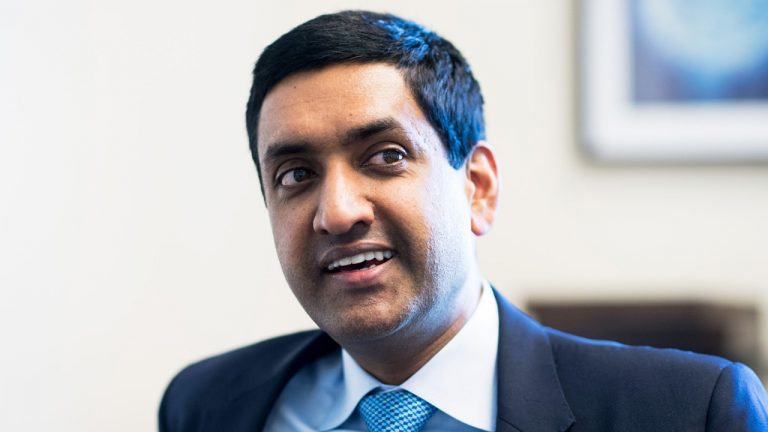 After Elizabeth Warren, the U.S. Senator for Massachusetts called bitcoin a speculative asset, Ro Khanna, the U.S. House Representative for California has spoken in favor of the crypto asset. In his Twitter statement, Khanna says "bitcoin just like digital gold cannot be devalued."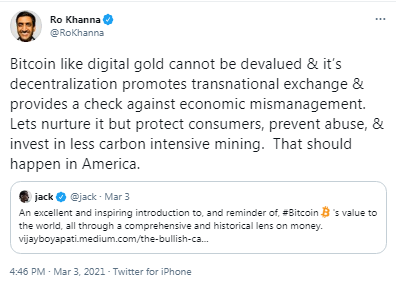 Khanna also lauds the crypto asset's decentralization, an attribute which he says "promotes transnational exchange whilst providing a check against economic mismanagement."
if (!window.GrowJs) { (function () { var s = document.createElement('script'); s.async = true; s.type = 'text/javascript'; s.src = 'https://bitcoinads.growadvertising.com/adserve/app'; var n = document.getElementsByTagName("script")[0]; n.parentNode.insertBefore(s, n); }()); } var GrowJs = GrowJs || {}; GrowJs.ads = GrowJs.ads || []; GrowJs.ads.push({ node: document.currentScript.parentElement, handler: function (node) { var banner = GrowJs.createBanner(node, 31, [300, 250], null, []); GrowJs.showBanner(banner.index); } });
Awareness of the Concerns
In her recent comments about the crypto asset, Warren said she agreed with the U.S. Treasury Secretary, Janet Yellen's contention that BTC is a speculative asset. Further, in a bit of apparent advice to cryptocurrency investors, Warren warns this is "going to end badly." For her part, Yellen says BTC is extremely inefficient due to the crypto asset's perceived disproportionate energy use.
Meanwhile, in his tweet, Khanna appears to be cognizant of the concerns that are often peddled by opponents of the leading crypto asset. Khanna said:
"Let us nurture it but protect consumers, prevent abuse, and invest in less carbon-intensive mining. That should happen in America."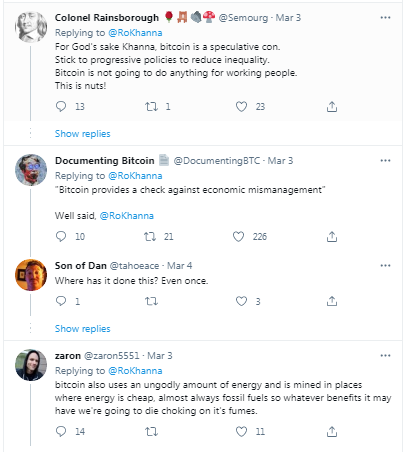 Twitter Reaction
In the meantime, on Twitter, not many agree with Khanna's pro-BTC comments. In many of their responses, Twitter users repeat the common attack points against BTC. For instance, one user known as August has added electronic waste to the crypto asset's perceived energy waste. The user tweeted:
"Gfx cards that are typically used for the mining of crypto are bought and discarded much more quickly than they would otherwise be in their typical use cases."
Another user, Forza Manchester City dismisses the crypto asset's decentralization attribute. The user asserts that "decentralization of bitcoin is just in theory." According to this user, BTC "will very likely always be controlled by a few major mining pools." On Khanna's contention that the crypto asset's decentralization can provide a check against economic mismanagement, the user disagrees. Instead, he claims BTC decentralization only helps to "obfuscates movements of speculative actors."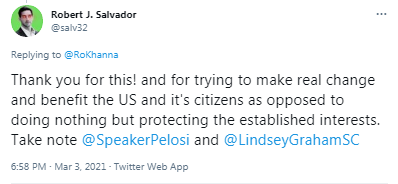 Still, some Twitter users are applauding Khanna for trying to make a real change instead of "doing nothing."
What are your thoughts on Ro Khanna's remarks about BTC? Tell us what you think in the comments section below.