Economist: Ethereum and Bitcoin Look "Bullish" After Withstanding "Macro Beating"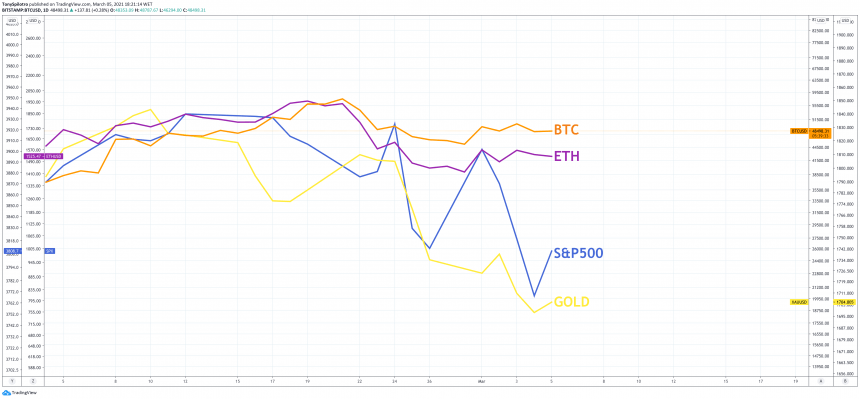 Bitcoin and Ethereum are down from their recent 2021 highs, but compared to their traditional market counterparts, have shown more resilience during the recent "royal macro beating."
Here's why one top economist and investor says this is incredibly bullish for the two titan cryptocurrency assets.
Royal Macro Beating Can't Take Down Bullish Bitcoin And Ethereum
This week, the stock market plunged, and precious metals saw a sharp selloff as the macro environment remains uneasy globally. Yet somehow, amidst a "royal macro beating", Ethereum and Bitcoin have held up comparably well.
Economist and trader Alex Kruger says the resiliency is "bullish" for Bitcoin and Ethereum. The two top crypto assets have been in an uptrend for a full year now, and the recent macro jitters have been the first major bump in the road since.
Related Reading | "Wonderful" Shark Tank Investor Shifts Portion of Portfolio To Bitcoin and Ethereum
Bitcoin exploded from lows around $4,000 to $58,000 per coin at the high, while Ethereum fell to under $100 and has risen to $2,000 since. The more than 10x rise, however, might be nowhere near the finish line, and holding up so well here could be the catalyst that sends the cryptocurrencies higher through the resistance level.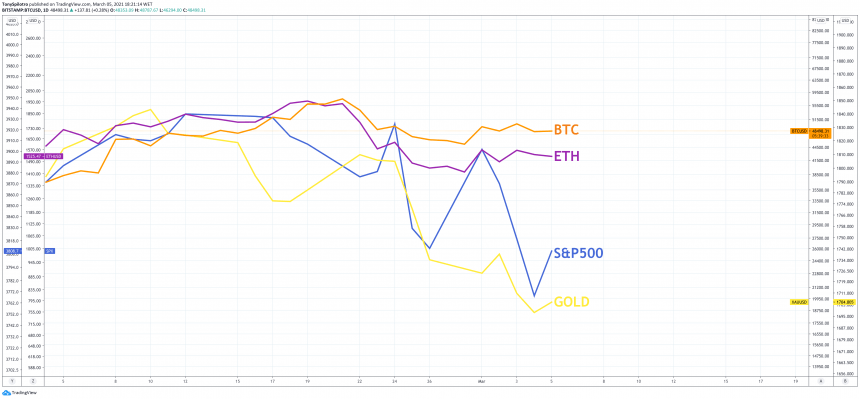 Ethereum and Bitcoin have held up extremely well compared to the S&P 500 and gold. | ETHUSD on TradingView.com
The Changing Of The Guard To Crypto Is Underway
The stock market is on thin ice, and precious metals cannot be upgraded or updated, and have limited use in the future as a store of value compared to cryptocurrencies.
The digital gold narrative has been working, and the steepness of the gold selloff above shows how effective the narrative has been. Crypto prices holding up so well while gold plummets, could send even more capital flowing out of metals and into the scarce digital asset.
Related Reading | Mark Cuban Slams Peter Schiff: Gold is Dead, Bitcoin and Ethereum Are Today
Profit-taking in the currency overheated stock market will want to follow the money, wherever the grass is greener and profits are consistent. If that place is the crypto market, the flood gates of capital could finally be coming that helps to push Bitcoin to prices of hundreds of thousands of dollars per coin, and tens of thousands of dollars per Ether.
The nascent technologies are only now coming into their own as financial assets, and institutional investors have begun to recognize the shift from traditional assets, to digital ones, and the ones who have been early thus far have been the most profitable.
Will Bitcoin and Ethereum continue to hold up this well, or will they ultimately succumb to the continuing macro beating going on across markets right now?
Featured image from Deposit Photos, Charts from TradingView.com