Bitcoin on Back Foot as Focus Turns to Powell Speech; What to Expect?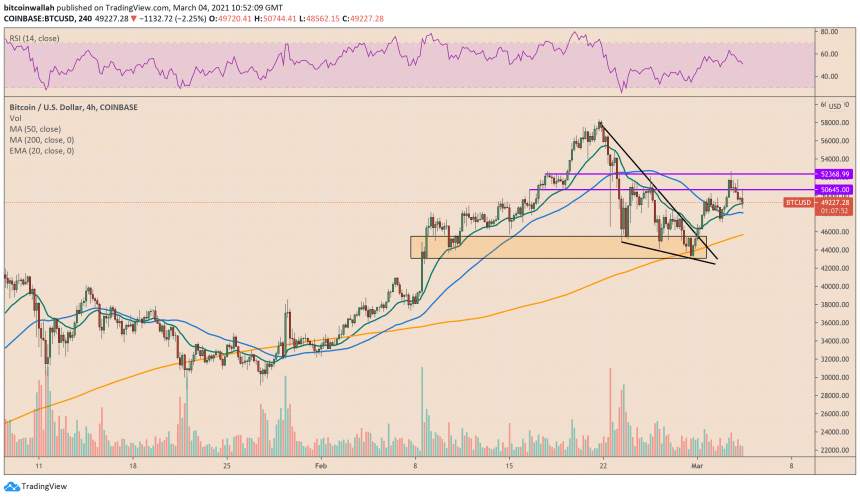 Bitcoin dropped during Asia-Pacific and European trade Thursday as rising bond yields prompted concerns that central banks may begin tightening monetary policies sooner-than-expected.
The benchmark cryptocurrency fell up to 3.59 percent to $48,562, extending its decline after setting up a week-to-date high level at $52,666 in the previous session. Elsewhere in the crypto market, high-cap tokens including Ethereum, Cardano, Binance Coin, and others also plunged lower under Bitcoin's influence, pointing to coordinate selling by daytraders to secure short-term gains.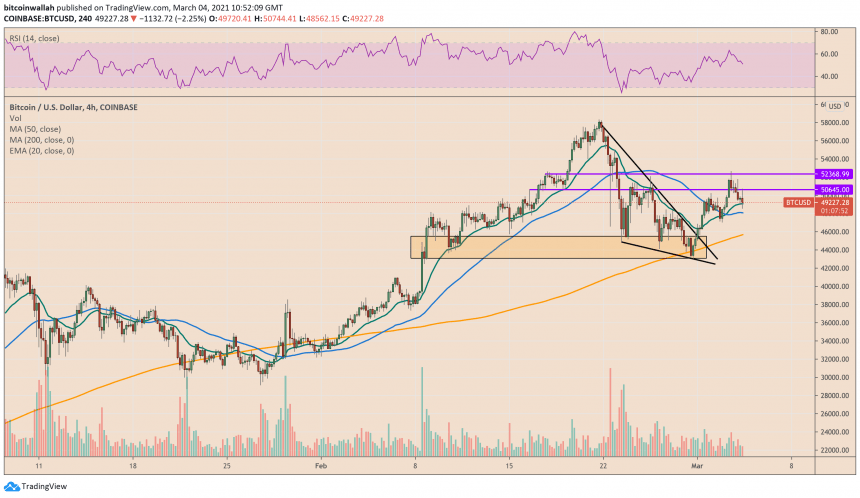 Powell Speech Ahead
A recent sell-off in government bonds has lifted Treasury yields, reducing investors' appetite for Bitcoin that has soared in an ultralow interest rate environment.
Some money managers are betting that additional coronavirus stimulus in the US would boost inflation and prompt the Federal Reserve to tighten its monetary policies, beginning with a spike in its benchmark rates. That also pushed the real yields higher, which reflects the return on bonds after adjusting them for inflation expectations.
Bitcoin has become a reactive asset as uncertainty looms over the bonds market. The cryptocurrency wobbled rose one day to pare gains in the next session, and so on. And now, a speech from Fed Chairman Jerome Powell headlines the economic outlook. His views on the recent jump in yields at the Wall Street Journal Jobs Summit on Thursday at 12:05 ET would provide further cues to the Bitcoin market on which direction it should take next.
However, it seems unlikely Mr. Powell would taper the Fed's monetary policy measures, which include the purchasing of government debts and mortgage securities at the pace of $120 billion per month. The chairman has previously stated that the economy is still far from achieving its maximum employment and higher inflation goals.
On the other hand, any mention of imposing yield curve control (YCC) or boosting the Fed's bond-buying program could boost government debt costs, pushing yields on them lower. That could prove bullish for Bitcoin and the US stock market.
Bitcoin Meets Corporates
More bullish tailwinds could come from corporates' growing interest in Bitcoin as an alternative store of value. Yields, though rising, remain far lower than their historically higher levels above 14 percent. That could allow companies to move a portion of their cash/bond reserves to Bitcoin.
"The latest survey I saw showed that 5 percent of the public-traded companies in the US would consider adding Bitcoin to their balance sheets," said Magentic managing director William E. Quigley in an interview with CNN Business.
"And the reason they are thinking that is that corporates have trillions of dollars in cash—and where do they put it? There are government bonds but $17 trillion of them yield negative returns," he added.
The yield on the US 10-year Treasury note plunged modestly to 1.464 percent on Thursday after jumping to 1.469 percent in the previous session. It was 0.915 percent at the year's beginning. Yields rise when bond prices fall.