Ethereum Flips Strong Resistance Levels as Price Eyes $2,000-Retest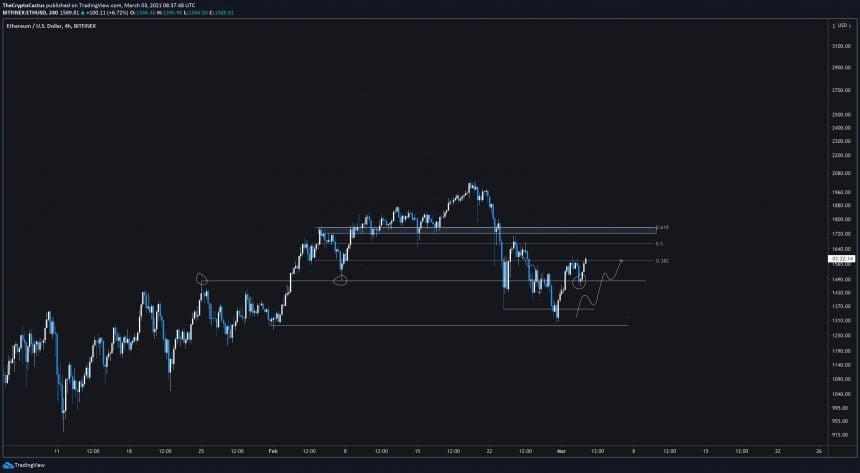 Key Ethereum Takeaways
Ethereum (ETH/USD) looks poised to pursue a bull run towards $2,000 after flipping key resistance levels into interim supports.
More tailwinds come from Citi and Goldman Sachs's latest endorsements for the cryptocurrency sector.
Volatility in the US government bond market continues to pose risks to rally.
Ethereum prices surged on Wednesday, turning a sequence of crucial resistance levels into supports as bulls eyed an extended run-up to $2,000.
The second-largest cryptocurrency after Bitcoin broke above $1,475, a level that capped ETH/USD from extending its uptrend all across January. While the pair did break above the price ceiling in February, flipping it into a support zone, Ethereum topped out above $2,000 and crashed below $1,475 in an imminent downside correction that followed later.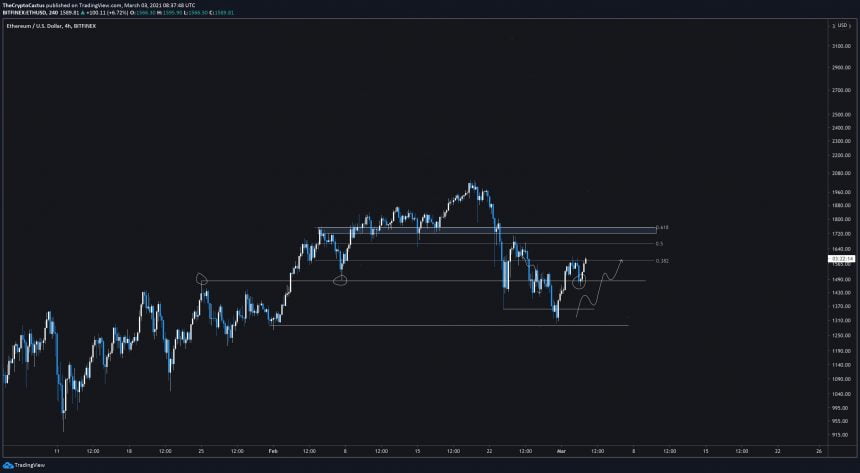 In the first week of March, Ethereum flipped the price ceiling again, followed by an extended move towards the next resistance level at $1,750. The cryptocurrency's upside move on Wednesday also had it break above $1,600, psychological support that prepared grounds for its run-up to higher levels.
"[I'm] expecting to see a retest of $1,750 today and for $1,600 to be flipped back into support," noted a pseudonymous analyst on Twitter. "The previous wick high from the previous range around $1475 is back acting as support."
Crypto Boom Continues
More bullish tailwinds for Ethereum comes from recent endorsements from Goldman Sachs and Citigroup. Reuters reported Monday that Goldman is planning to launch a cryptocurrency trading desk three years after its shutdown. The report suggested that the bank would launch Bitcoin futures services on its platform by mid-March.
According to data provided by Correlation Watch, the correlation efficiency between Bitcoin and Ethereum is 0.88. It means that Ethereum tends to tail Bitcoin's price trends positively, making it possible that it surges alongside the world's leading cryptocurrency as its adoption booms across institutional investors via Goldman.
Citigroup feels the same about the cryptocurrency sector as a whole. In a report released Tuesday, the global banking giant's Global Perspectives and Solutions thinktank stated that Bitcoin could become "the currency of choice for international trade." The BTC/USD exchange rate surged above $51,000 a day after the report came out.
"I would not be surprised if [Ethereum] didn't blast off from here," an independent analyst noted after the token's rally on Wednesday. "I would not like it going up yet. Play: will consider longing a breakout above 1794, aiming for >$2,000 I think the bottom's in, but I don't want to FOMO."
Risks Before Ethereum Rally
So far, factors that could stop the ongoing cryptocurrency rally concerns bond yields in the US. Last week, the runup in US 10-year Treasury interest rates reduced investors' appetite for riskier assets as they sought cash. That pushed tech stocks, Bitcoin, and Ethereum lower.
Should the Federal Reserve let the bond sell-off continue, Ethereum could stay under the risks of correction.