Chainlink Paints Golden Cross as BlockFi Announces LINK Support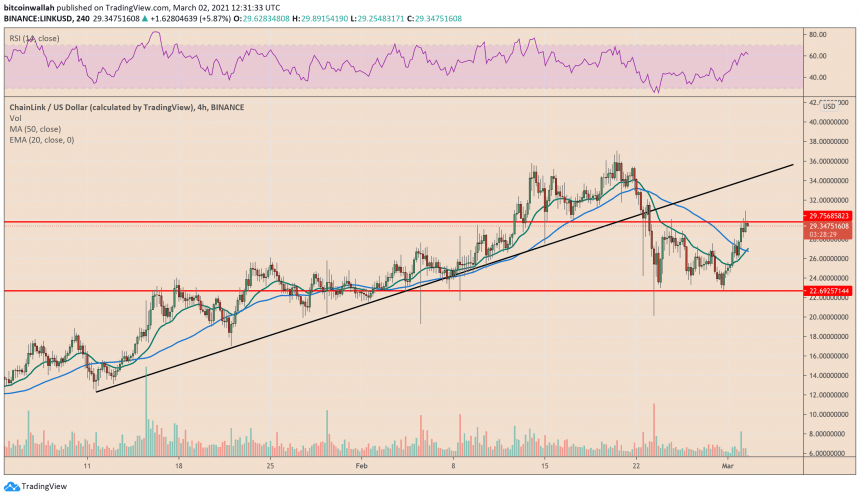 A golden cross formed on the Chainlink (LINK) four-hour chart a week after its price crashed by almost 45 percent from its record high of $37.07, signaling a bullish revival for the world's ninth-largest cryptocurrency by market capitalization.
In retrospect, a golden cross appears when an asset's short-term moving average crosses above its long-term moving average. Ideally, traders treat a crossover between a 50-day MA and 200-day MA as the benchmark indicator to determine their bullish bias. Meanwhile, when an asset's 20-period MA closes above its 50-period MA, it signals traders about an immediate buying sentiment in the market.
LINK Bullish Crossover
The LINK/USD exchange rate logged the 20-50 golden cross on Tuesday as its bids rose to an intraday high of $30.89. Measuring from its previous bottom, the pair's move upside brought its price up by 53.24 percent. That followed a minor correction, but the short-term bullish bias looked intact.
LINK found a resistance target near $29.75, which previously capped its breakout attempts on February 24. Nevertheless, the cryptocurrency's rally this time rode on a flurry of optimistic fundamentals, which may see it break above the price ceiling and target its previous ascending trendline support (in black) as an upside target.
Conversely, a pullback from $29.75 would risk LINK dropping towards its 20-EMA for support, with the 50-SMA as an intermediary downside target. A further slipover could have traders open their short entries towards the previous support target near 22.69.
Oracle Upgrade, BlockFi Support
The rally in the Chainlink markets also appeared as it announced developing an off-chain reporting protocol (OCR) that intends to improve its Oracle network. Excerpts:
"All nodes communicate using a peer-to-peer network. During the communication process, a lightweight consensus algorithm is run, in which every single node reports its price observation and signs it. A single, aggregate transaction is then transmitted, saving a significant amount of gas."
Meanwhile, more bullish tailwinds came from BlockFi, a crypto lending firm that announced support for LINK tokens. In doing so, the firm enables LINK holders to deposit their tokens in the BlockFi pool to earn a stable 5.5 percent annual yield. The interests will be paid using the Chainlink tokens.
It's happening, @chainlink Marines: Starting March 2, you can earn 5.5% APY in crypto on your #LINK with BlockFi. RT to spread the word.

— BlockFi (@BlockFi) March 1, 2021
Founded in 2017, BlockFi already offers similar yield services on different cryptocurrencies, including Bitcoin, Ethereum, and Litecoin. It recently paid out more than $20 million in interest on its BTC and ETH deposits.
LINK was trading at 29.28 at this press time.