Mark Cuban Hit by Iron Finance Token Crash, Calls for Defi Regulation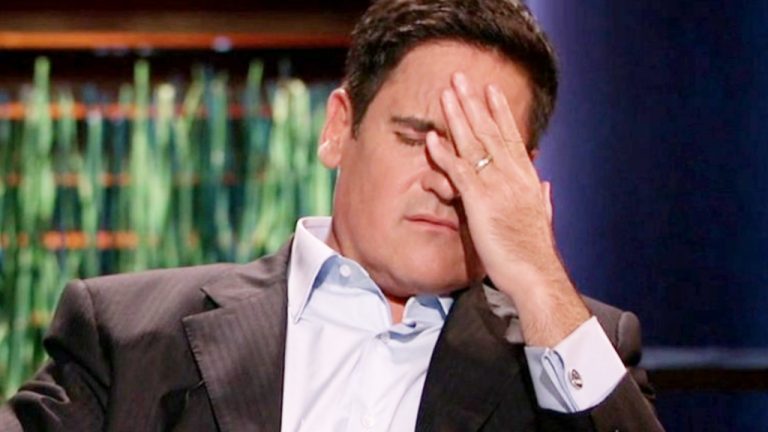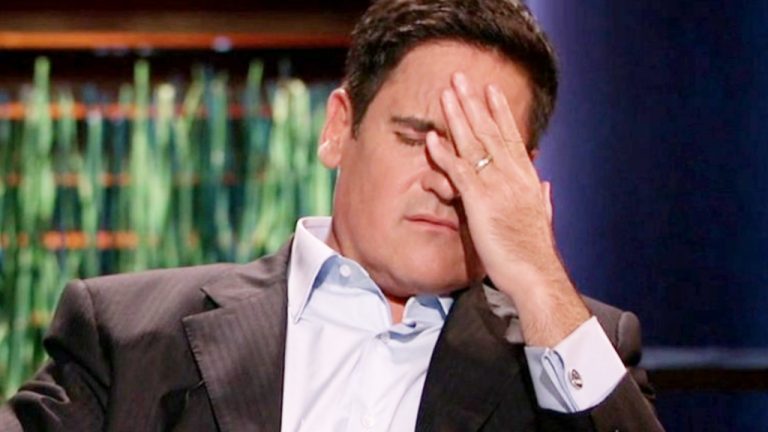 Billionaire investor and Shark Tank star Mark Cuban has called for cryptocurrency regulation focusing on decentralized finance (defi) and stablecoins after a token he invested in collapsed from $64 to near zero.
Cuban Wants Defi and Stablecoin Regulation After Investing in Collapsed Token
The billionaire owner of the NBA team Dallas Mavericks, Mark Cuban, invested in a token that crashed from about $64 to near zero Wednesday. Iron Finance called the collapse of its iron titanium token (TITAN) "the world's first large-scale crypto bank run." The price of the token is $0.000000029585 at the time of writing.
Responding to a tweet asking whether he "rugged" or "got rugged" on Iron Finance's token, Cuban wrote: "I got hit like everyone else. Crazy part is I got out, thought they were increasing their TVL [Total Value Locked] enough. Then bam."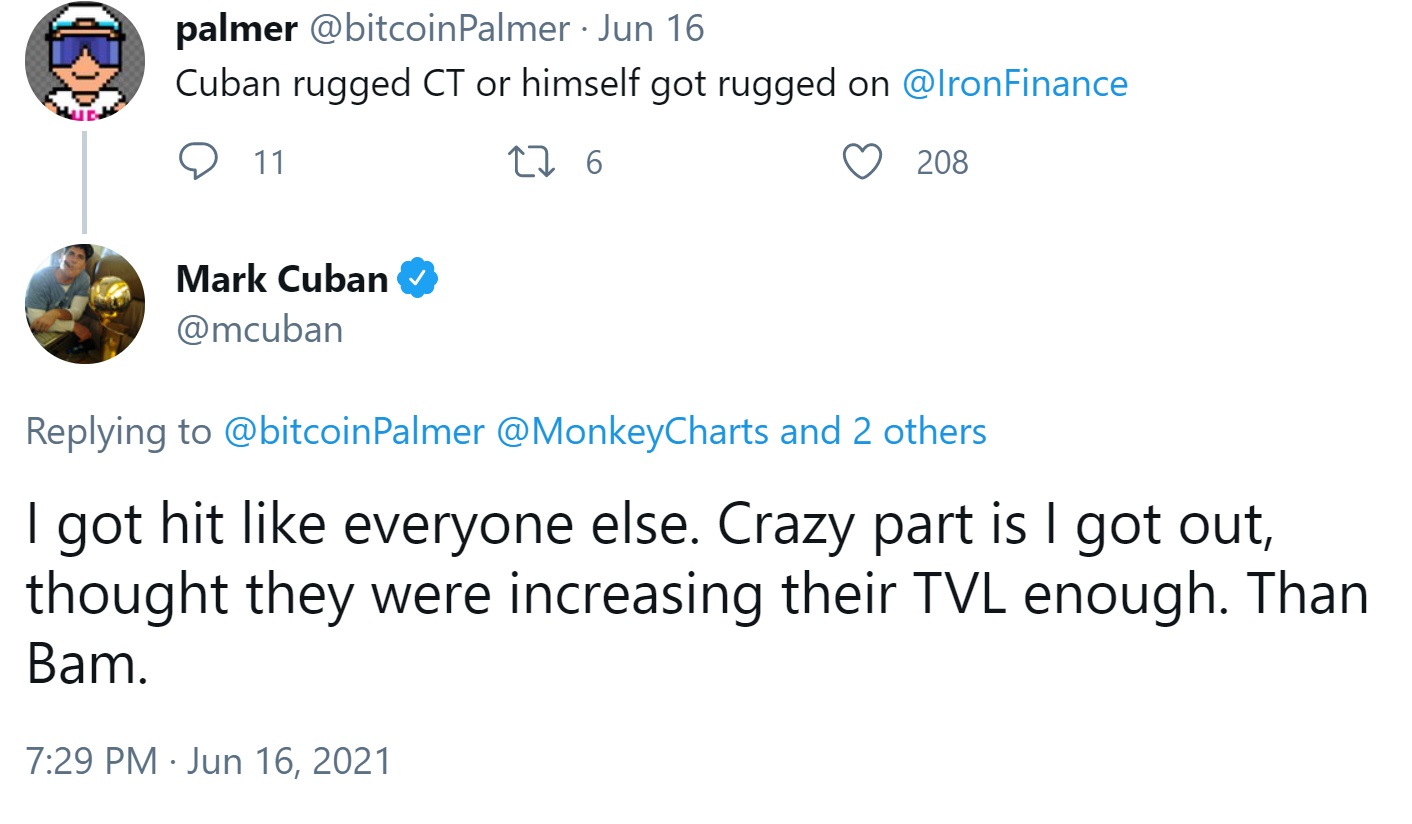 The billionaire investor has been fascinated by defi for quite some time. He wrote a blog post on June 13 touting the potential of defi innovation and TITAN. Some say that the Iron Finance token became popular because of Cuban.
In the blog post, the Shark Tank star explained that he was a small liquidity provider (LP) for Quickswap. "I provide 2 different tokens (DAI/TITAN) that enable Quikswap to offer swaps between these two tokens … my return on my initial $75k investment (based on fees only) as of this writing, is an annualized return of about 206% … in exchange for providing the liquidity both TITAN and Quickswap need for their businesses, I get .25 of the transaction volume for swaps between these two tokens."
In his letter to Bloomberg Thursday, Cuban talked about his experience with TITAN. He detailed:
I read about it. Decided to try it. Got out. Then got back in when the TVL start to rise back up. As a percentage of my crypto portfolio it was small. But it was enough that I wasn't happy about it.
"But in a larger context it is no different than the risks I take angel investing," he noted. "In any new industry, there are risks I take on with the goal of not just trying to make money but also to learn. Even though I got rugged on this, it's really on me for being lazy."
Turning to regulation, he suggested, "if you are looking for a lesson learned, the real question is the regulatory one," emphasizing:
There should be regulation to define what a stablecoin is and what collateralization is acceptable.
"Should we require $1 in U.S. currency for every dollar or define acceptable collateralization options, like U.S. treasuries or?" he continued. "To be able to call itself a stable coin? Where collateralization is not 1 to 1, should the math of the risks have to be clearly defined for all users and approved before release? Probably given stable coins most likely need to get to hundreds of millions or more in value in order to be useful, they should have to register."
if (!window.GrowJs) { (function () { var s = document.createElement('script'); s.async = true; s.type = 'text/javascript'; s.src = 'https://bitcoinads.growadvertising.com/adserve/app'; var n = document.getElementsByTagName("script")[0]; n.parentNode.insertBefore(s, n); }()); } var GrowJs = GrowJs || {}; GrowJs.ads = GrowJs.ads || []; GrowJs.ads.push({ node: document.currentScript.parentElement, handler: function (node) { var banner = GrowJs.createBanner(node, 31, [300, 250], null, []); GrowJs.showBanner(banner.index); } });
Some people do not believe Cuban's story, however. Twitter user Paul Bryant wrote: "I don't believe for one nanosecond that Mark Cuban was caught unawares by the TITAN rug pull. The creator was anonymous, it had zero utility, and he was shilling it at the peak."
Alex Saunders, founder of Nugget's News, tweeted: "The incident is being labeled the 'Cuban Missile Crisis' after Mark Cuban did a post on TITAN, it then pumped 100x only to be rugged to 0."
Meanwhile, some people criticized Cuban for calling for regulation after claiming to have lost money in the incident. Entrepreneur Luosheng Peng tweeted: "Mark Cuban invested in crypto TITAN & lost it to almost $0. And after that happened, he is calling for increased Defi regulation. Be careful when you make crypto investments beyond BTC & ETH." David Schawel, CIO of Family Management Corporation, commented:
I have a hard time when people admit they were lazy in due diligence but then blame lack of regulation.
What do you think about Mark Cuban calling for regulation after getting hit by the token collapse? Let us know in the comments section below.