Latest Episode of The Simpsons Prices Bitcoin at 'Infinite' as the Crypto Consolidates Above the $60K Threshold
Bulls are taking the reins of the price action in the bitcoin across the board, making a solid breakout above the $60,000 threshold, reaching new all-time highs, and it seems The Simpsons "did it again." In a new episode broadcasted on Sunday, BTC is highlighted in a ticker news feed with the infinite sign.
Gamestop Stock Is Also Featured in the Episode
The 18th episode titled "Burger Kings" in Season 32 of the popular animated series featured bitcoin (BTC) during a news broadcast, whose ticker news feed at the bottom of the screen listed some U.S. publicly listed companies.
However, what caught the crypto community's attention, and which was a hot topic in the Reddit subforums, is the detail of BTC priced at infinity.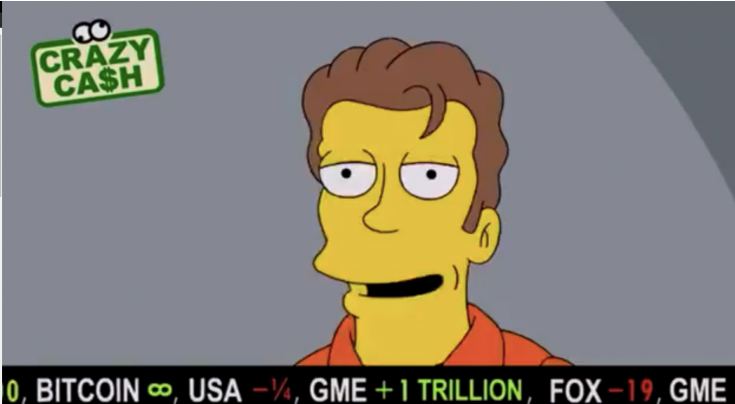 Interestingly, after bitcoin's quote, video game retailer Gamestop (GME) appeared in the scene.
Following the sarcastic style characterized by The Simpsons, the famous stock – known for being fueled a few months ago by a community of investors in Reddit – posted a trillion in gains and then immediately plummeted two million, parodying the stock's high volatility.
The plot of the episode revolves around Mr. Burns getting into a plant-based burger business. He was about to die after eating lots of hamburgers, and thus the business idea came up to his mind.
Although the episode doesn't talk about cryptocurrencies, it involves financial markets' concepts, such as speculation, as Marge made her inception into speculating in shares of Burns' brand-new company. She wanted to gain profits to gift Homer a new pair of pants.
if (!window.GrowJs) { (function () { var s = document.createElement('script'); s.async = true; s.type = 'text/javascript'; s.src = 'https://bitcoinads.growadvertising.com/adserve/app'; var n = document.getElementsByTagName("script")[0]; n.parentNode.insertBefore(s, n); }()); } var GrowJs = GrowJs || {}; GrowJs.ads = GrowJs.ads || []; GrowJs.ads.push({ node: document.currentScript.parentElement, handler: function (node) { var banner = GrowJs.createBanner(node, 31, [300, 250], null, []); GrowJs.showBanner(banner.index); } });
Previous Mentions of Cryptos in The Simpsons
This is not the first time that one of the world's famous animated sitcoms mentions cryptocurrencies in one of its episodes.
For the 13th episode of the 31st season, The Simpsons brought in Jim Parsons, best known for Sheldon Cooper in The Big Bang Theory, to explain the concept of cryptos.
As of press time, according to markets.Bitcoin.com, bitcoin is exchanging hands at $63,200, with a market capitalization that stands at $1.18 trillion.
What are your thoughts on bitcoin being mentioned in the latest episode of The Simpsons? Let us know in the comments section below.