Coinbase Listing Sends Binance Coin (BNB), Exchange Tokens Soaring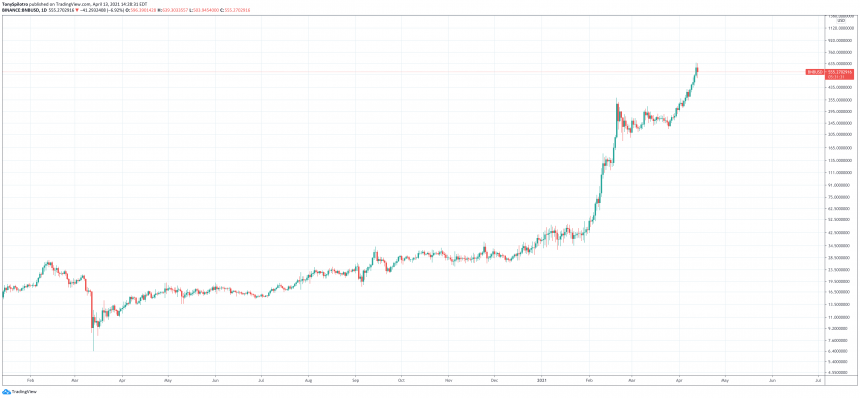 There's less than 24 hours standing in between now and the time San Francisco-based cryptocurrency exchange Coinbase is listed publicly for the first time. The shot heard 'round Wall Street has caused exchange tokens in particular to surge.
One of the biggest benefactors has been competitor platform utility token, Binance Coin, along with other similar coins offered by exchanges. Here's why there's such interest and demand for the platforms themselves.
The Big Deal Behind The Coinbase Listing And Ongoing Bitcoin Rally
Tomorrow, Coinbase (COIN) begins trading on the stock market in a move that could cause a widespread "revaluation for this whole segment higher," according to Amplify ETFs founder and CEO Christian Magoon.
It also comes as Bitcoin price pushes to new historic highs, and crypto "altcoin season" is in full bloom. Coinbase couldn't be doing better right now, and its debut valuation tomorrow is anticipated to be between $150 billion based on pre-market trading on FTX.
Related Reading | Coinbase Bitcoin Outflows Are The Strongest Bullish Signal "Ever"
The popular cryptocurrency exchange now synonymous with Bitcoin itself has seen its Q1 2021 revenues beat all of 2020 combined.
The company's "Coinbase Pro" platform is where many institutions and corporations have been doing business.
The high-wealth individuals and companies moving crypto off the exchange en masse has been called the most bullish signal "ever." And the bull market has been spilling into altcoins and then some.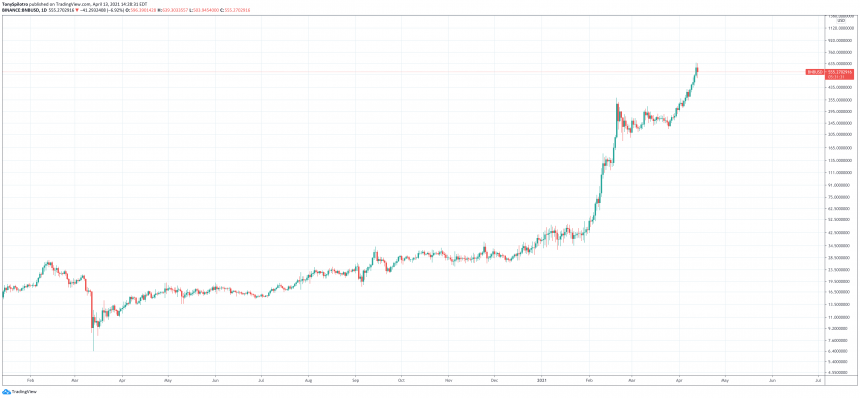 Binance Coin has absolutely exploded amidst Coinbase IPO fever | Source: BNBUSD on TradingView.com
FOMO For Exchange Tokens Bolsters Binance Coin Bull Market ROI
"I think we're going to see more private companies go public because they see the path, hopefully, that Coinbase takes that recognizes the value in the public marketplace," Magoon also told CNBC during a segment of ETF Edge.
The potential of other platforms like Coinbase to follow suit has prompted exchange utility tokens such as those from Binance or newcomer trading platform FTX.
Related Reading | Number Of Bitcoin Mentions In Company Earnings Reports Goes Parabolic
Binance Coin itself has been an enormous benefactor of the buzz the Coinbase listing has created. Not only could Binance eventually go public as well, but increased trading volumes and utility from Binance Coin has also caused demand to skyrocket.
The popular token is also at the center of Binance Smart Chain that now could rival Ethereum. All together these factors have resulted in a more than 1300% climb from low to high in 2021 alone.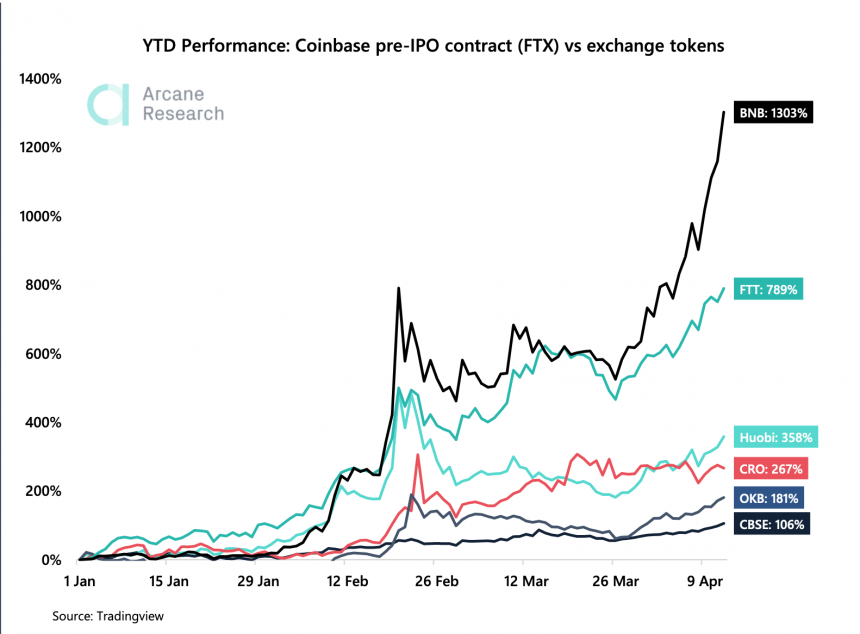 Exchange tokens are flying even more so than CBSE  | Source: 

Arcane Research
FTT, the token to newcomer platform FTX which has been offering pre-IPO Coinbase contracts, has also been rising and is up more than 700% on the year.
What this all boils down to, is that the cryptocurrency industry is finally being legitimized in the eyes of Wall Street and beyond, which could cause even further repricing of Bitcoin, altcoins, and especially exchange tokens like never before. And it all starts tomorrow with the historic Coinbase listing.
Featured image from Deposit Photos, Charts from TradingView.com