Why these analysts predict a Bitcoin's price at $80,000 by April?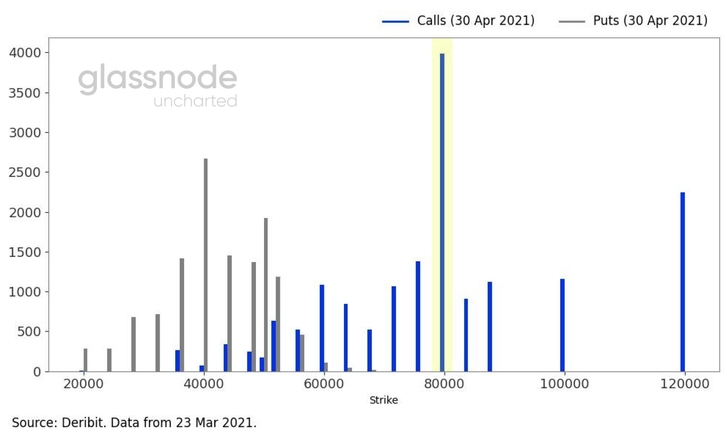 With Bitcoin's price barely holding above its support level, indicators are turning more bullish. After this period of sideways movement, BTC could be poised for a big upside move soon.
Glassnode co-founders Yann Allemann and Jan Happel have shared data from the firm that points to a high appreciation in BTC price. This is due to the expiration of $6 billion in options contracts set to mature this Friday. Allemann and Happel stated:
Bitcoin price expectations for April are high with lots of investors placing their new bets on $80k.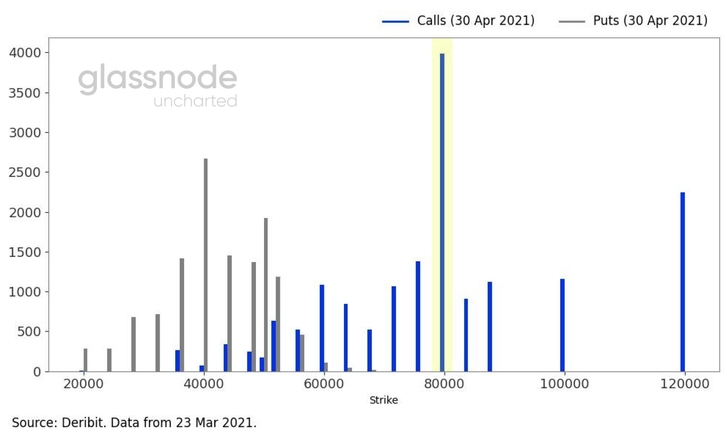 As the image above shows, a large portion of investors on Deribit's platform are confident that the cryptocurrency's price will settle at those levels. Similarly, there is also a high volume of calls for a Bitcoin price at $120,000 for the same date, April 30th.
Does Elon Musk influence Bitcoin's price?
In support of the bull case, Glassnode's Reserve Risk metrics indicate "strong long-term holder conviction" in the current price. The firm stated in a recent report, pointing at big support for BTC's to take a big jump:
The current risk/reward ratio to invest and hodl is still attractive compared to previous $BTC cycle tops. Current level: 0.008, Precious tops: > 0.02
Reserve Risk indicates a strong conviction of long-term holders at these price levels.

The current risk/reward ratio to invest and hodl is still attractive compared to previous $BTC cycle tops.

Current level: 0.008
Precious tops: > 0.02#Bitcoin

Chart: https://t.co/Pr4VA4QrXX pic.twitter.com/sPKtTp3FnH

— glassnode (@glassnode) March 23, 2021
Earlier, Tesla's CEO Elon Musk announced that his company began accepting payments in BTC. The entrepreneur made two additional major disclosures: the company runs its own Bitcoin nodes, profits will be held in Bitcoin. Musk stated:
Tesla is using only internal & open-source software & operates Bitcoin nodes directly. Bitcoin paid to Tesla will be retained as Bitcoin, not converted to fiat currency.
Analyst William Clemente believes Musk's announcement strategically coincides with the $6 billion of options set to expire in a few days. Clemente believes that many investors will see their contracts expire worthlessly and on platforms that back their options with physical Bitcoin, bearish investors could buy more BTC "to cover their losses." Clemente added:
It is worth mentioning that some of these puts are just hedging downside risk, more so referring to positions solely on the short end of the trade that don't get rolled over.
Bitcoin price is at $56,904 with slight gains of 1.4% in the last day. On the 7-day chart, the cryptocurrency shows losses of 1.4%. The market capitalization stands at $1.4 trillion.