Internet Celebrities Lead $5M Investment In Bitcoin Reward Program Lolli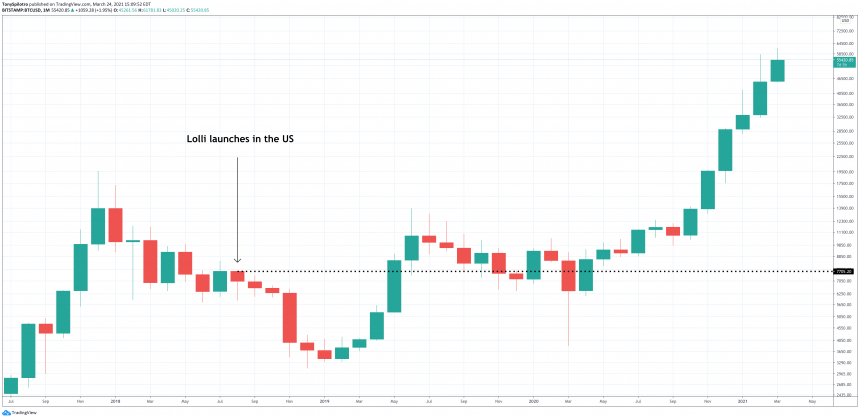 Lolli, a BTC-back Bitcoin rewards program, has just completed a a $5M pre-Series A funding round, backed by a variety of popular internet celebrities and influencers.
Here's more on what names are behind the $5 million in investment, and how Lolli has grown since its inception.
Internet Celebrities, Alex Ohanian and Serena Williams, Invest $5M In Bitcoin Rewards Firm
Bitcoin rewards company Lolli just revealed it has successfully raised $5 million in funding as part of a pre-Series A funding round with a notable list of investors.
Of those involved are several internet celebrities, including Reddit co-founder Alexis Ohanian, popular YouTuber Jimmy "MrBeast" Donaldson, Casey Neistat, Philip DeFranco, and CodyKo. Other notable figures include Serena Williams, who join other early investors such as Ashton Kutcher and Michelle Phan.
Related Reading | This Bitcoin Metric Says The Top Is Still 350% Away
These investors have become involved through their respective firms, Serena Ventures, her husband's Seven Seven Six, and Mr. Beast management company Night Media, who are building into the future of Lolli alongside Digital Currency Group and others.
Lolli co-founder Alex Adelman says the company has issued more than $3 million in Bitcoin rewards to date, ranging around an average of 7% BTC-back rewards at a growing list of major retailers.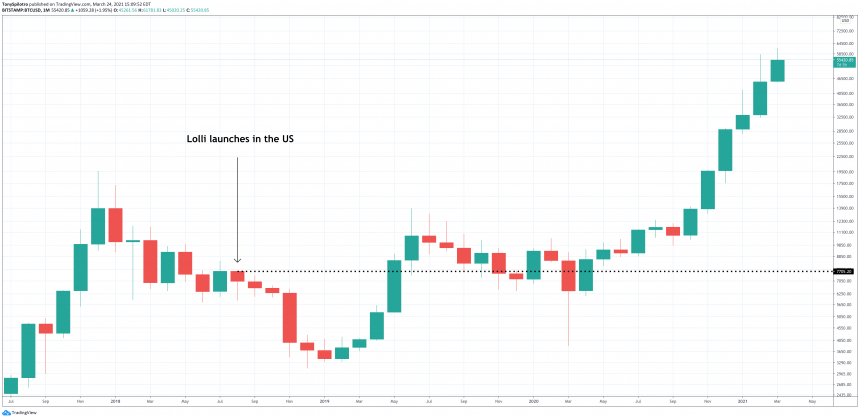 Bitcoin has grown significantly, but these bullish factors could fuel another leg higher | Source: BTCUSD on TradingView.com
Top Lolli Users Earn 2 BTC, More Than $3 Million In Rewards Combined
Lolli boasts more than 250,000 users who can earn BTC back on purchases at retailers like Macy's, Best Buy, Sephora, Foot Locker, and hundreds of others. These 250,000 users have collectively earned more than $3 million in Bitcoin rewards since the program's inception.
Related Reading | Bitcoin Technicals Overheated, But Bullish Fundamentals Remain Unfazed
Top users, says the company, have earned as much as 2 BTC. Most have generated enough returns on the BTC they've earned, to pay for the original purchases they made in the first place.
The rewards program works through a browser extension for Chrome, Firefox, Brave, and others, letting users know when they've landed on a partner that they can earn rewards with. Once Lolli is enabled in-browser, simply complete the transaction, and BTC will eventually be credited to your account.
https://twitter.com/CircaDiem/status/1374714223570
That same account can also be tied to a smartphone app that lets users open a "loot box" for a daily stack of Bitcoin. Granted, these are typically tiny stacks of satoshi – the smallest unit of account of BTC – but there's an occasional chance to win much larger cryptocurrency surprises.
The company will use the recent funding to build out the mobile app into a full shopping experience, and expand outside of the United States United States. Lolli is free to use, and at only 250,000 users globally, has enormous room to grow.
Featured image from Lolli, Charts from TradingView.com