This FATF guidance could "wreak havoc" on Uniswap operators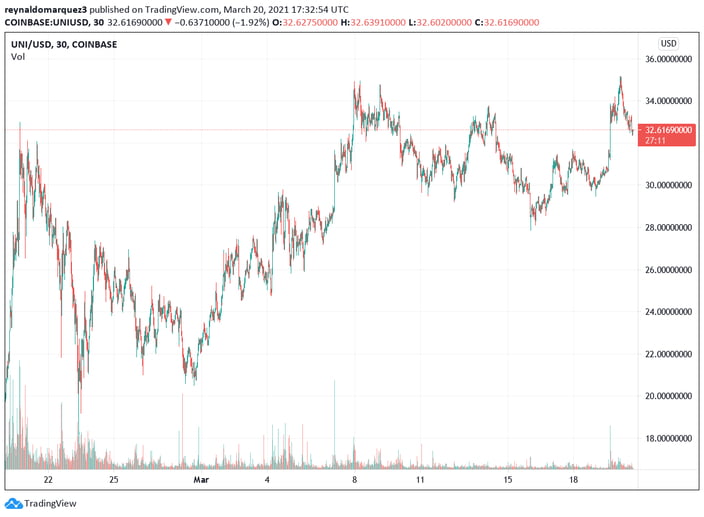 International body Financial Action Task Fork (FATF) has issued new guidance for decentralized applications (DApps). Its implications could directly affect the DeFi sector and could have consequences for DApp "operators" such as Uniswap, Sushiswap, and others.
If you're a shareholder of Uniswap (or MakerDAO), then you're likely a VASP. And VASPs (i.e. Virtual Asset Service Providers) are responsible for setting up anti-money laundering controls.

This comes courtesy of yesterday's FATF draft guidance: https://t.co/1Zg6frzH77 pic.twitter.com/xJEIetNAZt

— John Paul Koning (@jp_koning) March 20, 2021
According to the agency's definition and its standards, a DApp is software. However, the "entities involved" with the DApp can be Virtual Asset Service Providers (VASP). The guidance claims:
(…) a person that conducts business development for a DApp may be a VASP when they engage as a business in facilitating or conducting the activities previously described on behalf of another natural or legal person. The decentralization of any individual element of operations does not eliminate VASP coverage if the elements of any part of the VASP definition remain.
Attorney Gabriel Shapiro addressed potential consequences for the blockchain industry if the recommendations are implemented. Shapiro said:
Writing & deploying a smart contract (=free speech) is different from running a business with that smart contract (regulated).
Claiming that FATF recommendations could "wreak havoc" in venture finance and the blockchain industry if adopted, Shapiro added:
"a one-time sale of a VA makes you a money services business" thing has never made a lick of sense and seems inconsistent with FinCEN's 2019 guidance.
Although FATF can only make recommendations or suggestions, these are internationally adopted by many regulators. Therefore, Shapiro believes they can have a real effect on the blockchain industry if u operators, i.e. Uniswap, are blacklisted by the body. Shapiro added:
I love DeFi and I'm very anti-KYC etc. But "repeal these laws just for DeFi because it makes people more free by providing plausible deniability" is not going to be persuasive to a person who believes the laws in question are good ones.
Member countries can apply sanctions, prohibitions and take other measures if the FATF suggests that any entity has "lost control" over compliance and money laundering prevention. Legal expert Stephen Palley said:
as some of us have been saying since the dawn of time, muh decentralization is apparently not yet a persuasive strategy to avoid AML/KYC obligations.
UNI on a 30-day rally
Data from Tradingview indicates that UNI has made significant gains (51.6%) over the last month. Currently, UNI is trading at $32.71. Although its performance in the last 24 hours is negative with losses of 1.3%.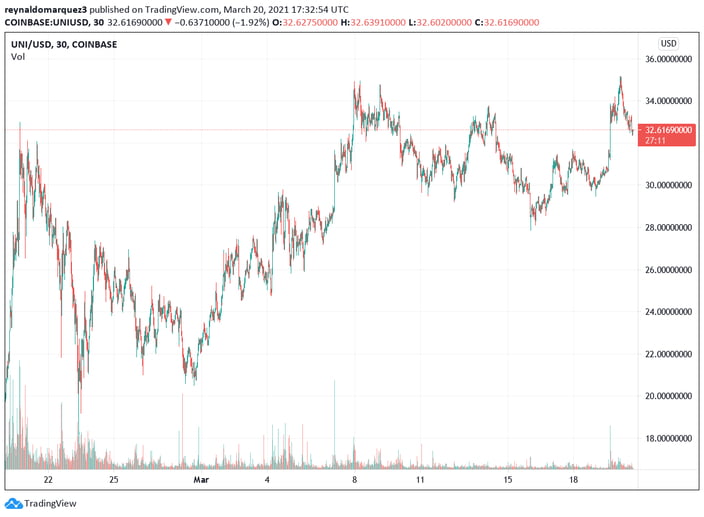 The good performance can be attributed to the release of Uniswap's third iteration. Without a fixed deployment date, Uniswap v3 has caused great hype among its users. Uniswap inventor Hayden Adams is expected to provide details on the upgrade soon.
If I have to go another week without publicly announcing details of Uniswap v3 I might go insane

— Hayden Adams 🦄 (@haydenzadams) March 19, 2021